Buttery Chicken Casserole is a yummy baked dish! Prepare this delectable casserole, garnish it gorgeously, and let it be the centerpiece of your lunch/dinner table. The recipe is simple and cooks within an hour! Whenever you invite your family & friends for a memorable get-together, this is a dish you would want to serve.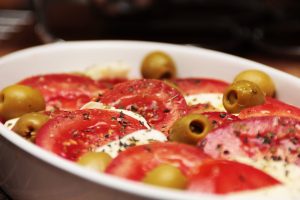 image source: www.pixabay.com
How to Cook
"Buttery Chicken Casserole" can be easily done! The first 3 minutes involve prepping the chicken, garlic, and tomato. In the second stage, cooking begins with frying chicken strips and simmering the creamy yogurt ajvar sauce. Finally, you layer the sautéed chicken, broccoli florets, pour the sauce, add the cheese topping, spread the tomato slices, and bake. You serve the chicken casserole garnished with olives, basil, and oregano seasoning.
Ingredients
for Chicken Casserole
1 cube of butter
4 chicken breasts (boneless)
½ cup of broccoli florets
1 tablespoon of garlic (minced)
½ cup of fresh cream
A cup of Greek yogurt
½ cup of ajvar
Salt & ground black pepper (as per taste)
2½ cups of cheddar cheese (shredded)
2 ripe red tomatoes (sliced)
For Garnishing
A dozen green olives
1 teaspoon of oregano
4-5 sweet basil leaves
Instructions for Chicken Casserole
Prepare the Chicken, Garlic & Tomatoes
Cut the boneless chicken breast pieces into medium-thin strips (about an inch thick).
Peel the garlic cloves and mince it roughly.
Finally, slice the tomatoes and keep them aside.
Make the Buttery Chicken Casserole
Set the oven at 225°C for preheating.
Place a pan on the stove at medium heat. Add half of a butter cube and wait for it to melt.
Now, transfer the chicken strips to the pan. Fry for 3-4 minutes until both sides turn blonde.
Take out the fried chicken strips in a casserole baking dish.
Layer the broccoli florets on top of the chicken strips.
Heat the pan once again with the leftover half butter cube. Add the minced garlic and sauté for a couple of minutes at low flame.
Add the fresh cream, Greek yogurt, and ajvar into the pan. Season with salt and pepper and bring the butter creamy ajvar sauce to a boil.
Once the sauce starts bubbling, switch off the gas. Pour the sauce in the casserole coating the broccoli entirely.
Next, evenly spread the cheddar cheese on top of the sauce.
Finally, finish off the layering with sliced tomatoes.
Cover the casserole with an aluminum sheet and place it in the oven to bake for 25-30 minutes at 225°C.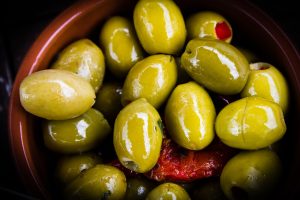 image source: www.pixabay.com
Take out the baked buttery chicken casserole dish. Serve it garnished with green olives, a light sprinkling of oregano, and a few sweet basil leaves.
Tips
A good substitute for Greek yogurt is crème Fraiche.
You can add potatoes to this buttery chicken casserole recipe but using parboiled potatoes is a better idea. Otherwise, the potatoes will remain raw.