Chicken Kababs are delectable fried patties that originated in the Middle Eastern region. The soft melt-in-the-mouth kababs are a befitting snack, starter, or side. Relish the chicken kababs with your favorite choice of dips or salads. You can also serve them stuffed in pita bread or with vegetable pilaf. These flavorsome patties are perfect to make burgers too! You can prepare the kababs with any minced meat of your preference.
How to Cook
Making chicken kababs is simple! Once the ingredients are prepped, just mix them, marinade, and deep-fry for a few minutes.
Ingredients
For Chicken Kabab Mixture
Minced Chicken (250 grams)
2 green chilies (chopped)
½ cup of coriander & mint leaves (chopped)
2 medium-sized onions
Half a lemon (sliced)
½ tablespoon of ginger & garlic paste
2 teaspoons papaya paste
2 tablespoons of chickpea flour
1 tablespoon of the spice mixture
½ cube of butter (softened) (optional)
For Frying
Instructions for making Chicken Kabab
Prepare the Minced Chicken
Wash the minced chicken and leave it on a sieve for 10-15 minutes to drain the excess water.
Grind it for a few seconds in the food processor. We do not need a smooth texture.
Prepare the Chilies, Onions, and Fresh Herbs
Chop the chilies, coriander, and mint leaves
For the first onion- peel and grate it. Then, squeeze out the excess water.
For the second onion- slice it roughly, shallow fry it in olive oil until golden brown, and crisp. Next, blend it for 10-15 seconds.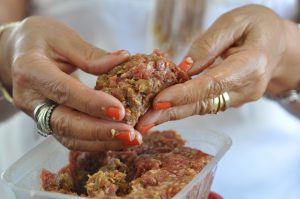 image source: www.pixabay.com
Make the Chicken Kabab Mixture & Patties
Take a large bowl and add all the chicken kabab ingredients one by one.
Using your hands, combine all the ingredients for a couple of minutes.
Now, cover and let the mixture sit for an hour.
After the marinating time is up, uncover the bowl. Lightly grease your palms with oil.
Take a little kabab mixture in your palms and roll it into a ball shape. Then, press it gently to get the flat medium-thick patty shape. Keep it on a plate.
Repeat the process with the rest of the kabab mixture.
Fry the Soft Kabab Patties
Heat a pan on the stove. Pour a generous amount of olive oil. Heat the oil and adjust the flame to medium.
Place the soft patties one by one carefully into the hot oil. Cook for 90 seconds.
Cautiously flip the patties. Adjust to low-medium heat. Cook for 4 minutes.
Take the patties out on a plate lined with an oil-absorbing sheet.
Your "chicken kababs" are ready! Serve them with mayo dip, mint yogurt dip, or tomato ketchup.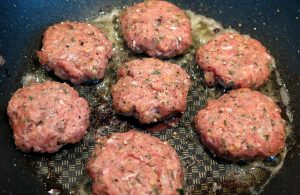 image source: www.pixabay.com
Tips
The papaya paste helps tenderize the meat. A good substitute for papaya paste is pineapple puree.
At the time of frying the kababs, make sure the oil never goes cold.
Instead of deep-frying the chicken kababs, you can also shallow fry them.