Piccata recipes are originated from Italy, such as chicken piccata. But, it has been cooked and enjoyed similarly in the US with the same recipe and components. It follows the ancient Scillion culinary art with a huge influence on Northern Italian food. However, the fish version of Piccata goes extremely delicious and tormenting regardless of its origin with similar ingredients. Moreover, salmon is one of the most nutritious foods in the universe of seafood and loaded with taste and versatility in cooking. So, let's have this astounding combination of salmon and piccata sauce in today's menu and serve a restaurant-style meal at home to your family and friends.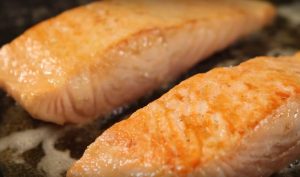 Searing Salmon in Butter
Ingredients
2 salmon pieces the same size
3 tbsp. Parsley
1 bunch of baby spinach leaves
2 small shallots chopped
1 garlic clove minced
100-gram butter
White flour for coating of salmon
1 cup of white wine
1 cup of seafood broth
Half Lemon juice
4 lemon slices in round shape
400-gram white beans
3 tbsp. capers
Himalaya Salt to taste
Ground Black pepper to taste
Preparation Method
To make Salmon
In the first place, trim edges and remove skin side from salmon; also remove pin bones with fish tweezers if any.
Take enough white flour on a wide plate and dust salmon; shake off salmon once in case of any extra flour.
Season dusted salmon with salt and ground black pepper from both sides.
Heat 1 tbsp. Butter in deep frying-pan and add salmon pieces gently; make sure to keep skin side down and fry salmon on medium heat.
When it becomes slightly brown from one side then flip over.
Once done from both sides, transfer it on a warm plate and set aside.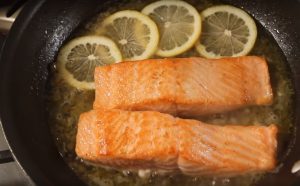 Salmon in Lemon Butter Sauce
To make Piccata Sauce
Using the same pan with fish juices, start cooking the piccata sauce, and add chopped shallots, minced garlic, and capers in the pan and sauté for while to turn into slightly translucent.
Add white wine and seafood broth and stir for a while; make sure flame should be low at this point to eschew fire in the pan.
Now, squeeze half of the lemon juice and cook with other ingredients until liquid reduced to half on high heat.
Go back to fish pieces and add them into the sauce with their juices in the pan.
Add 4 thin slices of lemon and chopped parsley into the pan and cook for a while on low heat.
To Prepare Veggies
In another frying pan, heat 2 tbsp. Butter and add rinsed and drained white beans.
Cook on high flame for 1 minute and next add 1 bunch of spinach leaves.
Season with salt and ground black pepper and stir for another 30 seconds until combine thoroughly.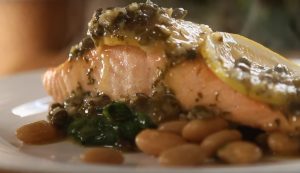 Piccata-Styled Salmon
For Assembling
First, place veggies on the hot serving plate and then set salmon pieces on top.
Add remaining butter into the pan to cook with the sauce for a while.
Shake the pan a bit to dissolve butter in the liquid as it will emulsify the sauce.
Place lemon chunks on fish and pour sizzling sauce on it to cover.
The tantalizing Salmon with Piccata sauce is ready to serve. Enjoy!