Hasselback chicken is the extensive and pleasant version of a Swedish recipe, named Hasselback potato. Originally, it was invented in the Hasselback restaurant of Stockholm in 1940. They cut the chicken or potatoes in a way like a musical instrument accordion, and that is why it became famous as accordion Hasselback chicken. The recipe tastes incredible because of its buttery and mushy russet potatoes along with crispy and delicious accordion chicken on top. Hasselback chicken is visually appealing and savory in flavor, but amazingly simple to cook with few ingredients. So, let's start today's recipe and shine your dine.

Incision on Chicken
Ingredient
4 large chicken breasts with skin
1 kg russet potatoes
¼ cup of olive oil
6 sprigs of fresh thyme
1 medium-sized lemon whole
1 knob of garlic skin on
100-gram pancetta chopped
⅓ cup of ricotta cheese
1 cup of grated Parmesan cheese
A pinch of Nutmeg
Ground black pepper to taste
Salt to taste
Preparation Method
To Roast Potatoes
In the first place, preheat your oven at 180 centigrade.
Now wash and peel off potatoes and add them in a pot.
Cover potatoes with enough cold water and add a tsp. Of salt.
Switch on the flame and let the potatoes simmer for around 10 to 15 minutes or until they become tender.
To test potatoes if they have been cooked or not, poke each of them with a knife.
Once potatoes cooked, put them in a strainer and drain the water completely.
For a nice roasting, toss the potatoes in the strainer unless the edges rise to fur up.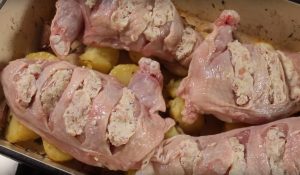 Baking Process
Now cut these furry potatoes into big pieces and keep them aside.
After this very important step, move to the other ingredients; first, take the garlic knob and crush each clove with the knife, so they could release their flavor while cooking in the oven.
Cut the lemon into thin and even slices to roast with potatoes.
Next, take a roasting pan and put it on high flame; immediately add olive oil, thyme sprigs, potatoes, crushed garlic cloves, and lemon slices.
Season with salt and ground black pepper as per your taste and toss all the ingredients to ensure that each of them is coated well with oil.
Now remove the roasting pan from flame and place it into the preheated oven to bake for about 30 minutes at 180 centigrade.
To Make Pancetta Filling
Now in a bowl, add chopped pancetta, ricotta cheese, Parmesan cheese, and nutmeg, mix well to form a mixture, and set aside.
To Make Chicken
In the meantime, prepare the chicken; first coat chicken with olive oil and rub each side, and season with salt and ground black pepper.
Make 3 to 4 deep and width wise incisions on the top of each chicken breast, but make sure do not cut all the way through it.
Now with the help of a spoon, fill each slot with a pancetta mixture and press slightly to penetrate deep in each breast cut.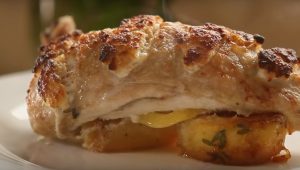 Hasselback Chicken with Cheesy Pancetta filling
Remove potatoes from the oven and gently press each potato piece with a potato masher.
Drizzle some olive oil on potatoes and carefully place chicken breasts on top of them.
Now go back to the oven and bake chicken with potatoes for another half an hour at 160 centigrade.
Once baked, let it rest for 10 minutes and then transfer to a serving plate.
First place potatoes on the plate and then chicken on top.
Add the rest of the cooked ingredients too on the serving plate and sprinkle some parsley leaves for garnishing.
Hasselback Chicken with buttery crispy potatoes is ready to eat. Enjoy!
Little Trick
You can prepare chicken breast in advance to make this recipe.
If you see that bottom of your pan start burning or getting brown color, add a half cup of water or chicken stock to maintain moisture in the recipe.