The delectable Filet Mignon Steak is a luxurious dinner meal that can be beautifully served with wild fried mushrooms and creamy mustard sauce. Mignon is the prime steak cut of beef that is taken from the small end of the tenderloin of the cow. In French, this steak cut is also called filet de bœuf as it is related to pork tenderloin steak. The fried mushrooms with creamy mustard sauce will serve like a velvety dip with filet mignon. The mouthwatering fillet steaks reveal the true taste of steak and the mustard sauce contributes a unique appeal to your dining cuisine. So let's make this super appetizing filet mignon steaks with mustard sauce and mushrooms.
Ingredients
Fillets Steaks
4 filets mignons, tied from the mid (2-inch thick)
2 tbsp. Olive oil
1 & 1/2 tsp. Sea Salt
2 tsp. cracked black pepper
Fried Mushrooms:
350-grams mushrooms, sliced and stemmed
2 tbsp. dry sherry
Kosher salt to taste
Ground black pepper to taste
2 tbsp. unsalted butter
Mustard Sauce:
1 tbsp. Olive oil
2 large minced shallots
3 tbsp. brandy
1 & 1/4 cups heavy cream
¼-cup mustard
1/2 tsp. whole-grain mustard
2 tbsp. chopped fresh parsley leaves
Preparation Direction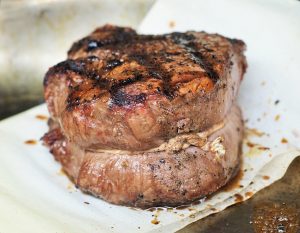 image source: https://pixabay.com
Making Filets Steaks
Preheat the oven to 200ºC, but make sure your stove should be fully aerated!
Over a high flame, heat a large cast-iron skillet for 5 to 7 minutes.
Pat dry the filet mignon with paper towels and brush with the olive oil all over.
Next, mix sea salt and cracked black pepper in a small plate and coat the filets from both sides in this seasoning.
When the skillet becomes very hot, add the filets and sear evenly all over for about 2 minutes, pour some drops of oil on filet while searing.
Now, remove the steaks from the skillet and transfer to a sheet pan.
Place the filets in the oven for 8 to 12 minutes.
After the calculated time, remove filets from the oven and cover the sheet pan with aluminum foil tightly.
Allow the filets to rest for 10 minutes and make sauce meanwhile.
Making Fried Mushroom:
Heat butter in a large pan over medium heat.
add sliced and stemmed mushrooms in the pan and sauté for 4 to 5 minutes.
Add dry sherry in mushrooms and stir until it evaporates and mushrooms are cooked properly.
Sprinkle kosher salt and ground black pepper as per taste and mix well.
Switch off the heat and keep mushrooms aside.
Making Creamy Mustard Sauce:
In the same pan, add olive oil and chopped shallots, and sauté over medium heat for 2 minutes.
Now, add the brandy, and stir to deglaze the pan.
Cook for another 2 minutes, until the brandy, evaporates and shallots become soft.
Next, add heavy cream and simmer for 4 to 5 minutes, or until thickened.
Add both mustards in one go and stir for a while.
Taste for seasoning and if required add salt and black pepper.
Final Assembling:
Remove the foil from fillets and place them in warm dinner plates.
Pour the mustard sauce followed by mushrooms on the top of the filets.
Garnish the filet mignons with freshly chopped parsley.
Serve the hot Filet Mignons with creamy mustard sauce and fried mushrooms, Enjoy!