Lemon Chicken Pasta with Alfredo Sauce is a super-easy and super tasty dining recipe. This crispy chicken with lemony creamy Alfredo sauce will give you supreme taste like restaurant made pasta and win your heart forever. Maybe you have tried some grainy, chunky Alfredo sauce at home but this lemon sauce is not only easy to make but more creamy and smoother in texture. The core direction to make the cheesy Alfredo sauce is to switch off the heat right after the cheese melt; if you continue boiling the sauce after that, your sauce will get curdles and become lumpy. Lemon is the highlight of this recipe, so make sure to use fresh lemon juice only. Hence, with these million CHF tips, let's start making this amazing Pasta recipe and note ingredients.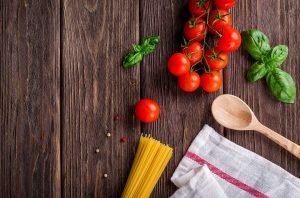 image source: https://pixabay.com
Ingredients
For Lemon Chicken
300g fettuccini Pasta
2 medium-size chicken breasts around 400 gram
1 whole egg
1 tbsp. milk
1-cup breadcrumbs
Fresh Half Lemon Juice
Salt to taste
Ground black pepper as needed
Olive oil for frying
For Alfredo Sauce
2 tbsp. unsalted Butter
2 cloves of fresh garlic chopped
Half tsp. onion powder
5 tbsp. fresh Lemon Juice
2 cups heavy whipping cream
1/2 cup shredded Parmesan cheese
1 tsp. dried oregano
Salt to taste
2 tbsp. Fresh parsley chopped
Preparation Directions
Making Pasta
In a pot, boil water with 1 tbsp. salt, when you see the water is boiling, add pasta.
Cook pasta as per package instructions or to the desired finishing.
Keep 1/2 cup of pasta water aside to use later.
Next, drain and rinse the cooked pasta.
Making Lemon Chicken
For lemon chicken, take 2 boneless chicken breasts and cut them into half lengthwise to get 4 cutlets.
Season both sides of cutlets with salt and ground black pepper.
Now pour half of the lemon juice on cutlets and spread on both sides.
Let the chicken marinate for 15 minutes.
After marinating, set up two bowls; In one bowl, beat 1 whole egg and milk and in a second bowl, add breadcrumbs with a pinch of salt and black pepper.
Now dip chicken cutlets in the egg mixture first and then into breadcrumb's bowl to coat cutlets completely.
Repeat this process with all chicken cutlets.
Now take a big skillet and heat 2 tbsp. olive oil to cover the bottom of the pan.
Next, take chicken cutlets and sear them in oil for about 3 to 4 minutes per side or until golden brown, try to sauté all cutlets in one batch.
Now, transfer the chicken to a cutting board to cool it moderately and cut them into it long wide strips.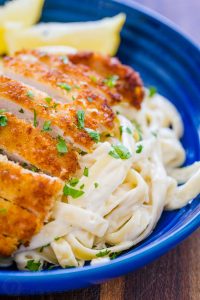 image source: https://natashaskitchen.com
Making Creamy Alfredo Sauce:
In a medium-sized saucepan, add butter and melt it completely.
Now add chopped garlic followed by onion powder and sauté until fragrant.
Next, add heavy cream and whisk continuously.
Let the cream simmer and stir constantly.
Add salt and dried oregano in cream and stir again.
While stirring, slowly add lemon juice and whisk thoroughly to incorporate with cream.
Sprinkle chopped parsley and Parmesan cheese and whisk until the cheese melts completely.
Once the cheese would melt, switch off the heat right away.
Assembling Process
First, take pasta in a large mixing bowl and pour hot creamy Alfredo sauce on it to cover the noodles entirely.
Add reserved pasta water in the bowl to thin the sauce if desired and toss the noodles gently.
Now, take Creamy Alfredo Pasta into a serving bowl and place chicken strips on top of the pasta.
Garnish the chicken strips with some parsley leaves and fresh lemon juice.
The appetizing and tantalizing Lemon Chicken Pasta with Creamy Alfredo Sauce is ready to serve, Enjoy!