Sukiyaki is a native Japanese hot pot cuisine. It is made from slices of beef, tofu, vegetables, shiitake mushrooms, green onions, and noodles. It is served alongside sukiyaki sauce and raw eggs though some preparation methods entail cooking the sukiyaki inside the broth. It consists of mirin, soy sauce, sugar, and seasonings. Though sukiyaki is originated from Japan, other Asian countries like Thailand and China have embraced this dish. They have also made it a traditional delicacy; thereby, renaming the popular Japanese Sukiyaki to Thai suki or shabu shabu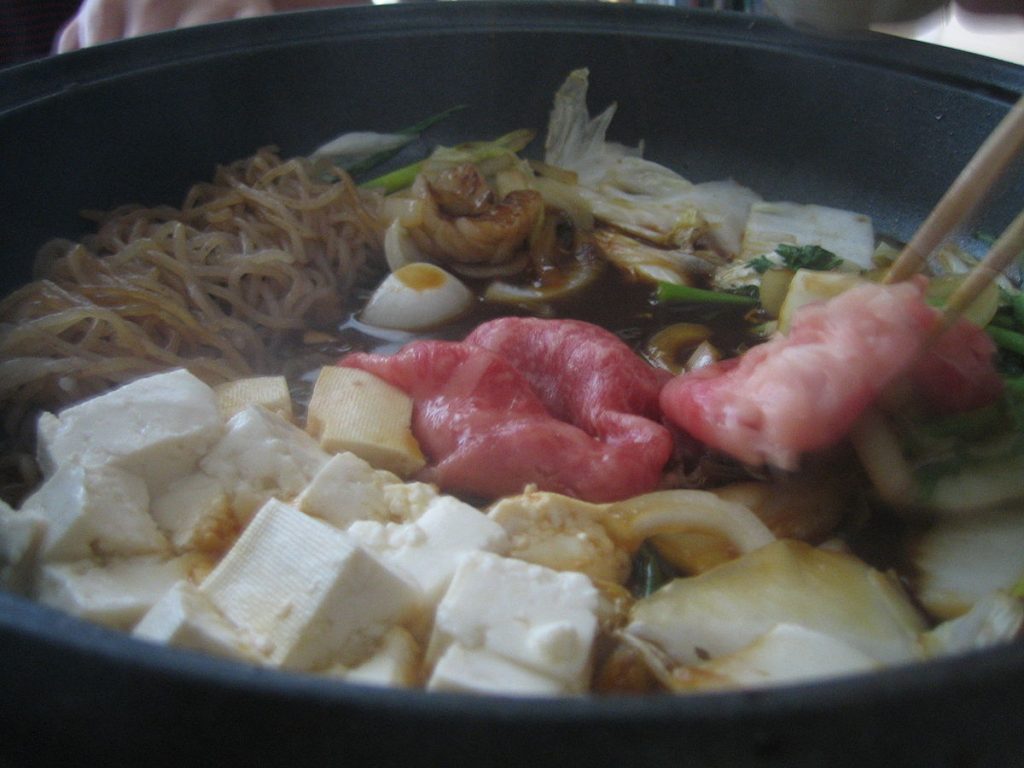 image source: Wikipedia
Recipes for Sukiyaki
When it comes to the preparation of sukiyaki, there are two different preparation methods.
A broth mixture of soy sauce, mirin, sugar, and seasoning, is heated in a pot. While the sukiyaki ingredients are added to the mixture and left to cook.
The sliced meat is steamed first then the broth mixture and other sukiyaki ingredients are added to it.
Both methods of preparation are acceptable. Sukiyaki is served hot alongside sukiyaki sauce to provide more taste and flavor. It is also dipped in raw egg to provide a silky texture. Sukiyaki sauce is a spicy and tangy sauce made with chili peppers and lime. It can either be made personally at home or purchased at Asian stores. However, making the sauce from scratch maintains its authenticity rather than a processed one. Sukiyaki sauce can be said to be the 'fun' of sukiyaki. This is because the spicy-tangy flavor blends make the taste buds come alive.
Ingredients
Chilli
Lemon
Water
Soy sauce
salt
Garlic
Vegetable oil
Preparation
Blend the chili till it becomes a smooth
Heat up the vegetable oil
Stir fry all the ingredients together on a low heat for 5 minutes.
Benefits
Japanese hotpot cuisines like sukiyaki, shabu shabu is one of the healthiest meals to consume, considering that they are unprocessed and freshly prepared. Sukiyaki per serving contains about 467 calories and 2.5 g calories. The makeup of sukiyaki and the sukiyaki sauce usually has all the food classes. They include nutrients, vitamins, and have low carbohydrate levels, making it the complete balanced diet.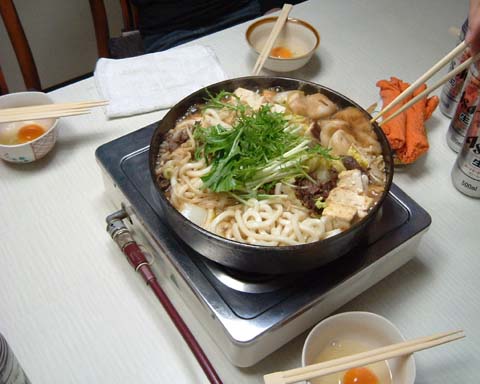 image source: Wikipedia
Due, to its high nutritional value, consumption of sukiyaki lowers the risk of cancer, such as prostate and breast cancers, which are hormone-dependent cancers. This is as a result of the vegetables, healthy fats and high fiber foods used in making sukiyaki. The vegetables are rich in essential minerals which support nutrition generally. Adding mushrooms to sukiyaki also provides major health benefits. Mushrooms contain natural antiviral and antioxidant properties which make them effective in fighting off disease-causing agents. Also, when it comes to weight loss or maintenance, mushrooms are ideal. The meat used in sukiyaki is a good source of protein.