Red curry paste has unique and complex flavors. While there are many types of hot chili sauces available, red curry paste is by far one of the most superb choices. Its base is a combination of fresh and aromatic ingredients, such as tangy lemongrass, ginger, and garlic, and most importantly the heat from red chiles. They all meld together so well that one might think that it has been steeping for hours. You can find red curry paste in the Asian aisle of most grocery stores and it comes in a variety of heat levels ranging from mild to extra spicy. Red curry paste is such a versatile ingredient that it does not only serve a purpose in curry dishes. Since its main ingredients typically include ginger, garlic, lemongrass, chiles, and in some cases galangal and shallots it is a go-to fridge staple. You can expand its use by flavoring burgers, soups, stir-fries and so much more. Flavour thick soups and stews with red curry paste. The soup is served with fluffy white rice to soak up the fragrant soup.
What are the Benefits of Red Curry Paste?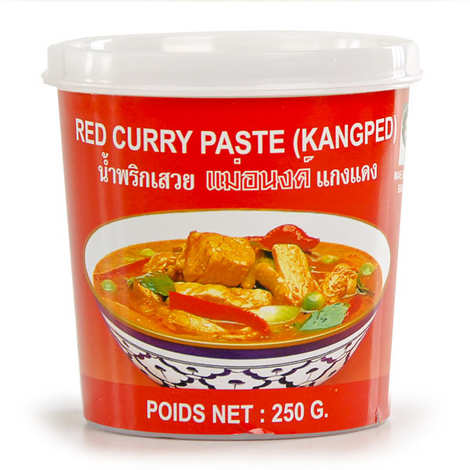 The main ingredients used to make red curry paste have many health benefits such as Garlic is helpful in detoxifying the body and helps boost the immune system to fight off diseases. Chili peppers are packed with vitamins such as vitamin A, D, and C which means they are effective against colds, flu, and congestion. They are also known for their antioxidant and anti-carcinogenic properties. Chili peppers act as digestion and circulatory stimulant. Turmeric, which is often found in red curry paste, helps to detox the body and boost digestion. Turmeric is also beneficial in helping the body fight certain cancers. As well as helping your body fight certain cancers by blocking the growth of melanoma tumor cells and stimulating the death of these cells. Limes are also great to help you detox while Lemongrass helps fight off colds, sore throat, congestion, and fever.
4 medium guajillo chilies (or dried red Serrano's) soaked for 20 minutes in boiling water 3 garlic cloves, chopped 1 shallot, sliced (roughly ⅓ c) ½ stalk lemongrass, sliced (roughly 1Tbsp) ½ inch fresh ginger, peeled and sliced Lime, zested ¼ tsp salt 2 tsp vegetable oil 2 Tbsp chili soaking liquid (more as needed) Cayenne powder, to taste (optional) Directions Soak the chilies in boiling water to soften. Once they are soft, remove the stems and seeds. Chop the flesh of the peppers and place it in your food processor. Add the garlic, shallots, lemongrass, ginger, lime zest, salt, and vegetable oil. Pulse the food processor to chop the ingredients, continuing until a paste starts to form. Add some of the chili soaking liquid, as necessary, so that a smooth paste comes together. Taste your curry paste and add cayenne powder if desired for a hotter paste.