Tom Yum is a hot and sour flavoured soup with fragrant spices and herbs. It is originated in Thailand and is commonly made with shrimps but many oth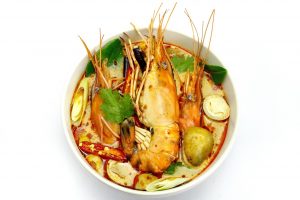 er ingredients are also used such as lemongrass, chicken, noodles, galangal, fish sauce, crushed red chili peppers and kaffir lime leaves.
You don't need to go to a restaurant instead you can make the most popular Thai Tom Yum soup at home. Just one sip of this soup and you will be hypnotized. Above all, it is healthy, gluten-free, flavorful, easy and light. In fact if you want, you can make it spicy enough to clear your sinuses.
How to Cook
Thai Tom Yum soup is very easy and simple and most importantly it's one of the quickest soups to make. The fusion of flavoured broth with lemongrass, plump shrimp, fresh cilantro, ginger and Thai chilis combine to create this gorgeous soup.
Ingredients
You will require:
2 quarts of either seafood or chicken
2-inch sliced pieces of fresh lemongrass (2 stalks)
5 leaves of kaffir lime
1-inch piece sliced ginger
2 red chilis
Fish sauce (6 tablespoons)
Fresh lime juice (6 tablespoons)
Brown sugar (2 tablespoons)
Red curry puree (1 – 2 tablespoons)
Can straw mushrooms (15 ounces)
Peeled, deveined shrimp with a tail (at least 1 pound)
Roughly chopped cilantro (A hand full)
Instructions
To make the Thai Broth: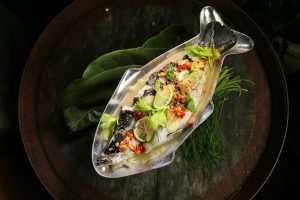 Take a medium pot and over medium heat, boil the stock (chicken or seafood). Add the ginger, lime leaves, red chili peppers as well as lemongrass too. Decrease the heat. Recommended heat is medium-low. Cover the top of pot a simmer for 20 minutes.
To make the Tom Yum Soup:
After 20 minutes, remove the cover from pot and then add the lime juice, brown sugar, red curry puree and fish sauce. Simmer and stir for at most 5 minutes.
Add the shrimp and mushrooms. Cook you shrimp till it's perfectly cooked. Ideally, the time requires to cook shrimp is 7 to 8 minutes. Turn off the stove and then add the cilantro.
Important Notes
Add whole chills instead of chopped to control the heat level.
Most people don't eat lime leaves and lemongrass. If you want, you can remove them before serving.
Red Curry puree makes the dish very spicy but if you want it to be less spicy, then go with one tablespoon. If you are a fan of spicy foods, then you can add more, but don't make it so spicy that you can't even eat it.