This contribution will teach you about plant protection, fertilization, steering systems, Real-time kinematic, soil cultivation, sowing and planting.
Sowing and planting - Steering systems
From 2003, the first automatic steering systems for tractors were available. This technology has continued to develop and is certainly the most important application of satellite positioning systems in agriculture today.
The main advantages of a steering system are:
Relief of the driver
Increased quality of work
Less stress at the headland
work possible in poor visibility conditions (twilight, fog)
Utilization of the full working width
Increase in machine utilization
No manual marking of seed strips
less use of auxiliary materials and production equipment
Combined applications for data acquisition, field robotics and documentation
Lane guidance on guidelines
Steering aid
Steering assistant
Steering automat
Description
Guidance of a machine along physical guidelines (stock edge, row, travel lane, ... by ultrasound, laser, image)
Lane indication via light bar Driver steers himself
Track guidance via electric steering wheel motor
Hydraulic steering system integrated into the tractor
Use
Grain harvesting, grass harvesting, chopping equipment in dams

Basic fertilization
Documentation

Soil cultivation
Grain harvest
Fertilization
All the work that arises
Benefits
Cost effective
Easy to retrofit
No GPS infrastructure
Combinable
Device control
Cost-effective
Easy to retrofit
Retrofittable steering system
Integrated into the tractor and thus higher achievable accuracy, relief of the driver, headland management
Disadvantages
No repeatability
Partly inaccurate
Only little relief for the driver
Reaction sluggishness - slow driving
Steering wheel turns with
Price
Sowing and planting: Satellite-based automatic steering systems are designed to maintain high steering accuracy and reduce the driver's workload. Depending on the equipment, a steering system intervenes directly in the tractor's steering hydraulics or the servomotor on the steering wheel takes over the steering movements. However, active intervention by the driver is possible at any time and immediately terminates the autonomous functionality. In the case of a fully automatic steering system, a navigation computer controls an electro-hydraulic valve and takes over the steering movements. This is the most cost-intensive investment. So-called steering assistants are often used as a retrofit kit. Here, a servomotor on the steering wheel takes over the steering functionality, while the steering wheel turns continuously.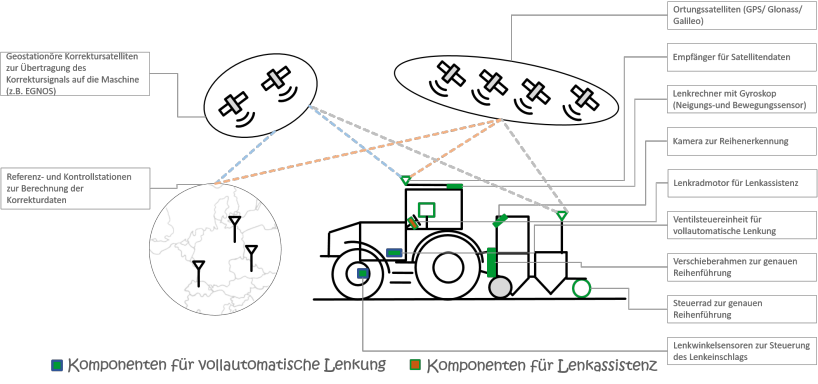 GPS - sg.ch
RTK - correction signal increases the benefit
For a position to be determined accurately, the connection from the receiver on the tractor to the satellites alone is not sufficient. The satellite signals are delayed on their way to the tractor. RTK correction data systems achieve the highest absolute and thus repeatable accuracy with 2.5 cm deviation from the actual position. RTK systems use fixed reference points located a few kilometers (max. 25 km) away from the tractor to correct for predicted orbit deviation, time-of-day errors, and signal propagation delays due to the ionosphere and troposphere. A GNSS receiver, called a base station, is located on the reference points. The correction information from the base station is transmitted to the tractor via mobile radio and, after being offset against the position data from the GNSS receiver on the tractor roof, results in the corrected precise position.
A distinction is made between three variants:
own mobile base station is set up in the field before work begins - not very widespread, set-up and dismantling in the field each time, limited range well suited in areas with low mobile phone coverage
Fixed station(s) usually as single station system managed via server or also as network, often set up by agricultural equipment dealers at high points or buildings - widespread depending on provider, useful if regionally available
virtual network system - nationwide network operated by Swiss Topo - widespread application; good network coverage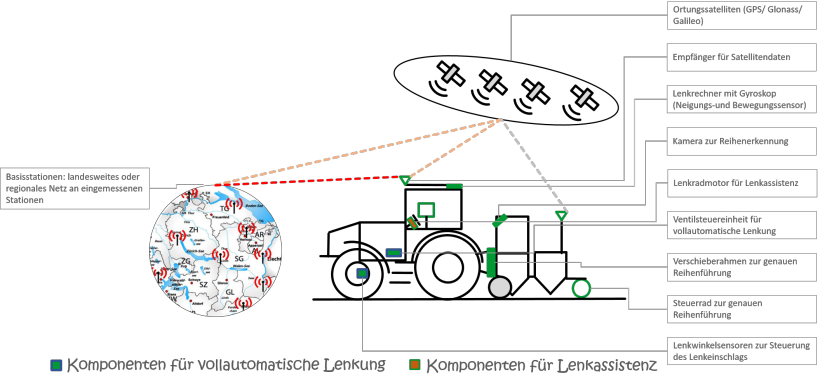 GPS RTK - sg.ch
The signals are provided in an internationally standardized format (RTCM3 or CMR+), which can be used by all well-known providers.
Bridging in case of signal interruption
Since outages can occur during data transmission, the RTK GPS algorithms must be able to handle patchy data from the reference station.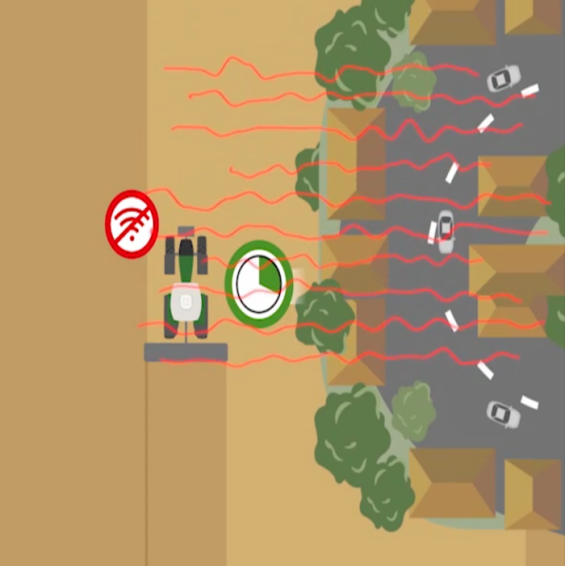 Signal interference - Source: sg.ch
Use of known correction data
therefore without signal only limited time with high accuracy
Services e.g. from Trimble: xFill; John Deere: RTK-Extend
Further applications of track guidance in agriculture
CTF - Controlled Traffic Farming (control lane planning)
Satellite-based guidance systems can be used to implement permanent lane systems that have been maintained over the years. This process is referred to as Controlled Traffic Farming (CTF). According to an Agroscope study, the reduction of topsoil compaction improves air and water flow in the soil. Accordingly, the cropping systems become more yield-stable in dry periods and during heavy rainfall. Trial results show that CTF systems adapted to local conditions can sustainably improve the efficiency of soil protection and crop production even under Central European conditions.
Objective: to keep the proportion of area driven over as low as possible, thereby limiting the risk of soil compaction when driving over to a small proportion of the area. The majority of the area is permanently protected from compaction caused by driving over it.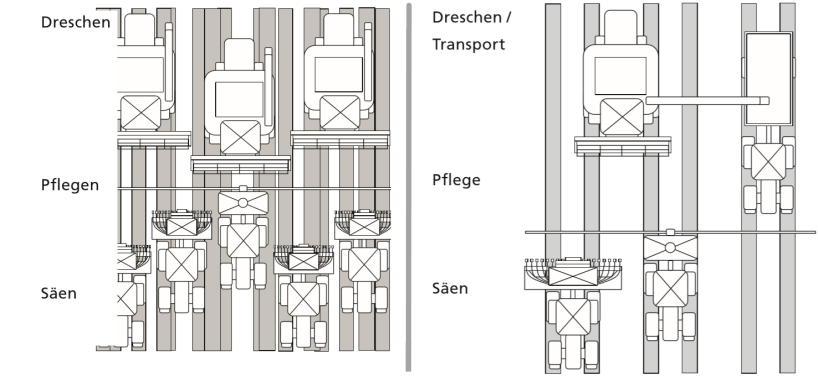 Agroscope - Comparison of tracks in the field according to conventional procedure and CTF system with standard track widths - Source: sg.ch
Challenges
One of the biggest challenges is to coordinate all working widths and track gauges with each other. This is particularly difficult when working with contractors or machinery pools. And even if all tires, tracks and working widths match, you usually have to decide at the headland whether to overlap or not to till. Weeds can grow within the lanes that are not tilled. In addition, permanent driving on the tracks can lead to groove formation, which in turn changes the sowing depth.
CTF light
Permanent lanes show their effect especially for heavier machines for harvesting and organic fertilization. Such a "CTF-light", where permanent lanes are only used for heavy vehicles and machinery such as slurry tankers, could be a useful first step for CTF implementation. All work done under favorable conditions with low compaction risk and low contact surface pressures could be done without travel restrictions.
CTF systems are feasible in many areas with the standard machines available today. Permanent grassland, combine harvesting, corn and arable forage production can be mechanized relatively easily. In grassland, track area percentages of less than 15% can be achieved with working widths of 9 m and above, and in arable land of around 27% with 4.5 m.
Strip-till method - A form of direct seeding
When sowing with the Strip Till method, the soil is only worked in strips. This brings advantages for the emerging seed, which is laid in rows. However, it also requires precise work. As strip-till is basically a compromise between mulch seeding (plowless seeding method after a tillage operation) and no-till (seeding is done without any tillage after harvest).
The method is primarily used for row crops such as corn, sugarbeet or even canola, so that there is sufficient distance between the rows.
In the meantime, the strip-till method has become established for corn. In this case, strip tillage and the creation of slurry belts takes place on light soils about 3 to 5 days before sowing. In order to be able to place the grains exactly in the center of the strip during sowing, GPS-supported guidance systems are necessary, if possible with RTK correction signal.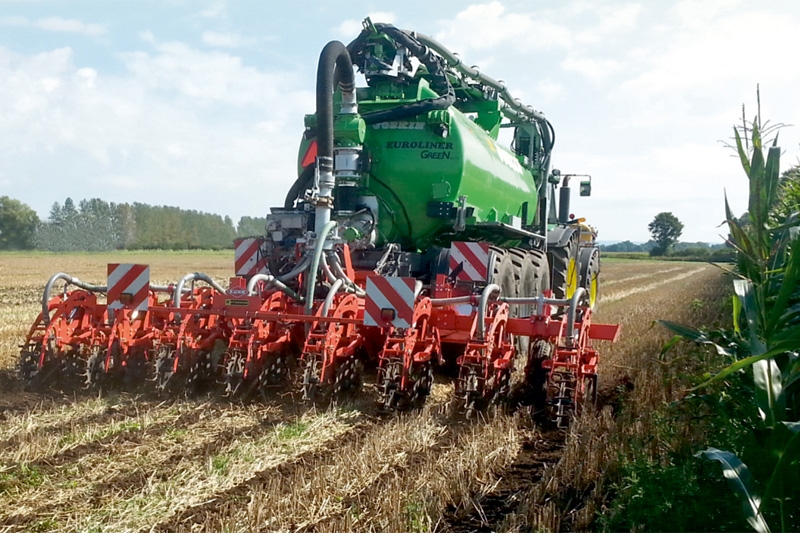 Strip-till method - Source: sg.ch
sowing and planting - Where is the benefit?
As a result of the reduced tillage runs, working time and energy (diesel) can be saved.
The mulch layer reduces the risk of wind and water erosion
In the soil, the water balance is optimized in the unworked areas
Safer and better nutrient effect of slurry/digestate due to placement close to the roots, especially when nitrification inhibitors are added
higher yields with stronger root growth,
complete abandonment of mineral fertilizers possible,
better (drinking) water protection,
more soil protection due to less humus decomposition, more earthworm activity and better carrying capacity of the topsoil for heavy harvesting vehicles and

---
Section control
Attachment control
The most widespread use of satellite positioning systems in the control of attachments is section control or single row control. The English technical term for this method is "section control". It takes over the switching off and on of the part-width sections at the headland or at the edge of the field as soon as unwanted overlaps occur.
Attachment control - Source: sg.ch
The position of the individual sections or rows of an implement is calculated from the position of the satellites and the direction of travel during field cultivation. Supplemented by further information on field boundaries, crop rows and areas already worked, the section function is activated. If a section, e.g. of a field sprayer or a sowing coulter, is located in the area that has already been treated or tilled, the section is switched off or the single row module is raised.
Advantages of this method arise from large working widths and in the case of misshapen field sections. By avoiding unnecessary overlaps, automatic part-width section control helps to save operating resources such as crop protection agents, fertilizer and seed. It can also reduce the risk of lodging and uneven maturation of the crop.
The basic technical prerequisite for the switchability of working widths is the electrical control of the boom sections or individual modules. This also includes:
GNSS Satellite Receiver
Isobus control or
Unit-specific control of boom sections with separate operating screen
The most common application is the use of field sprayers, followed by fertilizer spreaders, precision seeders and drill seeders. Example applications and the basic conditions:
Field sprayer: electric control of boom sections or individual nozzles
Precision seed drills: electrically driven metering units with individual shutoff
Seed drill: electrically driven metering units can be switched off individually
Fertilizer spreader: speed of spreading discs can be adjusted independently of each other
Hoe/harrow: hydraulic lifting cylinder lifts body out of row
Slurry tanker: distributor with flow control Individual hoses
Degree of overlap of the boom section control

Overlaps - Source: sg.ch
The degree of overlap is set on the tractor terminal itself. In most cases, you can select between 0 and 100% overlap. Another factor influencing the overlap is, of course, the working width that can be switched off due to the design. The smaller this is, the smaller the part of the overlap.
---
Sowing and planting - Variable seeding strength
The principle of plot-specific management is based on differences within a field. The heterogeneity of a plot is essentially due to different soil types with consequently different properties of water storage capacity, nutrient availability, soil temperature of the soil and different plant cover. With site-specific seeding, an attempt is now made to pick up on these differences and optimally adapt the seeding rate to the respective yield potential.
Sowing adapted to the site
Through site-specific and site-adapted seeding, higher yields are expected compared to conventional seeding models, especially in dry conditions. A targeted distribution of the seed according to the yield zones is expected to result in more economical and ecological management.
Basis
For this purpose, zone maps have to be prepared. These maps are based, among other things, on satellite data (perennial), soil zoning results (soil sensors, soil scanning), yield maps (yield recording at harvest) or an overlap from these maps.
Seeding technology
Accurate seeding with RTK steering system of the tractor and part-width section control of the machine. In addition, the seed drill must have a variable rate control function (partial area control) that can control each seed body individually. Communication must work via Isobus or company-specific solutions.
Strategy
In the yield zones, where soil conditions and nutrient supply are poorer, a lower seed rate is sown. In the higher value field zones, a higher seed rate is provided. Optimized plant stand space provides a better nutrient and water supply for the individual plants and they achieve better yields.
Subarea-specific grassland reseeding
The solution of a site-specific grassland reseeding or automated site-specific meadow overseeding controls the demand-oriented reseeding quantity in an existing meadow.
A camera mounted in the front of the tractor scans the ground to determine the chlorophyll content and biomass by reflecting light of different wavelengths, detecting brown patches in the meadow. If gaps are detected in this way, a control system opens a corresponding seed line in the rear in real time, and seeds are distributed at the desired location via the metering unit. A subsequent packer roller presses on the seed. According to the developers, up to 70% of seed can be saved in this way. In addition, thanks to this smart technology, such over-seedings would also be resown earlier, which will ultimately lead to higher yields with better quality.
Tractor with camera - Source: ufa.com

References