Buy raw cocoa beans
If your want to buy raw cocoa beans (FOB, CFR or CIF) feel free to skip this contribution and contact us by clicking here.
Ecuador as an exporter of cocoa
Before we get to talk about raw cocoa export, let's focus on Ecuador because it's a big exporter of cocoa. Ecuador is one of the largest exporters of cocoa in Latin America. In 2018, the country exported about 300,000 tons of cocoa, which is used worldwide for the production of chocolate. Only just 5% of the cocoa produced is used to produce chocolate in Ecuador itself. Raw cocoa export is one of Ecuador's main traditional businesses.
Ecuadorian raw cocoa export
According to the National Institute of Statistics and Census (INEC), the cocoa sector contributes 5% of Ecuador's 5% of the national economically active population (EAP) and 15% of the rural EAP. (EAP) and 15% of the rural EAP. of the country's coastal family economy, the foothills of the the foothills of the Andes Mountains and the Ecuadorian Amazon. The stratification of cocoa cultivation in Ecuador is represented mainly by small producers, approximately 70%. mainly by small producers, approximately 70%, followed by medium-sized producers (20%) and large producers (approximately 10%). producers account for approximately 10%.According to the ICCO, Ecuador is among the main producers of cocoa beans, ranking third in the world. cocoa beans, ranking third in the world, accounting for 7% of total world production. of total world production. The African continent, with 73.3%, leads world production, followed by the African continent, with 73.3%, followed by the African continent, with 73.3%. production, followed by the American continent with a share of 16.7% and Asia and Asia and Latin America with a share of 16.7%. 16.7% and Asia and Oceania with 10%.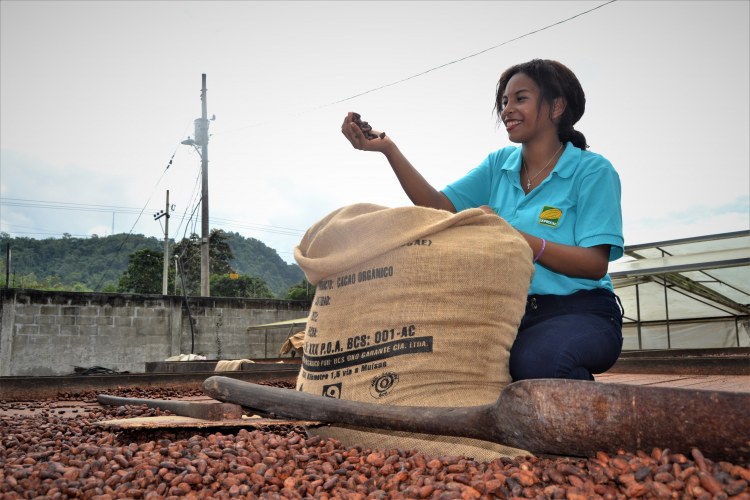 UOPROCAE Cocoa Bean sack being filled - Source: rikolto.org
Ecuador is implementing a plan to increase its production and export of fine aroma cocoa over the next decade, which also includes improving its modest chocolate production and entering "all possible markets" in the world, an official said. Although Ecuador is known for its leadership in the production of fine aroma cocoa, it has not yet managed to develop its processed and semi-finished products industry, which account for just 5% of the sector's US$700 million in annual exports. "We are probably the most recognized country for cocoa production, but we are not recognized for chocolate production (...) There is a gigantic market horizon and its derivatives, so we have a lot to explore," said the Vice Minister of Agricultural Productive Development, Byron Flores, late on Tuesday to Reuters. "It is difficult to position ourselves in international markets, but the moment we can find a way for Ecuadorian chocolate to be increasingly known, there will undoubtedly be more entrepreneurs," he added. "We have to compete with big companies and secondly with big capital." Quite fundamentally, it can be stated that the producing countries of cocoa worldwide hardly produce chocolate. The vast majority of it is produced in the United States and Europe.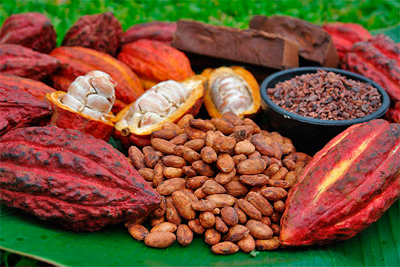 Raw cocoa export - Source: ecuadorhomesandland.com
As a result, according to the organization Make Chocolate Fair, on average only 12.9% of the sales price of a bar of chocolate produced in the North remains in the country that supplies the raw material. This 12.9% is divided between farmers, intermediaries/transport and government authorities. The plan to improve the competitiveness of the sector, one of the oldest in the oil-producing country, aims to double exports of cocoa and its derivatives by 2030 to US$1.4 billion, including "fine chocolate". In addition, Ecuador hopes to increase production of the bean to some 700,000 metric tons annually in the next decade, through technical accompaniment to producers, technology development, increase and renewal of plantations, and further genetic advancement. In 2018, Ecuador produced some 315,000 tons of cocoa, 75% of which was fine aroma cocoa, valued worldwide for its flavor and fragrance. This production was placed in markets such as the European Union, the United States, China and Japan, mainly, according to official data. "There are countries that lose competitiveness every year, such as the African countries, and Ecuador has to be the one to fill those spaces and hopefully we can increase our market share," added Flores. Ecuador, due to its geographical conditions and biological resources, contributes with 63% of the world production of fine aroma cocoa, used in the production of refined chocolates, according to data from the National Association of Cocoa Exporters of the country. Source:
What happens when the cocoa is processed into chocolate locally, i.e. in the country where the raw material is produced?
In addition to the jobs created in direct connection with the production of the product (further processing of cocoa, production and packaging of chocolate bars, ...), according to the World Bank, for every job in the processing of agricultural raw materials, 2.8 jobs are created in supplier companies. In other words, if a company decides to produce chocolate locally, each job indirectly creates job opportunities for nearly 3 people. Specifically, this could be employees of a construction company that builds the production line or workers in a factory that manufactures the packaging material.

Historically, Ecuador has also exported cocoa almost exclusively at the international market price. In 2002, however, an Ecuadorian couple had the vision to change this reality. Carla Barboto and Santiago Peralta founded Chocolate Pacari, a company that today directly employs 80 people in production and administration. This does not include the people who work indirectly for the company - such as transporters, electricians or designers, for example. Pacari also works directly with 3,500 farmers, who receive between double and triple the market price of the cocoa. Thus, the company is now considered not only a role model in the areas of social and environmental commitment, but also a pioneer in the creation of chocolate in origin.
References