You want to know more about the taste of clove powder? We'll get to that in a minute, but first, let's focus on all other aspects. Clove powder is the powdered form of the it, a flower bud that is harvested before it has blossomed. This flower bud gives off a powerful, pungent smell that cannot be mistaken for anything else due to its unique aroma. When you cook with it, that smell translates to a unique flavor that is well loved, especially as a part of the Christmas Trio that also consists of cinnamon and aniseed. The spice can also be used as a part of fish dishes, sausages, sauces, marinades and even as a way to spice up fruit dishes. Cloves are known for their pain-relieving qualities.
What are cloves?
Cloves are unblossomed flower buds that come from tropical trees in the family of Myrtaceae, Syzygium aromaticum. They are known for their pungent smell that is instantly recognizable and their one-of-a-kind flavor that is commonly found in spices used around Christmastime. Cloves are native to Indonesia where they have become a commonly used spice in these locations. They are now grown and harvested all around the world and are readily available through most seasons of the year, making them a common fixture in many cuisines.
What is clove powder?
Clove powder is simply the powdered form of the clove buds. Because of their fine nature, the grains of this clove powder are easy to incorporate into different foods, changing their flavor without making them feel granular.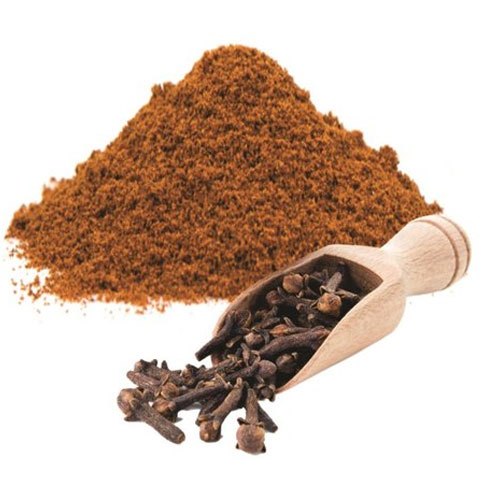 Source: https://5.imimg.com/ - Clove Powder
What does clove powder taste like?
Clove powder has a taste that is similar to the way that it smells, which is bitter, earthy and strong with a pungent aftertaste that leaves a warm, smoky, burning flavor and feel behind. Cloves are definitely not one thing: unobtrusive and reserved in taste. Where they are in play, their penetrating aroma comes to the fore. This is made up of a spicy-hot component and a slightly sweet note. Responsible for the strong taste and intense fragrance are the essential oils with the ingredient eugenol, of which cloves possess a whole lot.
What are some of the ways that you can use clove powder?
Clove powder is often used in the famous "Christmas Trio" of spices which includes clove, aniseed and cinnamon. More than that, clove powder goes great with fish, marinades, sausages, plum dishes and various fruit dishes where clove gives them a warmer taste.
Are there any health benefits to cloves?
Cloves are best known for their ability to help eliminate pain. One of the most common uses for cloves when it comes to pain relief is with a toothache or other topical maladies where the clove can be applied directly to the source. Eating cloves regularly may help regulate the body's response to pain in the future to keep you feeling comfortable.
How can cloves be used?
Cloves can be used whole or in ground form. Ground cloves should not be missing in Christmas cookies such as gingerbread and speculoos. Many Asian dishes can also be perfectly seasoned with a pinch of cloves powder. Whole cloves, for example, traditionally belong in red cabbage - either in the form of a larded onion or they are added loosely to the pot. Then please do not forget to remove them before eating. They are also an integral part of mulled wine and winter punch. Here they are larded in orange or lemon pieces. In this way, cloves are often used as a room fragrance: Simply pierce around 40 cloves in two or three oranges at a time - and the cloves are ready to be used as decorative and Christmassy-scented oranges.
What do carnations go with?
Cloves are versatile in the kitchen and go well with all delicacies that can tolerate a touch of spiciness and sweetness - for example marinades, sauces, stocks and soups. Cloves harmonise perfectly with hearty dishes such as sausage, game, pork and sauerbraten with red cabbage or knuckle of pork with sauerkraut. They also bring refinement to desserts: A pinch of ground cloves rounds off desserts, jams and compote, mulled wine, punch and Feuerzangenbowle perfectly. Asian chutneys, relishes and curries also benefit from a touch of clove - as do sweet-and-sour pickled vegetables.
Origin: Where do carnations come from?
In earlier times, cloves were considered extremely valuable because they came from the legendary Indonesian spice islands - the Moluccas. They were used in China long before Christ. Arab traders first brought the rare spice to Europe around 700 AD, where the merchants fought for a long time for dominance in the lucrative carnation trade. Today, cloves, which can grow up to 20 metres high and have green leaves all year round, can be found all over the world. When dried, the flower buds acquire their typical brown colour.
In what form are cloves available?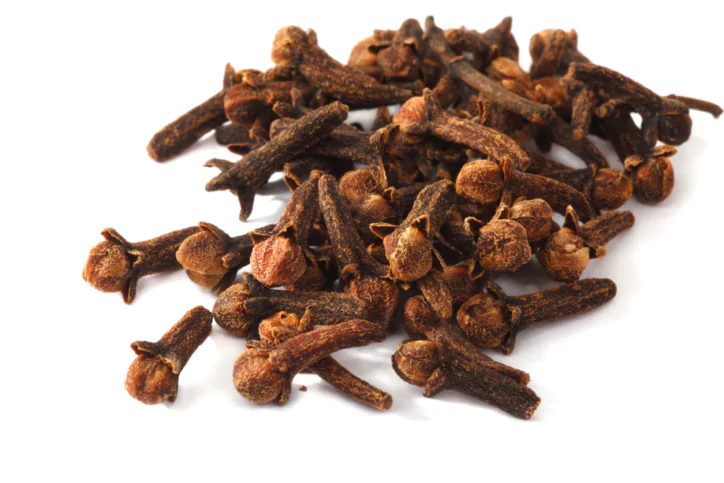 Source: https://i.ndtvimg.com/ - Cloves
The dried flower buds of the clove tree are available either as a whole or in ground form. You can also grind whole cloves yourself - for example in a mortar, a mill or a high-quality food processor.
How should cloves be stored?
If whole cloves are stored dry, cool and well sealed, they will keep for several years. Clove powder, on the other hand, should always be stored in the dark, as light, heat and moisture will otherwise quickly cause the powder to lose its aroma and seasoning.
What can cloves be replaced with?
Cloves can be easily replaced by allspice, which is also called clove pepper. The flavour of allspice is very similar to that of cloves, but is characterised by a peppery pungency - hence the name clove pepper.
Can cloves be eaten whole?
Cloves are very hot on the tongue. You should not eat them with your meal, but remove them from the pot after cooking. However, you can put a clove in your mouth and chew on it for two or three minutes - which is supposed to help against bad breath.
How do you test whether cloves are fresh and still usable?
It is easy to find out whether cloves still give off the desired aroma. Fresh cloves feel slightly greasy. If you press your fingernail against their stalk, a little oil comes out. Alternatively, a swimming test can provide information about the quality and freshness of cloves: if the cloves sink to the bottom in water or float vertically, they are still sufficiently fresh. However, if they float horizontally on the water surface, this indicates that they are too dry.
What health effects are attributed to cloves?
The list of health benefits of cloves is long. The "little nails" are not only considered to be an aphrodisiac, but they have many health effects on the body. This is due to the essential oils they contain, with eugenol playing the main role here.