Famous as Chicken Francese, this recipe is incredibly pleasant looking, simple to cook, and tastes out of this world. Chicken Francese is certainly one of the best chicken recipes that you can eat and worthy of fine dining eatery. You will soon be able to make Chicken Francese at home with some basic ingredients, always available at home, and enjoy the restaurant-style dining. The recipe has been a favorite dish for dinner parties, get-togethers, and occasions in many cuisines. As we know, chicken is the basic ingredient in this recipe, so try to buy medium-sized good chicken breasts for a lump of tender juicy meat.
Initially, Chicken Francese was first made by Italian Immigrants in America. It also resembles numerous veal dishes in Italian cuisines but tastes equally as good with chicken. However, if we ponder upon its name you might be figuring out why an American Italian recipe has a French name. Maybe it is because of butter and wine usage but one factor is certain that its flavor is superb and its appearance is mouthwatering. You can serve and enjoy Chicken Francese with a variety of white wine such as Chardonnay, Gamay, Pinot Noir, and Sauvignon Blanc. So without any further delay, let's start this astonishingly appetizing recipe but first go for its ingredients.
Ingredients
2 medium-sized chicken breasts
1/2 cup of coconut flour
2 eggs
1 sprig of fresh parsley finely chopped
50-grams of Parmesan cheese
1 cup of white wine
1 cup of chicken stock
1 garlic clove chopped
4 tbsp. of olive oil
4 tbsp. of butter
Half lemon juice
Salt and black pepper to taste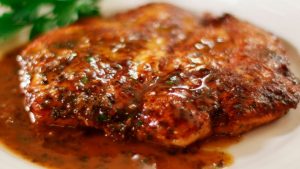 Delicious Chicken Francese
Preparation Instructions
Preparing Chicken Breast
First, remove the chicken skin if there's is any and cut each breast from the center with a long sharp knife by placing your hand on the breast and slice through the end but don't make two pieces, just open the chicken breast like a book.
Place a cling wrap on the kitchen board and spread the chicken breast on it.
Sandwich each chicken breast in a cling wrap and flat the thicker side with the help of a meat mallet or saucepan back.
Now break the eggs into a flat big tray and season with salt and pepper.
Beat the eggs slightly and add half of the finely chopped parsley, keep half for garnishing and sauce.
Now add grated parmesan cheese in egg batter, mix well and keep it aside for later use.
Take coconut flour on a wide plate and place chicken breasts in it one by one.
Coat chicken with flour from all sides but do shake off excessive flour if any.
Heat a big frying pan on medium heat and add olive oil and 2 tbsp. of butter.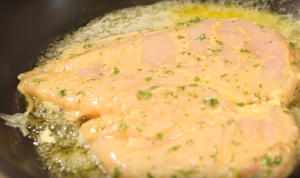 Frying of chicken breast
Now take the chicken breasts one by one and place them in egg batter widely.
Dip each chicken breast in egg batter, cover completely with batter, and Place in hot oil.
Cook chicken for almost 4 to 5 minutes or until golden brown from both sides.
once done, transfer the chicken breasts to a plate and keep aside.
Preparing hot Sauce
In the same frying pan, add white wine and turn on the heat,
Now add chicken stock, chopped garlic, and squeezed lemon juice.
Cook this mixture on high heat until reduced to half.
Now add remaining chopped parsley and butter and mix until butter melt on low flame.
At this stage, add cooked chicken into the sauce and continuously cook for another 30 seconds on low heat.
Now switch off the heat and place chicken on warm serving plates.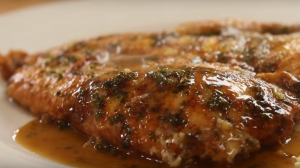 Chicken Francese with hot sauce
Pour the hot sauce on chicken generously and garnish with parsley.
The delicious, palatable, and awe-inspiring looking Chicken Francese is ready to serve. Enjoy!