Indonesia is not only famous for the picturesque islands, rainforests, mountains, rice paddies, beaches, coral reefs, Tanah temple but also for savory food especially chicken satay with peanut sauce which is a classical Indonesian recipe. The recipe is very common in neighboring countries as well like Thailand, Hong Kong, and Singapore and you can easily find it while traveling to any of these countries. Chicken and goat meat is often used in this recipe with some marinated spices and then grill on bamboo skewers. Served with locally made peanut butter sauce and rice, Chicken Satay is a mouthwatering and tantalizing recipe that can make easily at home with no time and less effort. It would be great fun and feast if you try this Indonesian recipe especially at weekends and share it with friends and family to enjoy exceptional quality time with fine dining. So let's start the sizzling and tempting chicken satay recipe and note the ingredients.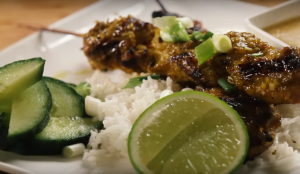 Chicken Satay Recipe
Ingredients
For Chicken Satay
4 chicken thighs
2 lemongrass sticks chopped white part only
2 shallots roughly chopped
2 tbsp. brown sugar
2-inch piece of ginger roughly chopped
2 tsp. turmeric powder
2 tbsp. soya sauce
1 tsp. cumin seed powder
1 tsp. coriander powder
¾ cup of vegetable oil
Half cucumber slices
1 lemon juice
4 spring onions chopped
For Peanut Butter Sauce
1 cup of coconut milk
½ cup peanut butter
2 tbsp. sweet soya sauce
2 tbsp. Thai red curry paste
Preparation Instructions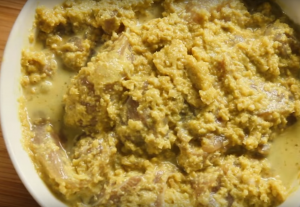 Marinated chicken satay
How To Prepare Chicken Satay
First, you need a good food processor to make satay paste of all ingredients except chicken and cucumber.
Now add chopped lemongrass, shallots, spring onions in processor followed by garlic, roughly chopped ginger, brown sugar, coriander, cumin powder, turmeric, soya sauce, lemon juice, and vegetable oil.
Blitz the processor and make a fine paste of all satay ingredients.
Once done, transfer this seasoning paste into a large container.
Now slice the chicken thighs into long thin strips, add in satay paste and mix well.
Cover chicken with cling wrap and place in the refrigerator to marinate for 24 hours ideally or at least 4 hours.
Use bamboo skewers for grilling the chicken but soak them in water before cooking to reduce the scorching risk.
chicken satay on skewers
On each skewer, thread minimum 3 strips of marinated chicken; make sure strips must be flat on the skewer.
Now you have two options either BBQ or grilled pan but first grease the grill and then place chicken skewers.
Satay would take 3 to 4 minutes to cook each side but bring some char effect for a perfect chicken satay without burning plus also brush each skewer with little oil in between.
Cut the cucumber in half lengthwise then split the half again and make half circle-shaped slices.
Indonesian Chicken Satay is ready to serve with rice and cucumber.
How to prepare Peanut Butter Sauce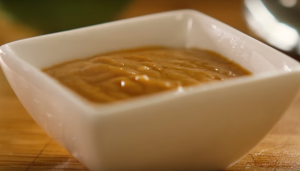 Peanut Butter sauce
Heat a saucepan on moderate heat, add coconut milk and let it simmer.
While simmering, add curry paste, sweet soya sauce, and stir on low heat for few minutes or until thick.
Add peanut butter in the sauce, stir again and then switch off the heat.
The Delicious Peanut butter sauce is ready to serve with hot sizzling chicken satay, rice, and cucumber. Enjoy!