If you are looking for a low carbs diet or a practicing Ketogenic then here is a very simple, delicious, and satisfying recipe named piquant Chicken Lazone with creamy sauce. We will use chicken breast pieces in this recipe that would be coated with herbs and spices and finished in a delicious cream sauce. White wine or balsamic vinegar is highly recommended for an extra stroke but if you don't have, it would still taste incredible. Pan-seared Chicken breast in butter and olive oil with homemade seasoning and tangy cream sauce would render an unparalleled taste across the globe and serve your dining with pleasure and appreciation from everyone. So let's start this exquisite yet simple recipe of Chicken Lazone and note the ingredients.
Ingredients
2 Chicken Breast
salt to taste
½ tsp. of chili powder
1 tsp. of smoked paprika
1 tsp. of dried oregano
1 tsp. of onion powder
1 garlic clove minced
1 shallot finely chopped
1 cup of heavy cream
½ cup of chicken stock
½ cup of dry white wine or balsamic vinegar (optional)
1 sprig fresh parsley finely chopped
3 tbsp. of olive oil
2 tbsp. of Butter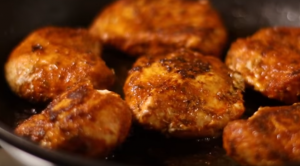 Pan-seared chicken
Preparation Instructions
To Prepare Chicken Breast
First, take chicken breasts and cut each breast into 3 equal size pieces with a sharp knife and coat them with olive oil.
Now take a mixing bowl, add all dry spices including salt, smoked paprika, chili powder, onion powder, and dried oregano and mix well.
Place chicken pieces in dry mixture one by one and coat entirely.
Next heat olive oil and butter in a pan on medium heat and add chicken.
Sear the chicken pieces from both sides until golden brown.
Once done, transfer chicken pieces to a warm plate.
To Prepare Cream Sauce
In the same pan, add chopped shallot and garlic and saute for a while.
Add chicken stock and deglaze the pan.

Spicy Chicken Lazone with cream sauce
Add dry white wine or balsamic vinegar and cream in the pan and mix well.
let the sauce simmer for 2 minutes on low heat but stir continuously.
Now turn to the chicken pieces and add them in cream sauce.
Cook the chicken in the sauce for 2 to 3 minutes on low heat.
Sprinkle chopped parsley in sauce and rotate pan slightly to mix parsley with chicken.
transfer the chicken pieces in a serving plate and pour the creamy sauce all around.
Chicken Lazone is ready to serve. Enjoy!