Eggplant Rollatini is a very popular Italian recipe and has huge appreciation in Italy and many regions across the world. Rollatini has a very simple and appealing recipe to prepare that even a naive can try at home. Originally, people cook rollatini with eggplant slices or chicken cutlets that are coated with white flour and filled with ricotta cheese accompanying some seasoning. Usually, Veal, beef, lamb, and pork are also used to make rollatini as all of them can be rolled and baked easily as required in this recipe. However, today we will make rollatini with its original ingredients but add a variety of cheese and seasoning. We are certain that the final looks of rollatini will please your eyes and bring water in your mouth. People who are on a low carbs diet will love it most as it is a gluten-free meal with zero carbs. So, let's move to the detailed recipe of eggplant rollatini and enjoy the soft creamy cheesy treat in today's menu.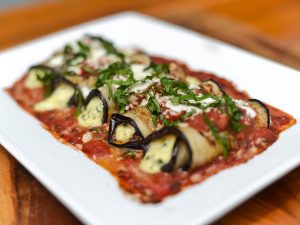 Delish Eggplant Rollatini
Ingredients
2 large eggplants
2 cups ricotta cheese
3 tbsp. fresh parsley chopped
1 tbsp. dried Italian herbs
1 cup grated mozzarella cheese
¼ cup grated Parmesan cheese
1 whole egg
1 lemon zest
A little bit of olive oil
Salt and black pepper to taste
1 and a half cups marinara sauce
Preparation Instructions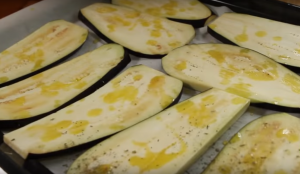 Eggplant slices for baking
First of all, wash and trim off a small slice of eggplants from the top and bottom.
Cut the eggplants lengthwise but slices must be thick.
Line parchment paper on a baking tray and arrange slices of eggplant without overlapping.
Drizzle a dash of olive on each slice of eggplant.
Sprinkle salt, Italian herb, and ground black pepper on slices and bake in a preheated oven for 20 minutes at 180 degrees.
Meanwhile, take ricotta cheese in a mixing bowl and add one egg and half of the mozzarella cheese and mix well.
Add lemon zest, parmesan cheese, and chopped parsley and combine them with other ingredients.
Season the mixture with salt and ground black pepper.
Check eggplant and remove from the oven if it became golden brown and let them cool for a few minutes.
In another baking tray, spread marinara sauce at the bottom evenly.
With a tablespoon, scoop out some of the ricotta mix, place on each slice of baked eggplant, and spread evenly to cover the slice.
Roll the eggplant slice carefully and place it in the baking tray on top of marinara sauce.
Repeat the procedure with all remaining slices and place them in the baking tray while leaving edges.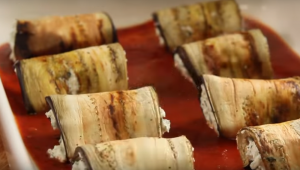 Eggplant slices for baking
On top of each slice, add some of the marinara sauce and remaining mozzarella cheese.
Set the baking tray in a preheated oven and bake the eggplants rolls for 10 minutes at 200 degrees or until golden brown.
Once baked, remove the baking tray from the oven and scatter shredded fresh basil leaves above the rollatini.
Let rollatini to cool for 10 minutes before serving.
Dish out each delicious eggplant rollatini in a serving plate and Enjoy hot!