Fish Meuniere is one of the very popular dishes in French Cuisine and considered as noble seafood in the court of King Louis XIV. The Meuniere refers to the miller; ancient artesian formation of white flour as fish is coated with flour first before cooking in this recipe. Romans were also fond of Fish Meuniere but Louis made it a royal food at the end of the 19th century as many chefs discovered their inspiration to make this recipe with fineness. In Meuniere, fish is first seasoned and then fried with butter, sprinkled with dill, floured by dill potatoes, and topped by nutty lemony butter sauce. Fish Meuniere is served hot immediately after cooking and garnished with lemon slices but homemade buttery dill potatoes made it a high-ended French meal. So today we will make a superbly delicious healthy recipe and enjoy with classy white wine.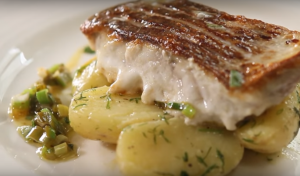 Fish Meuniere French style
Ingredients
2 thick fillets of white fish with skin
6 small size white potatoes
Himalaya Salt to taste
Ground Black Pepper to taste
1 tbsp. of all-purpose flour
White Pepper to taste
1 tbsp. of olive oil
4 tbsp. of butter
1 handful bunch of fresh dill chopped
1 spring of onion
1 whole lemon juice
Preparation Instructions
First, add potatoes in a saucepan with salt and enough water to boil and switch on the heat.
Let the potatoes simmer in boiling water until they become soft adequately.
Meanwhile, take the fish and hold it tightly to make shallow cuts on the fish skin.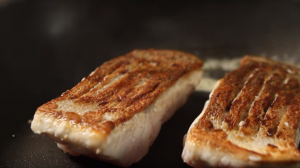 Fried Fish
Season fish and its shallow incisions with salt and white paper from both sides.
On a flat plate, add all-purpose flour and coat fish with it from all sides.
Now heat olive in a nonstick frying pan on medium heat and add fish; make sure the skin side of fish must be down.
Cook the fish until it becomes soft inside and crispy outside.
Flip over the sides of fish and turn heat to low to cook for another 2 minutes.
After 2 minutes add butter to the pan but make sure heat should be low so the butter would not burn.
Cook the fish on low heat in this butter for almost 3 minutes or until golden brown from both sides.
While the fish is getting ready, let's move to the potatoes which must be ready now to cook.
Drain all water from potatoes and slice them in half lengthwise.
In the empty pan, add 2 tbsp. butter and potatoes and switch on heat again.
Add roughly chopped dill in potatoes and season with salt and black pepper.
Give potatoes a good toss until butter mix evenly and then switches heat to low.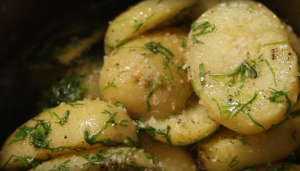 Buttery Potatoes
Wash and chopped spring onions and keep aside.
Check fish now and if it becomes golden brown color then squeeze one lemon in the pan and add spring onions.
Once again toss the spring onions in the pan and let them cook for another two minutes in butter.
Finally come to serving and take a wide serving plate.
Place buttery potatoes at the bottom of the plate following by crispy soft fish on top of them.
Drizzle butter lemon and spring onion sauce on fish and around the plate and garnish with fresh dill.
The appetizing feast of Fish Maurine is ready to eat. Enjoy!