Besides IKEA and Abba, Sweden is also famous for its iconic food named Swedish meatballs with creamy mustard sauce. Originally the recipe is from Turkey but Swedish King Charles XII brought this recipe home in the early 18th century. Mostly Swedish meatballs are made of beef or pork but it goes incredibly tasty with chicken too which is a great source of protein as compared to other meat options. Try to make chicken mince at home for a better flavor and texture in meatballs and chicken thighs are the best option for meatballs. The best thing, only one pan will be used in this recipe, so don't need to clean many dishes. Nutmeg and ground all spices will enhance the smack in the sauce when mixed with mustard, heavy cream, and Worcestershire. Swedish meatballs recipe has a very simple method to follow and its ingredients are readily available at every home, so just try this recipe tonight and have a luxurious royal and tempting banquet.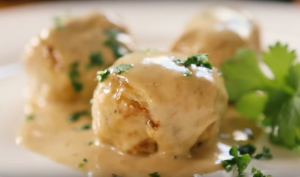 Swedish chicken meatballs
Ingredients
For Chicken Meat Balls
3 shallots chopped
1 garlic clove chopped
6 tbsp. of butter
500 grams of chicken mince
½ cup of breadcrumbs
1/4 tsp. ground all spices
½ tsp. of ground white pepper
¼ of ground nutmeg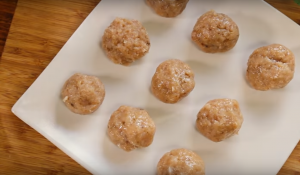 chicken meatballs
1 tsp. Himalaya Salt
1 whole egg
For Mustard Sauce;
2 tbsp. of olive oil
3 tbsp. all-purpose flour
1 cup of chicken stock
1 cup of heavy cream
1½ Worcestershire sauce
1 tsp. Dijon Mustard
1 handful parsley chopped
Salt to taste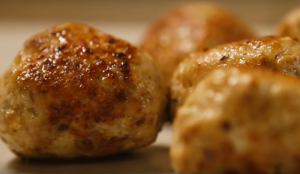 Fried Meatballs
Preparation instructions
To Prepare Swedish Meatballs
First, heat 2 tbsp. butter in a big frying pan on low heat and add chopped shallot and garlic.
Mildly sauté garlic and shallots until translucent or light pink, then add ground all spices, nutmeg, and breadcrumbs.
Season this mixture with salt and white pepper and mix well.
Switch off the heat and leave the mixture to cool a little bit.
Now take a mixing bowl and add chicken and whole egg.
Add the shallots and breadcrumb mixture in the chicken mince and with hands, combine well.
Grease hands with oil and make small meatballs of mince with the almost same size and place on a broad plate.
In the same pan, add olive on medium heat and add meatballs to shallow fry.
Keep turning and tossing all meatballs until golden brown and keep aside after removing from pan.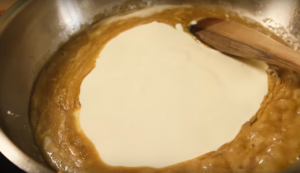 To Prepare Mustard Cream Sauce
Using the same frying pan, add 3 tbsp. of butter with all-purpose flour and roast well on medium heat.
All-purpose flour will help to thicken the sauce, so cook it until it turns to light brown color.
Now add chicken stock, mustard, Worcestershire sauce, heavy cream, and salt in the pan and mix well.
Let the sauce simmer on low heat for 2 to 3 minutes and then add fried meatballs.
Cook meatballs in the sauce for about 5 to 7 minutes on low heat while flipping them occasionally.
Once done, serve the Swedish meatballs in serving plate and sprinkle chopped parsley on top.
The gratifying Swedish Chicken Meatballs with creamy mustard sauce is ready to eat. Enjoy!