We can be cautious and anxious while trying something new, especially food. When you heard about non-native food which contains ingredients you never heard of, it slightly gives you a point to take a break and thought. Middle East culinary art possesses vast landmass and people who adored their food religiously, because of their rich taste and ingredients. Hence, it's a heaven of vegan! Arab food offers traditional taste beyond comprehension to travelers across the world; whether you go to Abu Dhabi, Saudi Arabia, Bahrain, or Lebanon, you will be baptized to have the opportunity to taste and enjoy the most excellent classical Arab food everywhere. Amongst countless rich recipes, today we will make Manakeesh, which is a sort of an Arabic pizza, usually made of genuine Lebanese bread, marinated lamb meat, vegetables, and Arabic spices and herbs. Without Manakeesh, one cannot imagine the lavish breakfast table in the Middle East, therefore, let's list down the steps to make a different and delicious Arabic Manakeesh.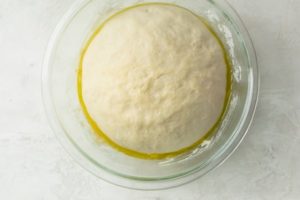 imaage source: https://feelgoodfoodie.net/recipe/zaatar-manakeesh
Ingredients
750-gram of white flour
2 cups of warm water
2 tbsp. of Raw Sugar
1 tbsp. of fresh Zaatar oil
2 tbsp. Dry yeast
Half cup or 5 tbsp. of olive oil
325-gram grated Akawi cheese
1 tbsp. of salt
2 tbsp. of Dried thyme
2 tbsp. of Sesame seeds
2 tbsp. of Dried Oregano
Grounded black pepper and salt to taste
Preparation Method
Firstly, take a small bowl, and stir yeast with 1/4th cup of warm water and sugar in it.
Leave this mixture aside for an hour to get activated.
Once done, add yeast water in all-purpose flour along with salt, olive oil, and left-over warm water, and mix them together to form a soft and smooth dough.
Keep the dough aside and let it rise to a medium-sized thickness, and sprinkle fresh zaatar oil over the surface of the dough.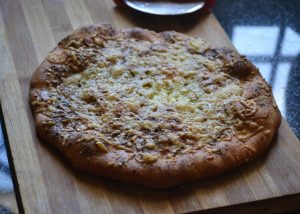 image source: https://gayathriscookspot.com/2018/09/zaatar-cheese-manakeesh-recipe
In a small mixing bowl, add roasted sesame seeds, dried oregano, dry thyme, grounded black paper, salt, and 3 tbsp. olive oil and mix well.
Now place a parchment paper on a baking tray and spread Manakeesh dough evenly, and top it with the spice mixture and grated Awaki cheese.
Bake Manakeesh in a preheated oven for 6 minutes at 300 centigrade.
Once baked, removed it from the oven and let it cool for 10 minutes before transferring to serving plates.
To serve the Manakeesh, cut it into pizza slices and enjoy with fresh tomatoes and pickled cucumber.