Street Food is considered fine dining in Thailand since it offers an exorbitant variance of ready-to-serve meals. On every corner of Food Street, you'll find a plethora of small vendors, food stalls, and simple outdoor settings, where you can sit and eat cheap yet mouth-watering foodstuffs. Thai food culture is astonishingly communal and energetic especially for those, who manifest stomachs to taste, unlike meal courses. Tourists, who visit Thailand and Bangkok, described the street food of this region a very unique, flavourful, and spicy because of local ingredients and traditions. For that reason, today, we have selected one of the famous recipes of Thai street food, called Thai Garlic Fried Chicken, which is one of its kind and extremely effortless to cook. Consequently, without any interruption; let's start our crispy spicy fried chicken recipe.
Ingredients
1 whole chicken into medium-sized pieces
4 shallots finely, sliced
8 large garlic cloves
4 tbsp. of fish sauce
6 tbsp. of soy sauce
2 tbsp. of whole coriander seeds
2 tsp.of white pepper
¾ cup of rice flour
¾ cup of cornflour
¼ cup of water
1 tsp. of salt
3 tsp. of Cayenne pepper
Fresh Coriander leaves for garnishing
Vegetable oil for deep frying
4 tbsp. of sweet chili sauce for serving
Preparation Method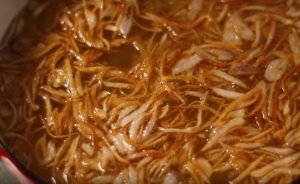 Fried Shallots
First, heat oil for frying in a large heavy-bottom saucepan, and check oil temperature, which should be 250 F° or 120 C°.
Once, oil reaches the required temperature, add sliced shallots and fry until crispy and light golden brown.
Within 10 to 20 minutes, shallots will be fried; remove them from oil with a slotted spatula, and lay on absorbent paper to drain oil completely.
For the best flavor, prepare chicken spices in a mortar and pestle, and add garlic cloves, white pepper, cayenne pepper, salt, and coriander seeds, and start pounding all ingredients to make a fine paste.
Now, take a mixing bowl, and add the paste of spices followed by soy sauce and fish sauce, and Combine well to prepare marination.
Add chicken pieces into the bowl, and coat with paste from all sides up and down.
Cover and marinate chicken for at least 3-hour in the refrigerator, but for best taste, marinates it overnight.
Next day, remove chicken from the fridge and add cornflower, rice flour, and water for a perfect coating.
Mix all these ingredients to form a thin batter, and cover whole chicken pieces with it.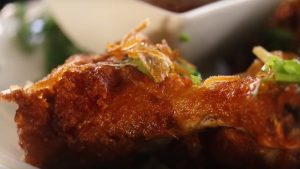 Spicy Garlic Fried Chicken
At this moment, heat same oil again for deep frying and keep the temperature at 270 F° or 130 C°.
As soon as oil heats up, add chicken in batches, and fry for 15 to 20 minutes both sides.
Fry until crunchy and golden brown from all sides; remove and place the fried chicken on a wire rack to drain oil.
For Serving
Set crispy crunchy fried chicken on a serving plate and sprinkle freshly chopped coriander leaves.
Scatter a handful quantity of fried shallots on top of delicious chicken, and serve with sweet chili sauce. Enjoy!