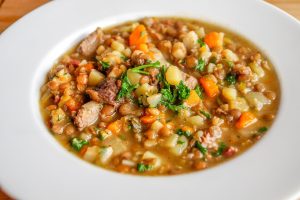 www.pixabay.com
The "Mixed Lentil Soup" is one of Indian's staple cuisines, commonly enjoyed with steamed white rice. It is a filling protein bowl that you can enjoy at any hour of the day or night. The warm tender lentils, mixed with soft boiled chana dal and bite-like mung beans offer a soothing meal. The spicy tampering, juicy tomato, and fresh coriander enhance the overall flavor exceptionally.
Ingredients for Mixed Lentil Soup
½ cup split red lentils
¼ cup mung beans
¼ cup chana dal
A pinch of asafoetida (optional)
½ teaspoon turmeric powder
1 teaspoon chopped ginger
Salt (as per taste)
2 teaspoons coconut oil (or clarified butter)
For Tampering the Mixed Lentil Soup you'll need-
1 tablespoon coconut oil
1 teaspoon mustard seeds
1-2 green chilies (chopped)
1 teaspoon fennel seeds
6-7 curry leaves
1 tablespoon chopped garlic
1 ripe tomato (chopped)
½ teaspoon red chili powder
½ teaspoon garam masala powder
For Garnishing
2-3 tablespoons fresh coriander leaves (chopped)
Directions to cook the Mixed Lentil Soup
Step 1: Rinse the mung beans and chana dal separately. Transfer to separate bowls and soak them in filtered water for 5-6 hours. Rinse the lentils at the time of cooking, no need to soak them.
Step 2: Now, drain the water and transfer the mung beans, chana dal and lentils into a pressure cooker. Pour 3½ cups of water. Add the asafoetida, turmeric powder, and chopped ginger. Stir once. (*If you want you may add the tomato in this step as well)
Step 3: Seal the pressure cooker with the lid (ensure the vent weight is attached). Place the pressure cooker on the stove over a high flame and cook until 4-5 whistles.
Step 4: Let the pressure release naturally, then uncover the lid and transfer the boiled lentils, mung beans, and chana dal into a saucepan/pot. Place it on the stove over medium-low heat. Drizzle 2 teaspoons of coconut oil and season with salt. Stir once and let it simmer.
Step 5: Place another pan on the stove over medium heat. Pour 1 tablespoon of coconut oil.
Step 6: Once the oil is hot, add the mustard seeds. Let it cook for 10-15 seconds till the mustard seeds start to splutter.
Step 7: Add the chopped green chilies, fennel seeds, curry leaves, chopped garlic, and chopped tomato. Cook for 2-3 minutes.
Step 8: Sprinkle the red chili powder and garam masala powder. Stir for 3-4 seconds and transfer the tampering on the simmering lentils, mung beans, and chana dal. Mix well and turn off the stove. Serve the "Mixed Lentil Soup" with freshly chopped coriander leaves and steamed rice or roti.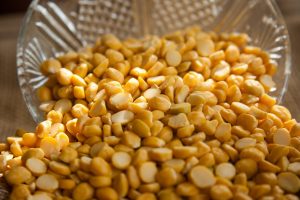 image source: www.pixabay.com
Tips
You can also use a rice cooker instead of a pressure cooker. It will take 30-40 minutes time and you need to stir the ingredients 2-3 times at regular intervals during the cooking process. This 'Mixed Lentil Soup' is an easy and yummy recipe that you can twist as per your taste preference. You may add chopped potatoes, carrots, green beans, etc. into the cooker and make it your customized comfort food bowl.