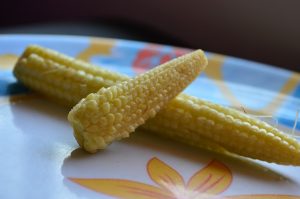 image source: www.pixabay.com
The 'Saucy Chili Baby Corn' is a luscious appetizer! You can have it directly as a snack or starter, or enjoy it topped on noodles for a filling meal. The crispy corn fritters coated with the glossy rich red sauce gets you drooling at the very sight! 1 serving of this Saucy Chili Baby Corn is never enough to satisfy the soul.
Ingredients
½ can of baby corn (9-ounces)
4 tablespoons of All-Purpose flour
5 tablespoons of cornflour (4 Tbsp for corn fritters; 1 Tbsp to thicken the sauce)
Salt (to taste)
Oil (for Frying)
1 tablespoon chopped ginger
1 tablespoon chopped garlic
2 green chilies (chopped)
A large onion (diced)
1 green bell pepper (de-seeded & cut in big pieces)
1 teaspoon black pepper sauce
2 tablespoon chili sauce medium
2½ tablespoon satay sauce
1 teaspoon vinegar
1 tablespoon sugar
Water
Directions to Prepare the Corn Fritters
Take out the baby corn from the brine solution. Rinse them under running cold water.
Now, slit 1 baby corn in half length-wise. Next, cut the halved pieces breadth-wise. Therefore 1 corn results in a total of 4 pieces. Repeat with the rest of the baby corns.
Put all the baby corn pieces in a pot of boiling water. Boil them for 2 minutes, drain and transfer to a large bowl. Allow them to cool.
Once the baby corns are cooled, add the all-purpose flour, cornflour, and salt. Mix by adding water (1-2 Tbsp) so that each corn is nicely coated with the flour mixture.
Fill a small saucepan with oil and heat it over medium-high flame.
Drop the flour-coated corns one by one into the hot oil and deep fry them until golden and crisp.
Transfer the crispy corn fritters into a kitchen towel to remove excess oil.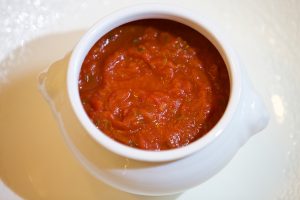 image source: www.pixabay.com
Cook the Saucy Chili Baby Corn
Step 1: Place a wok on the stove and drizzle 3 tablespoons of oil. Once the oil is hot, add the chopped ginger, garlic & green chilies. Sauté for 20 seconds by stirring frequently!
Step 2: Add the onion and bell pepper. Stir fry for 3-4 minutes.
Step 3: Add the black pepper sauce, chili sauce, satay sauce, & vinegar. Mix the sauces for 5-10 seconds.
Step 4: Turn the flame to high, add water (1/4 cup) and allow the sauce mixture to start bubbling.
Step 5: Meanwhile, mix cornflour (1 Tbsp) with water (2 Tbsp). Add it to the bubbling sauce and stir continuously until the sauce thickens.
Step 6: Add the sugar, stir once, and drop all the corn fritters. Mix the corn fritters with the sauce so that they are well coated. Turn off the stove and serve. Enjoy this 'Saucy Chili Baby Corn' over the weekends for a home-made yummy starter. Make sure to prepare extra as everyone would ask for second/third helpings.