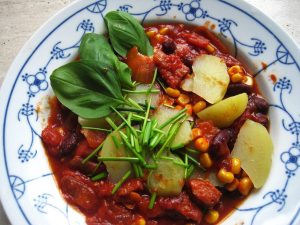 image source: www.pixabay.com
The "Leftover Turkey Curry" is an easy, quick and lip-smacking recipe! Its rich flavors stick to the palate and leave you craving for more. This flavorsome curry goes well with rice, roti, paratha, naan, and bread. It needs 30 minutes to cook. You can prepare it for family lunches and fun dinners.
Leftover Turkey Curry Flavors
This delicious creamy curry gets its intense saucy gravy with tomato puree and chicken broth. The translucent fried shallots and juicy apricots bring in a delectable sweetness. The red curry paste along with the aromatic cardamom gives the curry a spicy Thai taste. The mango sauce brings a twist of flavor, not usually found in chicken/turkey curry. Finally, the missed nuttiness is fulfilled by the roasted cashew garnish while the coriander leaves offer the green herb freshness.
Ingredients
400 grams Turkey (shredded) (cooked leftovers)
3 Tablespoons of Olive Oil
2 Shallots (sliced finely)
4 pickled Garlic Cloves (minced)
1½ Tablespoons of Ginger Powder
2 teaspoons of Cardamom Powder
4 Tablespoons of Red Curry Paste
1 cup of Apricots (chopped)
1 tablespoon of Mango Sauce
3 cups of Tomato Puree
1 cup of Chicken Broth
Salt (as per taste)
For Garnishing the Leftover Turkey Curry
2 Tablespoons of Roasted Corn Chili
1 tablespoon of Roasted Cashew Nuts
A handful of Fresh Coriander leaves
Directions
Step 1: Place a skillet on the stove at medium. Pour the olive oil and let it heat.
Step 2: Add the sliced onions and stir fry for 5 minutes.
Step 3: As the onions turn tender and transparent, add the minced garlic and ginger powder. Cook for 4 minutes by stirring frequently.
Step 4: Now, add the red curry paste & cardamom powder. Mix well and cook for 2-3 minutes. Stir continuously.
Step 5: Next, transfer the chopped apricots, mango sauce, tomato puree, and chicken broth. Mix the ingredients and let the sauce cook for 15 minutes.
Step 6: Once the sauce thickens and starts bubbling, taste it. Add some salt if needed.
Step 7: Time to add the shredded cooked turkey into the thick sauce. Cook for 5-6 minutes by stirring occasionally. Step 8: Garnish the curry with roasted corn chili, roasted cashew nuts, and fresh coriander leaves. Enjoy your bowl of lip-smacking leftover turkey curry with steamed rice or bread
.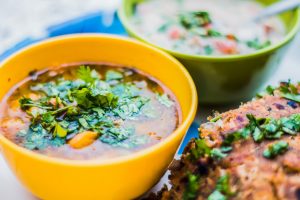 image source: www.pixabay.com
Tips
You may garnish the curry with toasted flaked almonds instead of cashews.
You can try this curry recipe with leftover chicken as well.
In case you don't have turkey/chicken leftovers, you can boil 400 grams of boneless turkey and shred them before adding to the curry.
If you like bell peppers you can chop some and add it along with the onions.
For an enhanced flavor, substitute the oil with butter or ghee.
This leftover turkey curry is so yummy that it pleases everyone who tries it. Moreover, it's a simple recipe that you can relish with your family over lunch/dinner.