The Jujube (Ziziphus jujuba, Chinese date) has been cultivated and consumed in China for more than 2,500 years. More than 400 varieties of Chinese dates have been cultivated over time. Some of them taste great when they are fresh, others are better dried. The jujube tree is relatively resistant and keeps extreme temperatures with low rainfall. It is about 10 meters high and often carries thorns, but this is not the case with all varieties. The fruits of the tree are earthy and have a large core in the middle. Jujube fruit has red pulp. From the taste it resembles apples with a sweet to sour note. Ripe fruits can be stored at room temperature for up to one week. The best varieties for fresh consumption are Honey Jar or Sugar Cane. Lang and Shanxi Li are best suited for dried consumption. They can be used as a substitute for apples or dates in recipes.
Use of Jujube
The Chinese date has been cultivated and used for thousands of years. It is mentioned in numerous ancient writings of China, India, Japan and Korea. The fruit is eaten either fresh or dried. In addition, tea, wine and syrup are made from the fruits. Ziziphus jujuba is used to:
Stress To stimulate the appetite
To help with insomnia
Promote digestion
Treat Cardiac arrhythmias
Effect of Jujube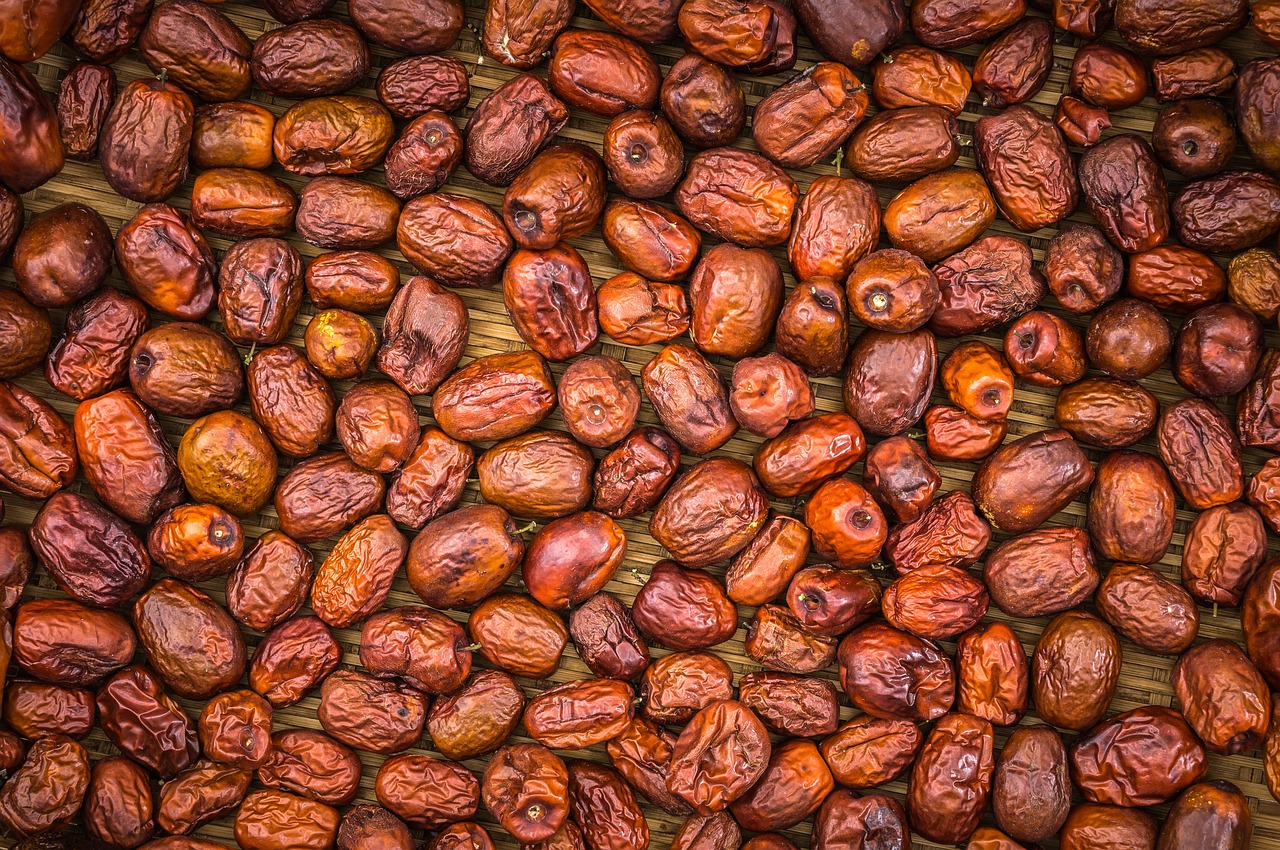 Source: Pixabay
The jujube is characterized by the wide range of vitamins, minerals and vital substances. It contains, among other things, magnesium, potassium, copper, niacin, calcium, manganese, phosphorus and iron. In addition, with a vitamin C content of 69 mg / 100 g it covers about 67% of the daily requirement. This makes them an effective means of increasing the defenses and combating infections. The health effects of Ziziphus jujuba have not yet been explored very well. However, there are initial findings that attribute to the fruit some positive properties. Among other things, the jujube will have a positive effect on blood pressure, help with liver diseases and counteract blood loss. Also in skin care products extracts of Chinese dates are used to eliminate wrinkles and dry skin.
Important phytonutrients
The effect of Chinese dates is due to the variety and complexity of their phytonutrients. Among other things, researchers were able to determine eight different flavonoids. Among these were also Swertish and Spinosin, two active ingredients that have soothing effects. This is probably the reason why the jujube is used in traditional Chinese medicine for anxiety and insomnia. Furthermore, Ziziphus jujuba also contains isoflavone Puerarin, which has a positive effect on cholesterol and cardiovascular health. Also the flavonoid apigenin is part of the jujube. It has anti-inflammatory and antioxidant properties.
Studies on Jujube
In 2012, researchers found in studies that jujube polysaccharide extracts have potential effects on skin cancer. On the basis of these results, the scientists hope to intensify the research on Chinese dates. Furthermore, oil obtained from Ziziphus jujuba showed beneficial effects on hair growth. In other experiments, extracts of the plant proved to be effective in the use against chronic constipation and related disorders.
Side effects and warnings
So far, there are few findings on the side effects of Jujube from research. There are studies that did not have any negative effects. Other studies indicated signs of allergic reactions.
Pregnancy
The safety of Ziziphus jujuba for pregnant women and lactating mothers is not adequately documented. There were indications of contraceptive effects of plant bark extracts. Therefore, we strongly advise against the intake.
Ingestion and dosage
Traditionally, 50 g of the fruit (about 20 individual fruits) are consumed in the form of a water extract, which is further processed into a beverage or a soup. The optimal dosage of food supplements for humans is not known. 500mg / kg were used in animal experiments. This would be the case in man:
5500 mg (75 kg)
7300 mg (100 kg)
9000 mg (125 kg)