The flavorful Chicken Piccata is the most pungent and delicious recipe that could bring a feast pleasure at your dining table. The creamy mashed potatoes are an exceptional replacement of baked potatoes that normally are served with chicken steaks. The Chicken Piccata and mashed potatoes have influential ingredients that could serve your plate with most aromatic and delectable flavors. The Piccata sauce is as tasty as the whole recipe with amalgamates of wine, lemon juice and butter. In the final serving, you will have a perfect meal that would contain chicken steaks, Piccata sauce and creamy mashed potatoes with an extra highlight of boiled asparagus. This distinct recipe can be prepared in no time with a very simple procedure. So without any delay, let's start the most appetizing recipe and note ingredients.

image source: https://pixabay.com
Ingredients
Chicken Piccata
2 boneless, skinless chicken breasts
Kosher salt
Freshly ground black pepper
½-cup all-purpose flour
1 Whole egg
½-tbsp. milk
3/4 cup seasoned dry breadcrumbs
3 tbsp. Olive oil
3 tbsp. unsalted butter
Freshly squeezed lemon juice from 2 lemons
1 tsp. lemon zest
½-cup Dry white wine
Lemon Slices for garnishing
Chopped fresh parsley leaves for garnishing
A sprig of boiled Asparagus
Creamy Mashed Potato
800g Russet Potatoes
Melted Butter 1 stick
Kosher Salt for Seasoning
Ground Black Pepper for Seasoning
1-cup Heavy Cream
2 sprigs of Rosemary
5 cloves of Garlic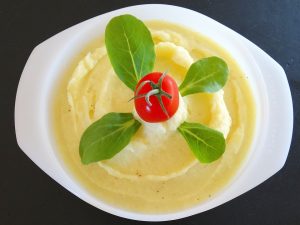 image source: https://pixabay.com
Preparation Directions
Making Chicken Piccata:
First, preheat the oven to 400 degrees F and line a sheet pan with parchment paper.
Take each chicken breast and place them in between 2 sheets of plastic paper.
Pound both chicken breasts with a rolling pin or mallet or anything you can find at home.
Now season the chicken with salt and black pepper from both sides.
Set up 3 shallow plates. In one plate, mix flour with salt and black pepper.
In the second plate, beat 1 egg with 1 tbsp. milk and in the third plate, place seasoned breadcrumbs.
Take pounded chicken breasts and dip first in flour mixture, then in egg wash and lastly, coat them with breadcrumbs, make sure to shake off the chicken while dipping in egg and flour in order to remove the extra coating.
Heat 3 tbsp. olive oil in a large pan on medium heat; add chicken breasts and cook for 2 minutes each side or until golden brown.
Switch off the heat now and place chicken breast on the sheet pan to bake them for 5 to 10 minutes.
Meanwhile, make the Piccata sauce and heat 1 tbsp. butter in a large pan and then add lemon juice and white wine.
Once it starts simmering, add half tsp. salt, 1/4th tsp. black pepper and 1 tsp. lemon zest.
Boil the sauce until it is reduced to half and then switch off the heat.
Add remaining butter in the sauce and whirl to combine.
The delicious Chicken with Piccata sauce is ready to serve.
Making Mashed Potatoes:
First, Peel off the potatoes properly and then cut them into small cubes.
Add potato cubes into cold water for 10 minutes to remove starch and avoid discoloring.
Next, boil the potatoes in a pot with enough water; after boiling, lower the heat and simmer them for 15 minutes.
Next, Drain the water from potatoes and again put them on heat to remove extra moisture and stir meanwhile.
Now mash the potatoes with a potato masher and season with salt and black pepper.
Add melted butter in mashed potatoes and mix well.
Now in a small saucepan, add heavy cream with a rosemary sprig and garlic cloves and simmer for 5 minutes.
Drain the heavy cream to remove rosemary and garlic and add into mashed potatoes and mix well.
The creamy mashed potatoes are ready to serve.
Final Assembling
Take 2 serving plates and place baked chicken breasts first.
Place boiled asparagus with chicken and a fair amount of mashed potatoes.
Pour the Piccata Sauce on the chicken breasts and mashed potatoes.
Garnish with fresh parsley and lemon slices.
The Crunchy Chicken with Sizzling Piccata Sauce and ultra-creamy mashed potatoes are ready to serve, Enjoy!