This raw papaya soup is an incredible way to deliciously incorporate the goodness of papaya into the daily diet. This thick and nutty texture soup can be relished for breakfast, lunch or dinner.
How to Cook
This healthy raw papaya soup recipe needs about 20 minutes time to prepare & cook. In less than half an hour, you can serve a filling bowl of tasty soup to your family.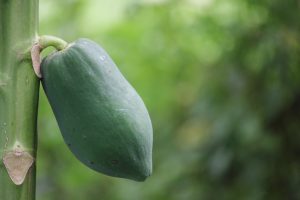 image source: www.pixabay.com
The vegan homemade soup recipe is lusciously healthy as it does not use any sugar, preservatives or oil/butter. This soup can be prepared with just 5 ingredients by boiling, blending and mixing. Green papaya, tamarind and turmeric are brilliant antioxidants and can solve inflammatory troubles. Additionally, consuming papaya can repair damaged skin naturally. Coconut is a highly nutritious and hydrating fruit. Coconut adds a sweet and nutty flavor to the raw papaya soup. Tamarind brings in a lovely sour flavor while the coriander leaves add drumi segi "a fresh herbal taste and aroma.
Ingredients
Raw green papaya (Half)
1 tamarind
Turmeric powder (1/2 teaspoon)
Fresh young coconut (1/2 cup)
10-12 Fresh coriander leaves
Salt (to taste) (optional)
Water (5 cups)
Instructions
Prepare Tamarind Pulp De-seed 1 tamarind and soak it in a small bowl of water for 5 minutes.
Prepare the Mashed Raw Papaya Cut 1 raw papaya in half. We'll be using only half of the papaya so keep the other hal. Peel the skin and chop the papaya roughly into large cubes. Put the papaya pieces in a pressure cooker along with water (3 cups), turmeric powder, tamarind pulp (1 teaspoon) and salt. Close the lid and pressure cook the papaya with spice powders for 5 minutes over a high flame until the second whistle.
Prepare Coconut Paste While the papaya is cooking in the pressure cooker, prepare the coconut paste. In a blender, add the young coconut, coriander leaves, and water (1/2 cup). Blend together into a smooth runny paste.
Cook the Raw Papaya Soup
As soon as the pressure cooker whistles twice, turn off the flame.
Release the pressure and open the lid.
Now, mash the soft cooked papaya using a spatula or hand blender.
Add the coconut paste into the mashed papaya spice mixture. If the consistency seems too thick add 1 or 2 cups of water.
Switch on the flame on low and stir for a minute to combine everything together. Taste the soup and season with salt if needed.
Your raw papaya soup is ready. Serve it warm or at room temperature as preferred! For a crisp accompaniment, enjoy this soup with a slice of toasted brown bread.
Tips & Key Notes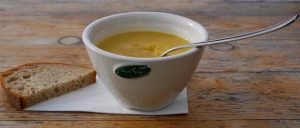 image source: www,pixabay.com
For a hot flavor addition, you can add 1 green chili to the blender along with coconut and other ingredients. For some freshness, this raw papaya soup recipe is prepared with fresh coriander leaves; you may substitute it with coriander spice powder. You can also add 2 tablespoons of the raw green papaya seeds into the pressure cooker if you want.