This yellow baby corn curry transgresses from such well-known Thai cooking. It is neither spicy nor does it have fish, shellfish or meat as the hero ingredient. In fact, this is a vegetarian recipe prepared with baby corns and mushrooms that preserves the authentic rich flavors of Thai cuisine.
How to Cook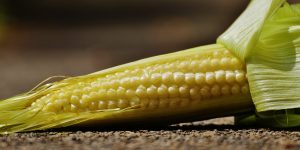 image source: www,pixabay.com
The gorgeous golden baby corns, chewy mushrooms and tender potatoes soaked in the rich coconut milk look yummy. The yellow curry paste gives the gravy a lovely sunny hue. Overall, an enticingly fragrant and creamy yellow baby corn curry is ready within 30 minutes to be relished with the loved ones. Serve this delectable curry with freshly made flatbreads or steamed rice. If you are fine with some heat, you can garnish the curry with thinly sliced red chili.
Ingredients
Baby corns (7- 10)
Fresh shiitake mushrooms (100 grams)
Red shallots (2 medium-sized)
Potato (1 large)
Yellow curry paste (1 and a half tablespoons)
Coconut milk (one 400ml can)
Fish sauce (1 teaspoon or as per taste)
Sugar (1 teaspoon) (optional)
Salt (to taste) (optional)
Olive oil (2 teaspoons)
Water (1 cup)
For garnish:
2-3 Cherry tomatoes (sliced in half)
4-5 fresh coriander leaves
Instructions
Preparing the vegetables
Clean the baby corn and cut it into small pieces. Slice up the mushrooms. Chop the shallots finely. Wash the potato, peel and cut it into cubes. Next, parboil the potato pieces for 5 minutes and keep aside for later use.
Cooking the yellow baby corn curry
Lightly drizzle some olive oil into a non-stick pan and heat it over medium flame.
Add the chopped onions and sliced mushrooms. Sauté for 2-3 minutes.
Next, add the yellow curry paste. Stir fry for a minute.
Pour half a can of the coconut milk into the pan. Mix well.
Once the coconut milk nicely coats the mushrooms and onions, pour the rest of the coconut milk along with a cup of water. Cook for 5 minutes (or more) until the coconut milk comes to a boil.
Now, add the baby corns and parboiled potato pieces. Gently mix the ingredients and cook for 1 or 2 minutes.
Add the fish sauce and give everything a mix.
Taste the curry! If needed, sprinkle some sugar and salt. You can also add some more fish sauce as per your taste preference.
Give the seasoning a quick mix and switch off the flame.
Your Thai style yellow baby corn curry is ready! Garnish the curry with fresh sliced cherry tomatoes and few coriander leaves.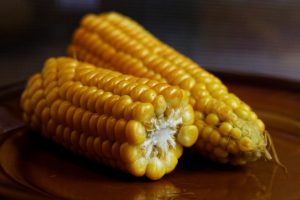 image source: www.pixabay.com
Key Notes
If you prefer thicker rich gravy, then use half a cup of water. It will also reduce the total cooking time. On the contrary, for thinner light gravy, use 2 cups of water. The fish sauce already contains sugar and salt, therefore, taste and season your yellow baby corn curry accordingly.
Non-vegetarian Version of the Recipe
A non-vegetarian version of the yellow baby corn curry recipe uses chicken instead of mushrooms. To prepare, you will need a large chicken breast piece. Cut it into bite-size pieces. These chicken pieces have to be slow-cooked in 200ml (half a can) of coconut milk and Thai curry paste until tender.