We have a lot to tell you about San Miguel beer and if it's a vegan product, but if you're just searching for a great offer of this product from multiple sellers, here is where you can find it. If you're not searching for a specific seller, you can also just buy it on Amazon by clicking here.

Once you click on the product of your choice, we will show you its sellers.
San Miguel Beer on the Food Index
Is Beer San Miguel vegan?
One of the most asked questions is: "Is San Miguel Beer vegan"? Most beers are made from hops, barley malt, and yeast – all of which are vegan approved. San Miguel beer is typically vegan, as it is made from water, barley, hops, and yeast. However, some beers may contain non-vegan ingredients such as honey or fish bladder, so it is best to check the label or contact the manufacturer for confirmation. There is a little doubt, however, whether or not, San Miguel Beer can be called a vegan beer. This may be due to the reason that some breweries use isinglass, gelatin, etc. obtained from fish bladders
image source: Wikipedia
The substances are usually employed during their filtration processes, thereby making such products non-vegan. Now, even the renowned Guinness is making moves towards becoming a vegan-friendly heavy-bodied ale. So, if you are a vegan, enjoying alcohol will no longer be a tricky part of your life. One of the most popular ranges of alcoholic beverages in the world today is San Miguel Beer. As you well know, beer is the drink for all occasions and the most popular worldwide after water and tea. But back to the question: is San Miguel Beer a vegan product? Let's take a look at the brewery that produces the lager beer before answering that question.
San Miguel Brewery
San Miguel Brewery is one of the few time-tested companies that produce beer. Despite the countless number of breweries that cater to the ever-increasing demand for beer, the San Miguel Brewery stands out. Not only has the brewery been proven for quality, but they are also the largest producer of alcoholic beverages in the Philippines. San Miguel Brewery is a part of the much larger San Miguel Corporation. San Miguel Corporation is a huge conglomerate that produces both non-alcohol based and alcohol-based beverages, etc.
The Varieties of San Miguel Beer
San Miguel Brewery produces a wide range of beer which caters to the whole diaspora in the Philippines area. Some of the alcoholic beverages produced by this corporation include:
San Miguel Red Horse Beer
Pale Pilsen
Super Dry
Gold Eagle Beer
San Miguel Premium All Malt
San Miguel Strong Ice
Cerveza Negra
San Miguel Light
The most popular alcoholic beverage in the Philippines from the San Miguel Brewery is Pale Pilsen. It is also the brewery's primary source of income and the first product that was produced by the brewery in 1890.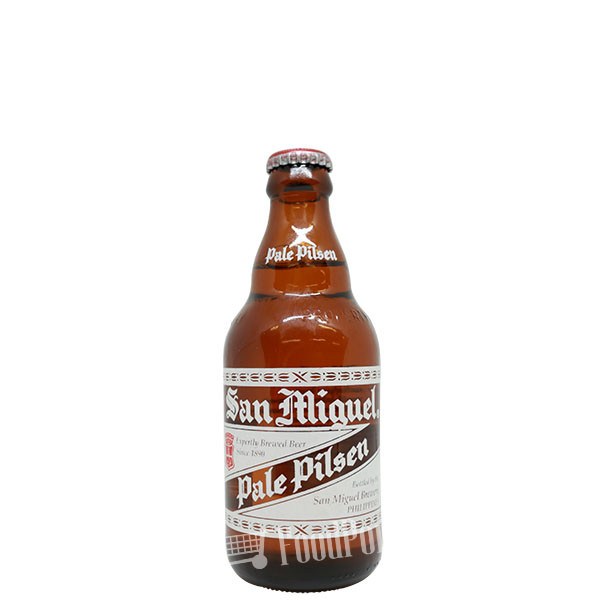 image source: www.FoodPorty.com
San Miguel Beer: Pale Pilsen
San Miguel Pale Pilsen is usually referred to as "San Miguel Beer," and this is a Filipino pale lager. It is the largest selling brewski in Hong Kong and the Philippines. It was introduced in Spain in 1946 by San Miguel Brewery. San Miguel Beer has 5 percent alcohol by volume (ABV). It is a crisp lager that should be served ice cold, which makes it go down like water on a hot day. The beer portrays a pale, washed-out yellow color with a small head. The beer has a slight sense of hops, but the hop bitterness increases into a pleasant bite in the finish. It also features some fruitiness, aromas of corn and mead. There is a slight hint of malt but no hoppy flavor at all. The main ingredients of San Miguel Beer are hops, malt, and cereal as well as brewer's yeast. No component of animal origin is used whatsoever. No beer filter aid material obtained from animals – e.g., isinglass, etc. – are used either. So, is San Miguel Beer a vegan product? The answer to that question is a resounding, "yes!"