Many people love noodles and even prefer them over rice. This is why many opt for the Sweet Potato Noodles dish, one of the best strips of pasta to eat today. It is a staple Korean food that is going mainstream albeit slowly, thanks to its slightly chewy and slippery texture.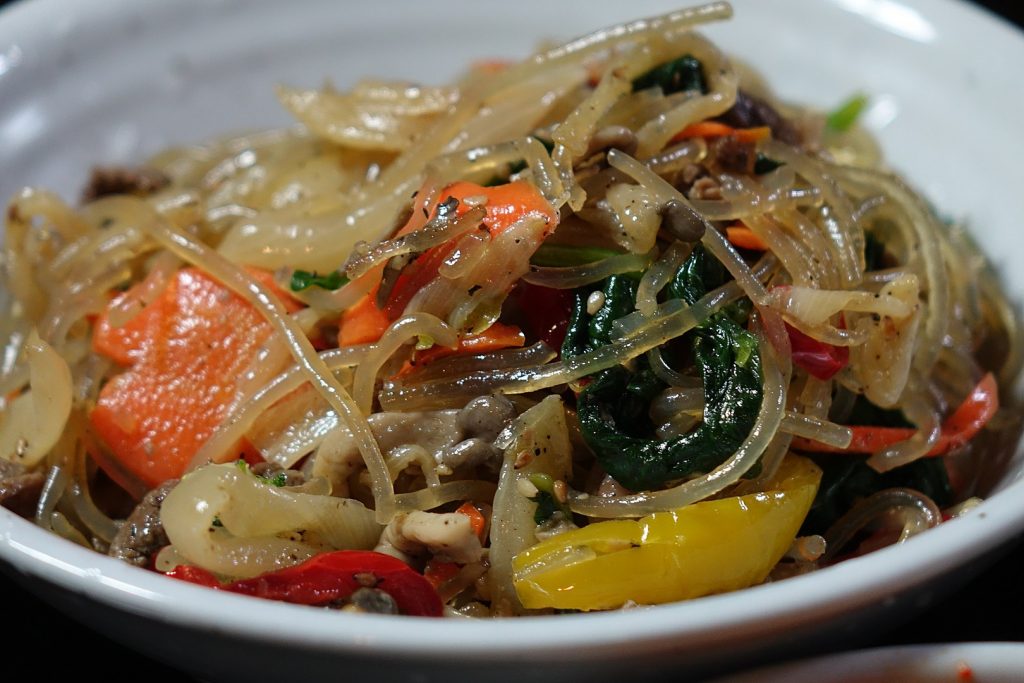 image source: Wikipedia
Sweet Potato Noodles
Sweet Potato Noodles may bear a lot of similarities with other types of pasta such as rice noodles, soba, etc. But they are unique almost in every aspect, especially when compared to the others.
Calories
Sweet Potato Noodles are an excellent alternative to yellow and rice noodles. They are made from sweet potato starch and do not contain any form of protein or fat. This pasta also has incredibly low fiber content. This means you can add some protein and vegetable to balance the meal considerably. These noodles also contains the lowest number of calories, – i.e., 70 – which makes them a perfect option. Other types of noodles have a staggering number of calories:
Soba – 113 calories
Rice noodles – 192 calories
Yellow/egg noodles – 221 calories
Glass noodles – 160 calories
Udon – 229 calories
Instant noodles – 380 calories
Traditional pasta noodles – 425 calories
This is why nutritionists advise that you take dry-packed noodles, and the best one they suggest are Sweet Potato Noodles. Moreover, instant noodles and yellow noodles contain high levels of sodium and chemicals, which must be avoided at all costs. Udon and traditional pasta are filled with empty carbs, which do nothing but add unnecessary extra kilos to your body. So, always take a look at the list of ingredients before you purchase any noodles. The difference it will make to your overall health will be amazing. You should also consider changing your cooking style as well as you change the portion you usually go for.
image source: www.FoodPorty.com
The Korean food that keeps you full
Sweet Potato Noodles is one of the Korean foods that keep you full for a long time. Although it, the dish, has a limited amount of nutrients and is mainly carbohydrates, you can heighten the taste by adding beef. Beef is an excellent source of vitamins and minerals. When you add beef to this Korean pasta, you will get at least 50 percent of the daily recommended amount. That is the amount for individuals who weigh at least 50kg.
Glycemic Index
Sweet Potato Noodles has a low glycemic index – i.e., 39-45 – since they contain complex carbohydrates. The pasta releases energy very slowly, thereby preventing a sudden spike in blood sugar level. This is part of what contributes to the feeling of fullness. The following are the glycemic index of some noodles:
Instant noodles have high-fat content since they are deep-fried. They have a low glycemic index, i.e., 50.
Thick yellow noodles found in mee rebus and wheat noodles have a high glycemic index, i.e., 82.
Thin yellow noodles found in wonton mee have a medium glycemic index, i.e., 57
Conclusion
As you can see, Sweet Potato Noodles beats all other types of noodles in nearly every aspect. They are healthier, have a low glycemic index and the number of calories is also small. Therefore, go for this Korean pasta and see a profound improvement in your overall health after some time.