Sweet potato noodles, also known as sweet potato glass noodles or Korean sweet potato starch noodles, are a type of noodle made from sweet potato starch. They are a popular ingredient in Asian cuisine, particularly in Korean and Chinese dishes.
Sweet potato noodles are transparent and have a slightly chewy texture when cooked. They are often sold in dried form and need to be soaked in water before cooking to rehydrate them. Once rehydrated, they can be boiled, stir-fried, or added to soups and stews.
These noodles are naturally gluten-free and are a popular alternative to wheat-based noodles for those with gluten sensitivities or following a gluten-free diet. They are also low in fat and calories, making them a healthier option compared to some other types of noodles.
In Korean cuisine, sweet potato noodles are commonly used in dishes such as Japchae, a stir-fried dish with vegetables and meat or tofu. They can also be used in noodle soups, cold salads, or as a side dish. The slightly sweet and earthy flavor of sweet potatoes adds a unique taste to the dishes they are used in.
Sweet potato noodles are versatile and can be paired with various ingredients, sauces, and flavors. They provide a nutritious and gluten-free option for noodle lovers and are enjoyed for their taste, texture, and health benefits.
Many people love noodles and even prefer them over rice. This is why many opt for the Sweet Potato Noodles dish, one of the best strips of pasta to eat today. It is a staple Korean food that is going mainstream albeit slowly, thanks to its slightly chewy and slippery texture.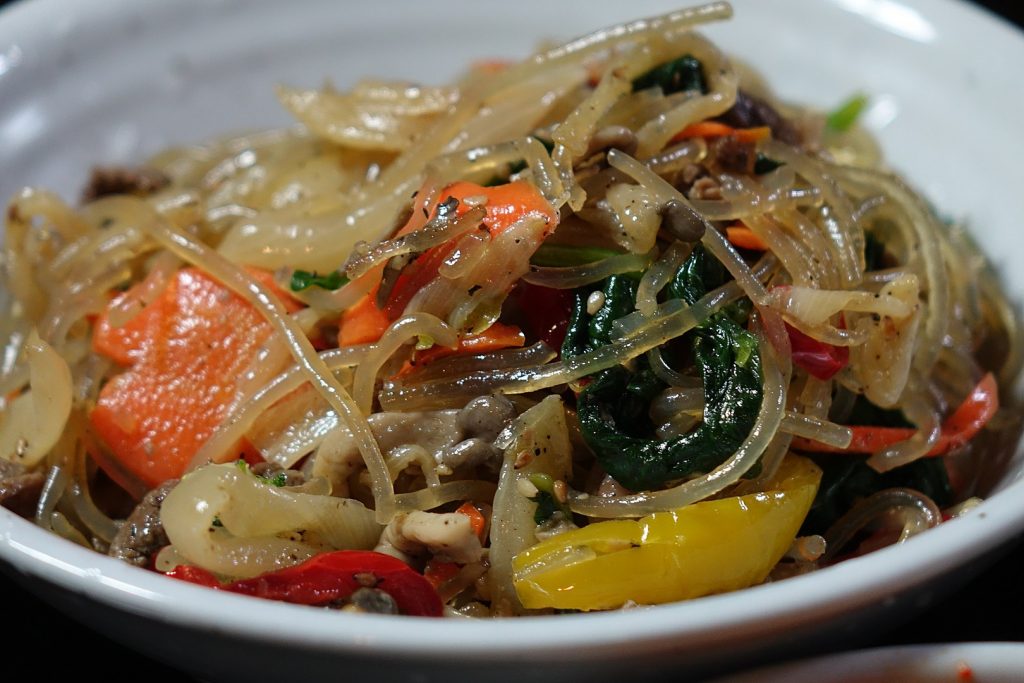 image source: Wikipedia
Sweet Potato Noodles
Sweet Potato Noodles may bear a lot of similarities with other types of pasta such as rice noodles, soba, etc. But they are unique almost in every aspect, especially when compared to the others.
Calories
Sweet Potato Noodles are an excellent alternative to yellow and rice noodles. They are made from sweet potato starch and do not contain any form of protein or fat. This pasta also has incredibly low fiber content. This means you can add some protein and vegetable to balance the meal considerably. These noodles also contains the lowest number of calories, – i.e., 70 – which makes them a perfect option. Other types of noodles have a staggering number of calories:
Soba – 113 calories
Rice noodles – 192 calories
Yellow/egg noodles – 221 calories
Glass noodles – 160 calories
Udon – 229 calories
Instant noodles – 380 calories
Traditional pasta noodles – 425 calories
This is why nutritionists advise that you take dry-packed noodles, and the best one they suggest are Sweet Potato Noodles. Moreover, instant noodles and yellow noodles contain high levels of sodium and chemicals, which must be avoided at all costs. Udon and traditional pasta are filled with empty carbs, which do nothing but add unnecessary extra kilos to your body. So, always take a look at the list of ingredients before you purchase any noodles. The difference it will make to your overall health will be amazing. You should also consider changing your cooking style as well as you change the portion you usually go for.
image source: www.FoodPorty.com
The Korean food that keeps you full
Sweet Potato Noodles is one of the Korean foods that keep you full for a long time. Although it, the dish, has a limited amount of nutrients and is mainly carbohydrates, you can heighten the taste by adding beef. Beef is an excellent source of vitamins and minerals. When you add beef to this Korean pasta, you will get at least 50 percent of the daily recommended amount. That is the amount for individuals who weigh at least 50kg.
What are the health benefits of sweet potato noodles?
Sweet potato noodles offer several health benefits, making them a nutritious choice for your meals. Here are some key health benefits of sweet potato noodles:
Rich in fiber: Sweet potato noodles are a good source of dietary fiber. Fiber is essential for maintaining healthy digestion, promoting regular bowel movements, and preventing constipation. It also helps to keep you feeling full and satisfied, which can be beneficial for weight management.
Gluten-free: Sweet potato noodles are naturally gluten-free, making them suitable for individuals with gluten sensitivities or those following a gluten-free diet. They offer a great alternative to wheat-based noodles for people with celiac disease or gluten intolerance.
Low in fat and calories: Sweet potato noodles are relatively low in fat and calories compared to some other types of noodles. This can be beneficial for those who are watching their calorie intake or aiming to maintain a healthy weight.
High in vitamins and minerals: Sweet potatoes are known for their nutritional value, and the same applies to sweet potato noodles. They are a good source of vitamins like vitamin C, which supports immune function, and vitamin A, which is important for vision and skin health. Sweet potatoes also provide minerals such as potassium, magnesium, and manganese.
Antioxidant properties: Sweet potatoes contain antioxidants that help protect the body against damage caused by harmful free radicals. Antioxidants have been associated with various health benefits, including reducing the risk of chronic diseases like heart disease and certain types of cancer.
Blood sugar regulation: Sweet potatoes have a lower glycemic index compared to some other starchy foods. This means they are digested and absorbed more slowly, resulting in a slower rise in blood sugar levels. Including sweet potato noodles in your meals may help maintain more stable blood sugar levels.
It's important to note that while sweet potato noodles offer these health benefits, the overall nutritional value of a dish will depend on the ingredients and cooking methods used. Pairing sweet potato noodles with a variety of vegetables, lean proteins, and healthy fats can further enhance their nutritional profile and create a balanced meal.
Glycemic Index
Sweet Potato Noodles has a low glycemic index – i.e., 39-45 – since they contain complex carbohydrates. The pasta releases energy very slowly, thereby preventing a sudden spike in blood sugar level. This is part of what contributes to the feeling of fullness. The following are the glycemic index of some noodles:
Instant noodles have high-fat content since they are deep-fried. They have a low glycemic index, i.e., 50.
Thick yellow noodles found in mee rebus and wheat noodles have a high glycemic index, i.e., 82.
Thin yellow noodles found in wonton mee have a medium glycemic index, i.e., 57
How should one cook potato noodles?
Cooking sweet potato noodles is a relatively simple process. Here's a step-by-step guide on how to cook them:
Soaking: Sweet potato noodles are typically sold in a dried form. Begin by soaking the noodles in room temperature water for about 20-30 minutes or as directed on the packaging. This rehydrates the noodles and softens their texture.
Boiling: Once the noodles have soaked, drain the water and transfer them to a pot of boiling water. Cook the noodles for about 5-7 minutes or until they become tender but still slightly chewy. Be careful not to overcook them, as they can become mushy.
Draining: After boiling, drain the cooked noodles in a colander or sieve and rinse them under cold water. This stops the cooking process and helps to remove excess starch.
Stir-frying or incorporating into dishes: At this point, the sweet potato noodles are ready to be used in various recipes. They can be stir-fried with vegetables, meat, or tofu, or added to soups, stews, or salads. Follow the specific recipe instructions for the dish you are preparing.
Tips:
To prevent the noodles from sticking together while soaking, you can add a small amount of oil to the water.
Be careful not to overcook the noodles, as they can become mushy and lose their chewy texture.
When stir-frying sweet potato noodles, ensure that your pan or wok is hot and that you toss the noodles frequently to evenly distribute the heat and flavors.
Remember, cooking times and methods may vary depending on the brand or thickness of the noodles, so it's always a good idea to refer to the specific instructions on the package.
Conclusion
As you can see, Sweet Potato Noodles beats all other types of noodles in nearly every aspect. They are healthier, have a low glycemic index and the number of calories is also small. Therefore, go for this Korean pasta and see a profound improvement in your overall health after some time.