Bourbon has always been the epitome of American whiskey and is often even used as a synonym for it. There are, of course, other whiskey varieties from America with Corn or Rye, but none of them enjoys such an exceedingly remarkable popularity as the Bourbon.
For all those who have lost their bearings among the numerous varieties of (bourbon) whiskey or simply want to learn more about their favorite spirit, we bring some light into the darkness here:
Where you can buy Bourbon
Visit our food Index database and search for the Bourbon of your choice. We have plenty of sellers listed.
What makes bourbon so special?
Bourbon is a variety of whiskey. It originates from the USA and is therefore spelled with an e, just like whiskey from Ireland - not like whiskeys from other regions. For bourbon to be truly bourbon, its mash must be made from at least 51% corn, and at most 80% corn. This gives this whiskey its characteristic sweetness. The remaining raw material for the mash usually comes from rye, wheat or barley. The mashbill (the recipe for the proportions of each type of grain) varies from distillery to distillery.
During production, the volume percentage must be no more than 80%, and no more than 62.5% at the start of storage. By law, it must also be aged for at least two years in unused, charred American white oak barrels. By the way, according to the law, bourbon may only be produced in the USA; this does not apply to storage. Often, for example, rum or single malt whiskey may be post-matured in different barrels and thus obtain a broader flavor spectrum. However, this so-called finishing is not permitted for bourbon in the U.S. or anywhere else.
It must always be stored in new burnt-out white oak barrels. Barrels in which bourbon was previously stored are often reused for the storage or finishing of other spirits. For example, for the subsequent aging of rum or other types of whiskey (for example, Scotch whiskey from Scotland). Although these barrels influence the later taste of the spirit and can give it sweetness and light vanilla notes in the finish, they are mainly used because there are so many bourbon barrels.
Bourbon is often stored for only a few years. Of course, there are exceptions, such as the Jim Beam Signature 12 years or the Elijah Craig 12 years. However, with bourbon whiskeys aged this long, the taste of vanilla can become too strong, which is why they are very rare. The color becomes golden by itself due to the storage in these charred ('toasted') barrels. In contrast to single malts, the use of coloring additives is neither permitted nor necessary.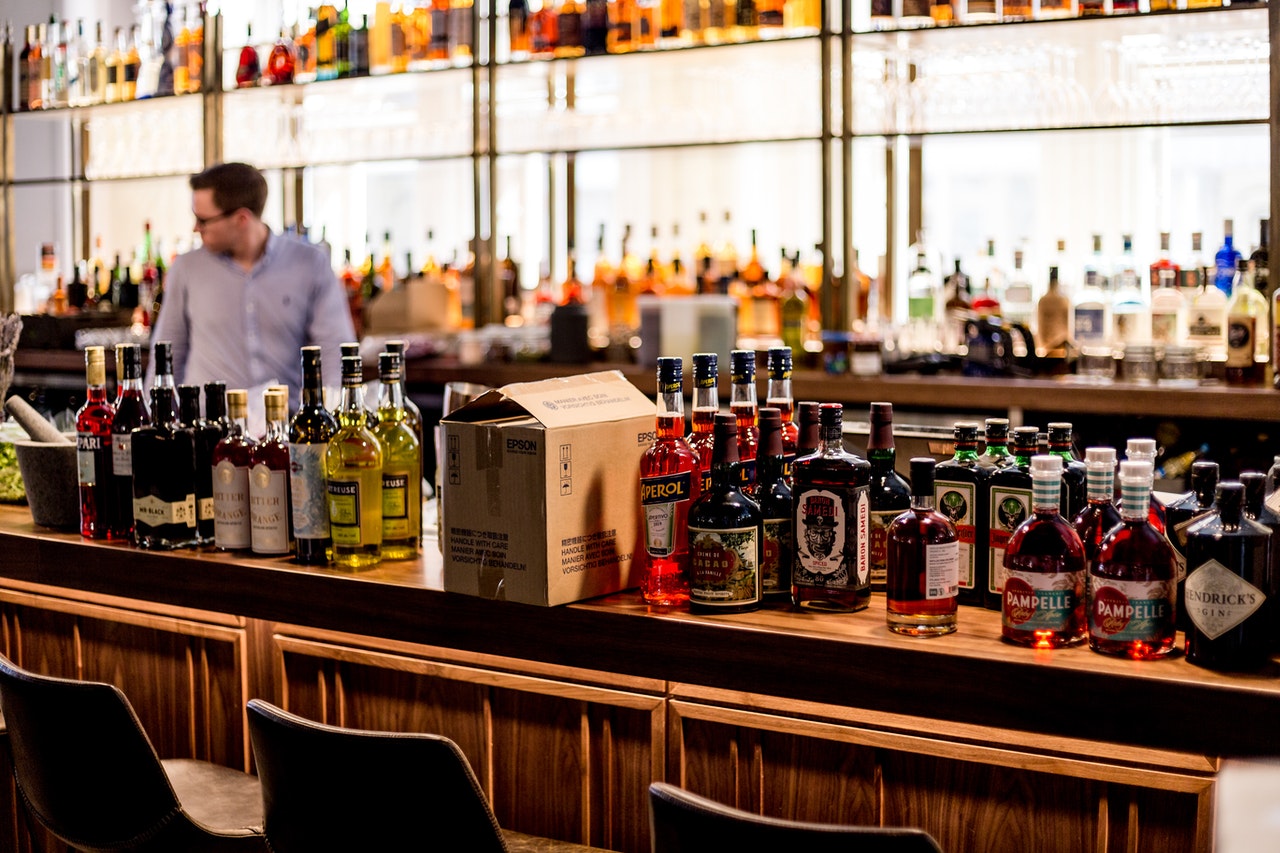 Source:pexels.com
Not all bourbon is the same
Bourbon can be divided into various subcategories. Special types, for example, are Tennessee and Kentucky bourbon. In order to receive this name suffix, a bourbon whiskey must be produced directly in the respective state. That's not difficult, though, because with the exception of one (the A. Smith Bowman distillery) in Virginia, nearly all of the major whiskey distilleries are located in those two states. Somewhat more complicated is the passage of the Lincoln County Process, which the prospective Tennessee whiskey must additionally demonstrate. This process describes filtration through charcoal pellets. The best-selling and probably best-known Tennessee whiskey brand is Jack Daniels. Thus, the world-famous Jacky also falls under the category of bourbon. One of the top producers for Kentucky whiskey would be Maker's Mark. The most popular bourbon in the world, at least by sales figures, is Jim Beam.
Kentucky straight bourbons make up another special group. To carry this designation on the label, this whiskey must be produced in Kentucky and must have been aged there for at least one year. For the label "Straight Bourbon" without a place name, a maturation period of at least two years is required. No additives may be used. Normally, 2.5% of the volume may consist of additives in the USA.
A lesser known subtype is Bonded Bourbon or Bottled-in-Bond Bourbon. This is the name given to a drop that comes from a single distillery and at the same time from a single vintage and has been aged for at least four years in special bonded warehouses. It must be bottled without cold filtration at 100 proof (50% by volume at bottling). Penalties of up to five years imprisonment can be imposed for advertising with the label Bottled-in-Bond, for a whiskey that does not present all the requirements. Consequently, little cheating occurs with such label inscriptions.
As is often the case with rum, bourbon can also be blended. Here, a distinction is made between blended bourbon, in which various bourbon and straight bourbon whiskeys are mixed, and blended straight bourbon, in which only straight bourbon whiskeys are blended.
A categorization that is not prescribed by law, but appears again and again, is the categorization into Single Barrel and Small Batch Bourbon. Single Barrel on the label describes a spirit whose content comes from only one barrel. Small Batch refers to spirits that are produced in limited quantities and small batches.
Sometimes Sour Mash Bourbon is advertised on bottles. What it is. This bourbon simply uses a portion, or stillage (some of the distillation residue) of the mash from the previous batch. This process prevents infection with bacteria. After water is added to the blend, the mash is neither chemically acidic nor alkaline and does not negatively affect quality. This allows the producer to ensure that the taste remains similar from year to year. The mash is called "sour mash" or "sour mash." With these whiskeys, you can be sure that the taste will not change significantly over time.
How did bourbon originate?
In the 18th century, the Scots and Irish brought the whiskey craft to America. It quickly became clear that the American soil was not suitable for growing barley. So the grain previously used for whiskey production could not be used. As a result, rye was taken for this purpose. However, the Americans wanted their own American whiskey, so instead of rye they decided to use a crop that was abundant: corn. The bourbon whiskey officially exists as an independent whiskey variety only since the beginning of the 19th century. Since 1964, bourbon has been protected as a whiskey variety from the U.S. and may not be sold as such anywhere else - unless it was produced there.
But how did bourbon get its name in the first place?
One theory is that it was named after a French noble family, the Bourbons. Since these stood by the Americans in the War of Independence, Bourbon County was named after them. This is where the delicious whiskey is said to have come from and thus got its name. However, there is a second theory. According to this one, the whiskey got its name from Bourbon Street in New Orleans.
Bourbon Whiskey in Cocktails
Because of its sweetness, bourbon is of course equally great neat as well as in any kind of cocktail. Numerous well-known classics such as the Mint Julep, Old Fashioned, Boulevardier or the Whiskey Sour literally call for it. Particularly in the American region, the consumption of bourbon whiskey with cola is celebrated as a long drink.