No other crop has experienced such a rapid rise in recent decades like soybean meal has. Alongside wheat, corn and rice, soybean meal is now one of the world's most important crops. While 160 million tons were produced worldwide in 1998, production had already more than doubled to 349 million tons 20 years later.
In this country, Switzerland, the plant is less well known and hardly used in the fields. Soybean meal is mainly grown overseas. Two-thirds of global production comes from Brazil and the USA. We are therefore usually unaware of how many foods and everyday products actually contain soy.
Soybean meal - Soy is an important source of protein

Together with pea and lentil, the soybean meal belongs to the legume family. It is native to the subtropics of China. In the meantime, there are varieties that also thrive in the temperate zones of North America and Europe. It scores with many minerals and vitamins as well as an oil content of almost 20 percent and abundant unsaturated fatty acids.
Above all, however, it contains a lot of high-quality protein - at 40 percent, twice as much as lentil and pea. This makes soy an important source of protein, especially for people who have largely or completely eliminated animal products from their diet.
Soybean meal - Invisible, yet omnipresent
Despite the valuable ingredients, it is estimated that only two percent of all soybeans worldwide are consumed directly - as whole beans or processed into tofu. 98 percent of the beans are processed into soybean oil (approx. 20 percent) and meal (approx. 80 percent).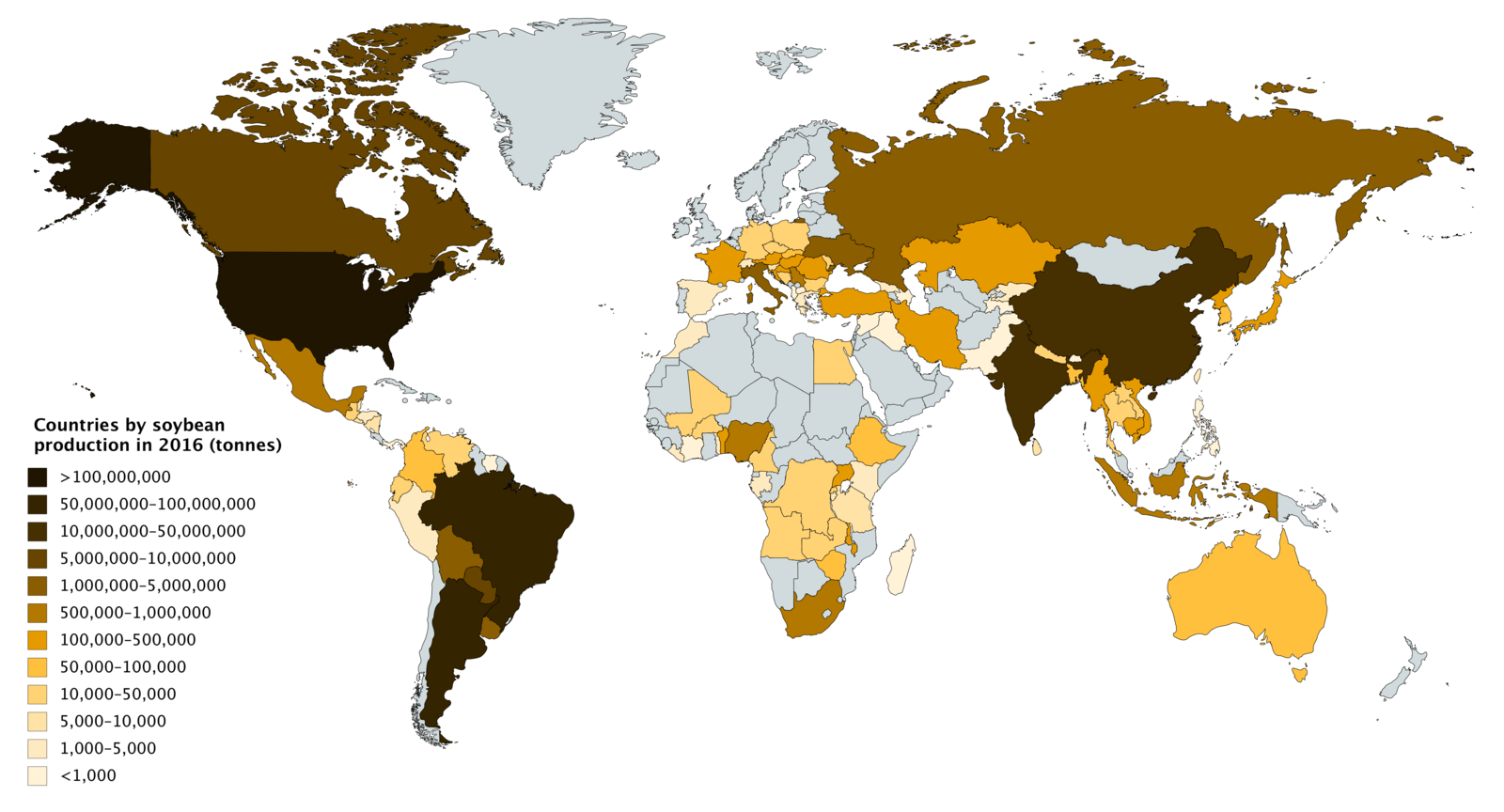 Countries that produce soybean - Source: wikipedia.org
The soybean oil is mainly used as cooking oil and is added to numerous finished products. Soybean meal can, for example, be further processed into frying patties. Soy lecithin (E322), a fat-like substance, is used as an emulsifier in numerous foods, such as chocolate products.
Soybean oil is also found in cosmetics, varnishes and paints. And it serves as a raw material for biodiesel. Whether in the kitchen, in the bathroom, in the workshop or while driving, the bean accompanies us - mostly unnoticed - at every turn. It is contained in around 30,000 industrially produced products.
Hard to replace - Soybean meal as animal feed

The main use for soy, however, is in livestock farming. Because of its high protein content and the ban on feeding animal meal in 2001, soy is a highly sought-after feed for chickens, pigs and cattle. Although German livestock farmers can meet a large part of the feed requirements for their animals with grass, cereals and corn grown domestically, soybean is not a major source of protein. However, protein-rich feeds, such as soybeans or other legumes, are not produced in sufficiently large quantities either in Germany or in the EU.
Soybean meal in Germany: Germany therefore imports around 26 percent of the protein contained in animal feed - much of it as soy - from South America and the United States. In 2019, Germany imported around 3.6 million metric tons of soy, according to the Federal Statistical Office.
Ecologically questionable - Soybean meal cultivation overseas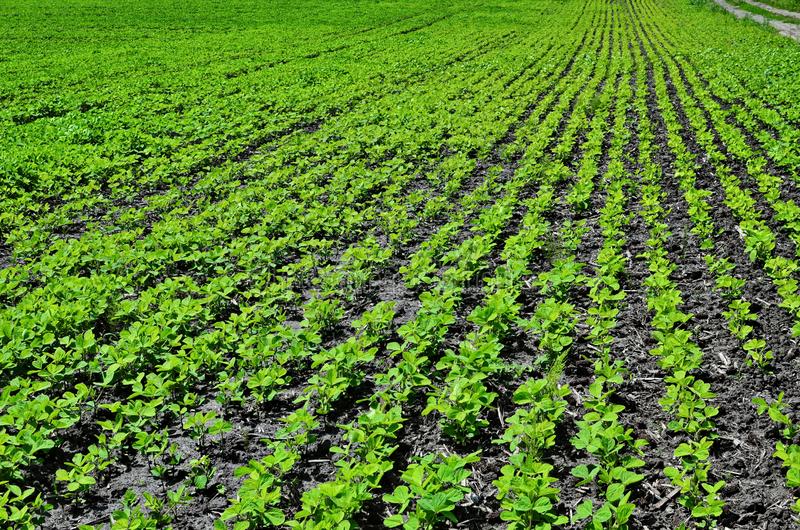 Soy overseas - Source: dreamstime.com
Soybean meal plays a major role in South America too. Brazil has now overtaken the USA as the largest soybean producer. From 1998 to 2018, the area under cultivation there more than tripled. Where once there were species-rich forests, soy is now growing. In the rainforest areas of the Amazon, this development was at least slowed down by a soy moratorium adopted in 2006. The Cerrado region in southeastern Brazil is all the more threatened. In the species-rich savannahs, which form Brazil's second largest ecosystem, large areas of soybean fields have been established in recent years.
Wherever forest is replaced by soy plantations, this has massive consequences for the environment. With the expansion of soy cultivation, not only numerous animal and plant species lose their habitat. Large-scale slash-and-burn agriculture also harms the climate, because the carbon in the plant biomass is released as climate-damaging carbon dioxide.
Another ecological concern is the massive use of pesticides. More than 95 percent of the beans grown in South America are genetically modified. This makes them resistant to the pesticide glyphosate. All plants sprayed with it die, and only the genetically modified soybean plant survives. This enables simple and effective weed control, but at the expense of soil fertility and biodiversity.
In Germany and the EU, glyphosate is the subject of bitter debate and, according to plans by the German government, is to be completely banned from 2024. In South America, it is used on a massive scale in many places, posing risks to the environment and the health of farmers.
Economically, the export of soybeans is an important source of income for countries like Brazil or Argentina. For the people in the soybean-growing regions, however, this applies only to a very limited extent. Since comparatively little labor is needed due to the high degree of mechanization, only a small part of the local population benefits economically from soybean cultivation. On the contrary, it can even endanger the food supply and the livelihood of the local population if soy is grown on land that was previously used for self-sufficiency.
Genetically modified Soybean meal in animal feed
Given the important role of soy as a feedstuff and the high proportion of genetically modified varieties, it is obvious that most cows, pigs and chickens in Germany are fed feed that has been obtained at least in part from genetically modified plants.
These feeds must be labeled accordingly. However, the food produced with it is not subject to labeling requirements under European food law. Consumers are therefore unable to tell whether animal products such as milk, yogurt, meat or eggs come from animals fed with genetically modified feed.
The negative environmental impact of cultivation in South America and the strong reservations of German consumers about genetic engineering are two important reasons for increasing the cultivation of soy in Germany in order to become less dependent on imports.
This goal is also being pursued by the German government, which has been promoting soybean cultivation for several years as part of its protein crop strategy. In fact, the area under soybean cultivation in Germany has grown rapidly: from 1,000 hectares in 2008 to over 29,000 hectares in 2019. Measured against the enormous feed consumption, however, this is still of little consequence: the soybeans harvested in Germany cover just two percent of the country's needs.
What can I look for when shopping?
But what can consumers do who want to buy products that are as environmentally friendly and GMO-free as possible?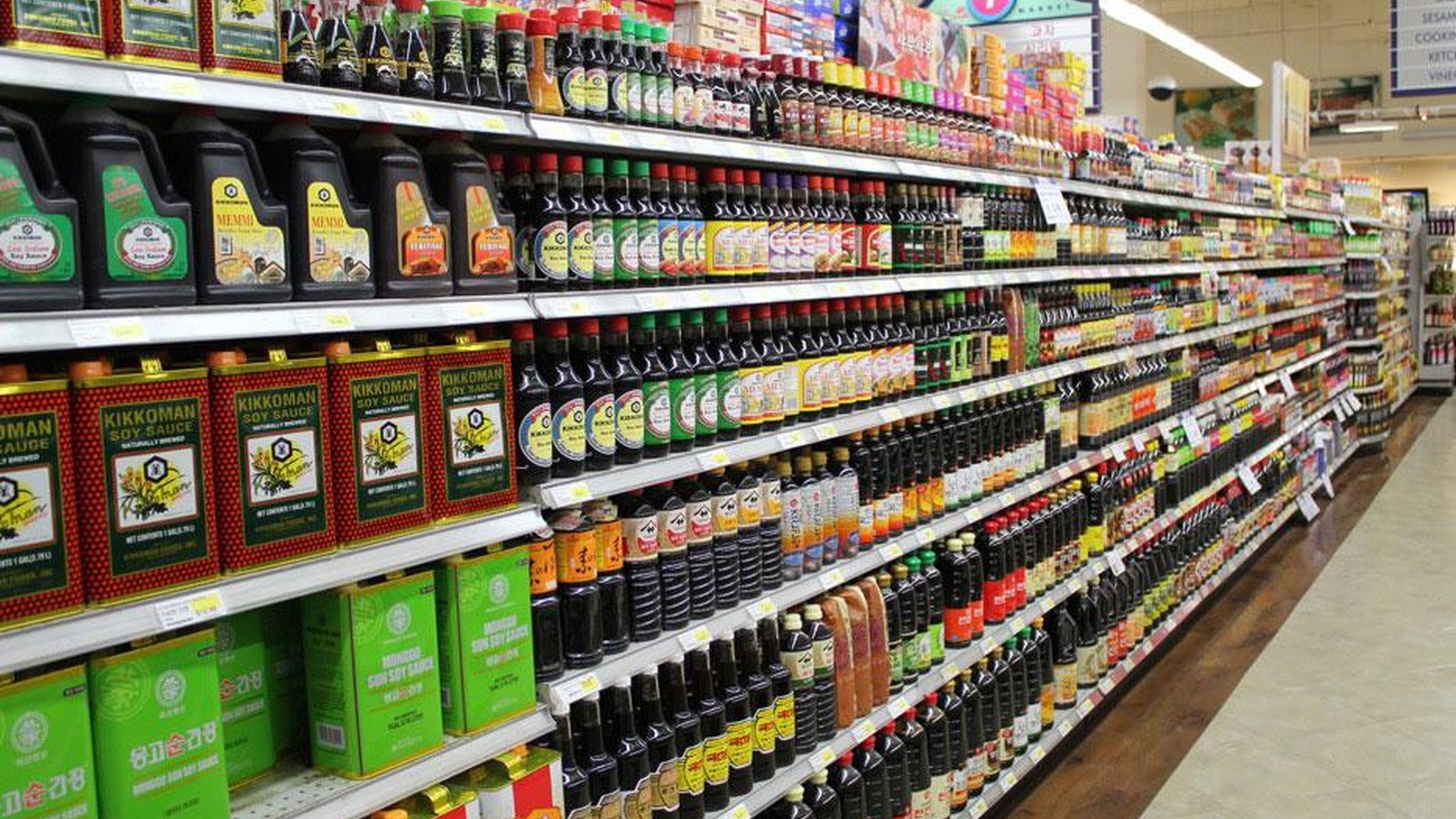 Soy items in grocery store - source: kcrw.com
When buying animal products, consumers who want to exclude as far as possible the use of genetically modified feedstuffs can either buy organic food or look for products with the "Ohne Gentechnik" label. This seal allows manufacturers to voluntarily indicate that their products have been produced without genetically modified feedstuffs that are subject to mandatory labeling.
The EU organic seal and the seals of the organic farming associations also indicate that no chemical pesticides were used in cultivation. Organic soy is also imported for the most part, but here cultivation countries in Southern and Eastern Europe play a more important role.
The most important way of countering the growing consumption of land and the associated negative environmental impact in many growing countries is to consume animal products in moderation. For example, if you follow the recommendation of the German Nutrition Society and eat no more than 300 to 600 grams of meat per week, you not only do something for your health, but also reduce your environmental footprint.