In this contribution, we will tell you everything about the health benefits of eating black cardamom. But first, let's tell you more about cardamom. The beneficial Black Cardamom is a spice that comes in the form of seed pods that have been dried to help bring out their unique, smoky flavor. These seedpods have a complex taste that is known for its hearty, earthy taste. When added to certain teas, these pods can bring out their natural aromas and make them more pungent. When used in your cooking, they may help enhance the flavors of meat dishes and stews. Black Cardamom also poses a few potential health benefits that may aid in certain respiratory issues and ailments of the mouth.
What is Black Cardamom?
Before we continue with the health benefits of eating black cardamom after telling you more about its attributes. Also sometimes called hill cardamom, Black Cardamom are seed pods that are commonly used to create rich, smoky, robust dishes. Black Cardamom comes from the Himalayas and is quite popular in cuisines from the surrounding areas. These seedpods are dried in such a way that brings out their powerful flavor and are well-loved for their distinct taste. Because of its complex flavor notes, Black Cardamom is often used to add body to different foods like soups and stews.
What does Black Cardamom taste like?
Black cardamom is a bold and robustly flavored seed that is used as a spice because it has a smoky, complex flavor. Oftentimes it is used to bring out the existing flavor profiles in other foods. When added to green or black teas, Black Cardamom can help to enhance both its flavor and aroma, making sipping the tea an even more pleasurable experience.Next, we will talk about the health benefits of eating Black Cardamom.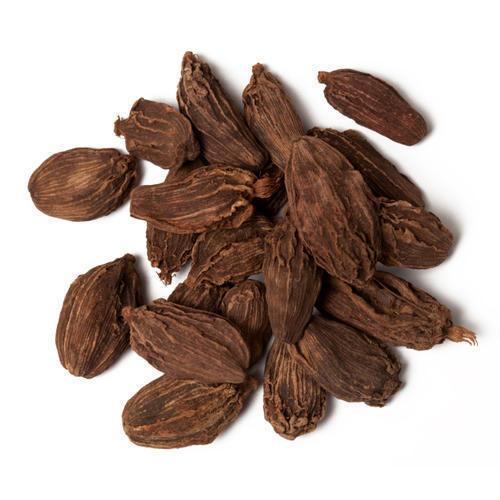 Health Benefits of Black Cardamom
Health benefits to eating Black Cardamom
The health benefits of eating Black Cardamom are incredible. Black Cardamom is believed to be a helpful aid for those who are experiencing issues with the respiratory system. These small black pods are known to help when you have a cold, reducing coughs and helping to alleviate the symptoms of bronchitis. By cooking with the Black Cardamom pods, you may also be able to assist with issues with the mouth and teeth such as bad breath and weak gums.
What is Black Cardamom cooked with?
Because of its robust, complex flavor profile, Black Cardamom is oftentimes used in hearty stews and soups. It is an excellent addition to any meaty foods to bring out the full flavor. Black Cardamom is also used in many broths for simple noodle soups as it adds a memorable flavor that can permeate the noodles.
Difference to Green Cardamom
Compare to Black Cardamom, Green cardamom is now mainly grown in Tanzania, Madagascar, Guatemala, and Vietnam. Originally it comes from Sri Lanka, India, and Iraq.
The seeds of green cardamom contain an essential oil that determines the taste. Since this oil evaporates quickly, cardamom is best bought in one piece and not as a powder. The whole capsule fruits are crushed with a mortar until they burst open. The seeds are then ground into a fine powder.
Green cardamom is mainly found in Asian and Oriental cuisine. It is often a component of Indian masalas (spice mixtures), desserts and sweets, and drinks. Green cardamom is also widely used in Iran. It is found, for example, in sugar cubes from the city of Yazd, which is known for its sugar production, or in various sweets such as Shekar Panier, which is made of sugar, barberries, and cardamom.
Green cardamom goes wonderfully with black tea (chai) or coffee. It can be found in pastries, mulled wine, or Arabic mocha. In Europe, cardamom is often used for Christmas pastries such as speculoos or gingerbread, but also for sausages, chocolate, or liqueur.
Green cardamom is one of the most expensive spices in the world, only saffron and vanilla are more expensive. Now that you know more about the health benefits of black cardamom, stay tuned for our next contribution.