This "tomato & olive quiche" is an Italian delicacy! It is slightly different from the French quiche which is more like a pie.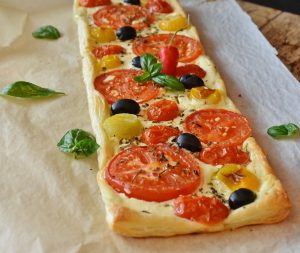 image source: www.pixabay.com
This vibrant tomato & olive quiche has a light puffed-up crispy pastry base! The top has a creamy cheese layer along with bright red tomatoes and olives. They offer a juicy bite-like soft texture and a tangy flavor accentuated with the aromatic seasonings. The recipe is so simple and quick that you can bake it anytime you crave a savory snack. This tomato & olive quiche can be served as a delectable starter or a side dish.
How to Cook the Tomato & Olive Quiche
Cooking this "Tomato & Olive Quiche" is so easy that you can prep it in just 5 minutes. All you got to do is prep the tomatoes & olives, line the baking tray, layer the puff pastry sheet with cheese, tomatoes, olives, and season it. The rest of the job is done by the oven where the quiche bakes for 20-25 minutes.
Ingredients
1 puff pastry sheet (about 400grams)
½ cup of mozzarella cheese
1 large red tomato (sliced)
6-8 cherry tomatoes (halved)
6 canned black olives (halved)
5 canned green olives (halved)
2 teaspoons Provence spices
1 tablespoon Olive oil
1 teaspoon Oregano
Himalayan salt & Pepper (as per taste)
6-7 basil leaves
Instructions
Prepare the Tomatoes & Olives
Start by slicing the ripe red tomato.
Next, half the cherry tomatoes.
Finally, cut the pitted black and green olives in half.
Make the Tomato & Black Olive Quiche
Line up a baking tray with a baking sheet or aluminum foil paper.
Now spread the puff pastry sheet gently on the lined baking tray.
Layer the mozzarella cheese all over the puff pastry.
Next, place the sliced tomatoes, halved cherry tomatoes, halved black and green olives on top of the cheese layer. Avoid overlapping.
Sprinkle the Provence spices and drizzle with olive oil.
Put the tray in the oven to bake at 400F for 20-25 minutes until the pastry puffs up and turns a beautiful golden color.
Once the time is up, take the quiche out of the oven. Season with salt, pepper, & oregano. Garnish with fresh basil leaves.
Your freshly baked "Tomato & Olive Quiche" is ready! Cut it into smaller pieces and serve.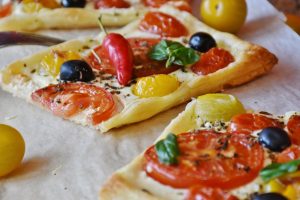 image source: www.pixabay.com
Tips
You can also add yellow olives (also known as Chinese olives) to this recipe.
The tomato & olive quiche commonly has a caramelized onion layer, you can add it on top of the cheese if you desire.
As goes for the cheese, besides mozzarella, you can also use cream cheese or parmesan.
Those who prefer extra heat in their quiche may thinly slice up a red chili and sprinkle it on top.
This tomato & olive quiche is a vegetarian recipe! Meat loves can layer it with their choice of salami. It tastes delectable with seafood toppings too.