"Soft Nutella Center Cookies" are true chocolaty goodness! Beware; these yummy baked cookies might vanish in a wink. Nutella is a favorite spread. Its deliciousness shouldn't be limited to just bread spreads. Try this cookie recipe to brighten up your mood with a mouthwatering result. Once you bake these homemade soft Nutella center cookies, you'll forget those dry packaged Chocó chip cookies! Spare some time to make & relish some excellent chocolate cookies.
Ingredients
1½ cup of Nutella
1 cup of softened Butter
1 cup of Raw Sugar
2 Eggs
¼ cup of Condensed Milk
2 teaspoons of Vanilla
1 cup of Cocoa Powder
3 cups of Flour
1 teaspoon of Baking Soda
1 teaspoon of Table Salt
Himalayan Crystal Salt
Instructions to make the Soft Nutella Center Cookies
Step 1: Line a tray with a cookie sheet and place 10-20 small Nutella balls (about 1 tablespoon Nutella each) 2 inches apart. Transfer the tray to the freezer for 1-2 hours.
Step 2: Take a large-sized bowl. Add the butter and raw sugar. Mix both the ingredients with a hand mixer to achieve a light and airy texture.
Step 3: Now, add the eggs, condensed milk, & vanilla into the butter mixture and beat till nicely mixed.
Step 4: Next, add the cocoa powder, flour, baking soda, and table salt. Mix again to achieve the raw cookie dough. Put the dough in the fridge for an hour or until the Nutella balls have finished the freezing time.
Step 5: Meanwhile, set the oven at 350°F for preheating.
Step 6: Take out the Nutella balls and raw cookie dough. Also, line up another baking tray with a parchment sheet.
Step 7: Scoop out 1½ tablespoons of the raw cookie dough mixture. Make 2 tiny balls with the cookie dough in your palms. Roll out the balls separately into two thick flat circles (about 2-2½ inches diameter). Now, make a sandwich by placing a Nutella ball in the middle and the 2 cookie dough circles on top & bottom. Join and seal the edges of the cookie dough circles so that the Nutella ball is no longer visible. Place it in the lined baking tray.
Step 8: Repeat Step 7 with the remaining cookie dough. Place each raw cookie about 2-inches apart in the tray.
Step 9: Shower a pinch of the crystal salt on top of each raw cookie.
Step 10: Put the baking tray in the preheated oven for 15 minutes. Your soft Nutella center cookies are ready! Let them cool for 5-10 minutes at room temperature before serving.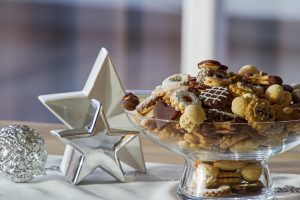 image source: www.pixabay.com
Tips for the Soft Nutella Center Cookies
If your raw cookie dough seems too soft, adjust the texture with some flour.
You can prepare and keep the Nutella balls & cookie dough for several hours in the freezer & fridge respectively. Thereafter, put them in the oven as per your time availability.
Wish to take your love for Nutella a notch higher? Then, why not get baking with these simple soft Nutella center cookies!