The Juicy Chicken Saltimbocca is a phenomenal Tuscan feast in today's dining. Although veal is considered preferable for this dish, you can effortlessly make it with chicken or any other meat that you relish. This astounding version of Saltimbocca is braised with sage leaves and chicken thighs along with an exotic flavor of grape juice and white wine. Saltimbocca serves with a thick sauce that has a distinctive taste of rich spices and lots of butter like a marriage in heaven. You may enjoy it with a nice pint of Riesling or Gamey to marry the sweetness of the sauce and chicken thighs layered with prosciutto. So let's make this exciting recipe and enjoy a great weekend dinner but first note down ingredients.
Ingredients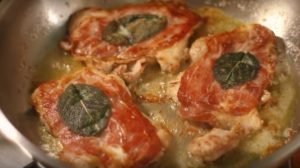 Frying Process of Chicken
3 medium-sized chicken thighs
3 large leaves of sage
2 tbsp.of parsley
5 tbsp. of white flour
1 tsp. garlic powder
3 equal slices of prosciutto
1 cup of white wine
Half cup of grape juice
3 tbsp. of brandy
45-gram butter
A dash of olive oil
Cracked black pepper
some toothpicks
Salt to taste
Preparation Method
To make chicken thigh
First of all, flatten your chicken thighs after wrapping in a plastic cling film and use a meat mallet for this purpose; be sure to have the same thickness from center to edges.
Now place one slice of prosciutto on each flattens chicken thigh and pound slightly from the opposite sides but this time very gently.
Next, settle one leaf of sage on top of the prosciutto side and pierce each leaf with the help of a toothpick to keep it appended with chicken thigh.
After the puncturing process, dust both sides of chicken thighs with plain white flour; however, be profuse while dusting as it will help to thick your sauce.
Now heat some olive oil and 1 tbsp. of butter in a frying pan and add chicken thighs before it smoked; make sure to keep the leaf side down to cook the fatty prosciutto first.
Within 2 to 3 minutes one side will be golden brown then flip over and cook the other side of the chicken thigh.
Once done, transfer thighs to a warm plate and set aside.
To make Saltimbocca sauce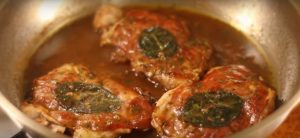 Chicken thighs in Sauce
In the same pan on low heat, add white wine, grape juice, and brandy; stir on medium heat until it reduced to half or thicken up.
At this stage, add garlic powder, parsley, and 2 tbsp, of butter and whisk well on low heat in the sauce.
Next, turn to cooked chicken thighs and add them to the pan with juices.
Add cracked black pepper and beat with juices of sauce; here check salt if required then add to your taste but usually, it's not required.
Let the chicken simmer in the sauce for another 60 seconds on low heat to get a true taste of Saltimbocca.
To Serve Saltimbocca
First, Transfer chicken thighs on a warm serving plate.
Pour sauce on top of chicken generously and garnish with parsley leaves.
The appetizing and mouth-watering Chicken Saltimbocca is ready to serve.
Enjoy with fried mushrooms or gnocchi pasta but it's entirely optional.