People are trying Keto these days, so we're giving it a shot too. We, Foodport, are experimenting with keto-friendly ingredients and came up with this Keto Pizza Recipe. It's cauliflower crusted, easy to make, and delicious in taste.
Cauliflower crust
3 cups grated/chopped cauliflower
1/2 cup mozzarella cheese
1 beaten egg
1 tsp salt (pink salt preferred on keto)
1 tsp garlic powder
1/2 tsp chili flakes
1/2 tsp oregano
Chicken Marination
125 gm chicken
Salt to taste
1/2 tsp chilies
1/4 tsp black pepper
1 tbsp vinegar
1/2 tbsp yogurt
Topping
1 cup mixed cheddar & mozzarella cheese
1/2 capsicum cut in cubes
1/2 onion cut in cubes
olives as per taste
hot chili sauce
tomato sauce
Sugar-free ketchup
METHOD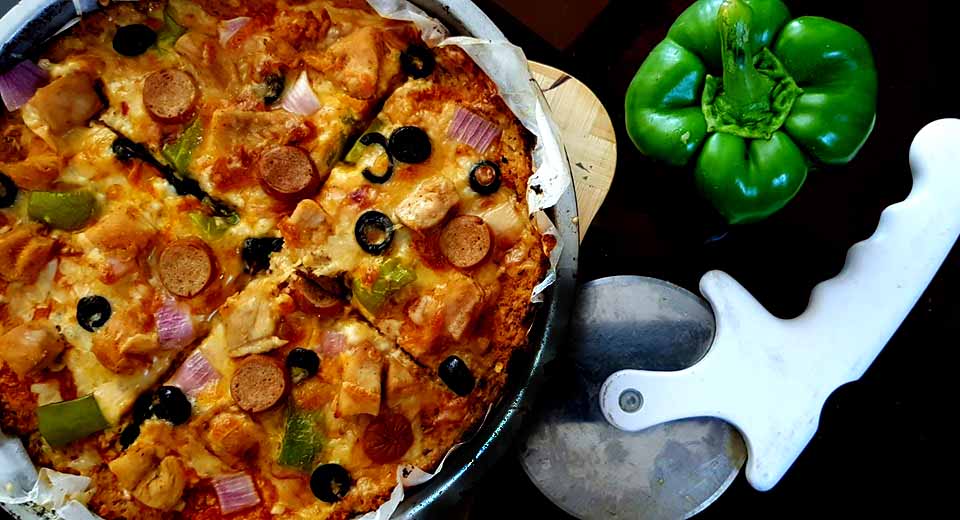 Marinate chicken with salt, chilies, vinegar, black pepper, and yogurt for 15 minutes and cook in olive oil. Keep aside when cooked.
In a pan, add chopped cauliflower and roast it dry for 10 minutes.
Take a bowl and place roasted cauliflower.
Now add cheese, seasonings, eggs and mix well.
Take the pizza pan and place the dough according to shape. Tap the backside of the measuring cup that will help to press the dough evenly.
Please make sure the crust remains moderate not very thick or thin.
Bake in the oven for 20 minutes at 200°C or till slightly crusted.
For assembling, take out baked cauliflower crust from the oven, spread hot chili sauce & tomato sauce.
Now sprinkle cheese, chicken, veggies evenly all over the dough.
Bake for another 15 minutes again.
Your yummy keto pizza is ready.