Long-grained jasmine rice – also known as Thai Hom Mali rice or Thai fragrant rice – is delicious fluffy rice. The characteristic flowery aroma and nutty taste of this simple carbohydrate have started attracting a lot of attention. But how nutritious is this food? Is it even better or healthier than white rice? This is what you will find out as you read on.
image source: Wikipedia
Jasmine rice nutrition
Jasmine rice – especially the white variety – can easily complement healthy diets that are high in fruit, lean protein, vegetables, etc. Brown jasmine rice has additional benefits of fiber, which must be part of every diet. Rice, in general, has always been a foundation food for more than half of the population of the entire world. It is often found where other types of food are in short supply. Rice is also inexpensive and a ready source of nutrition at all times.
Nutritional Facts
One cup of cooked Thai Hom Mali rice contains the following:
39 grams of carbohydrates
170 calories
3 grams of protein
Zero grams of fat, cholesterol, fiber, and iron
Most of the essential minerals and vitamins are stripped off when brown rice is processed into the white version. Jasmine rice is not usually enriched. But to enrich food, the manufacturer has to add minerals and vitamins to the food which was lost during processing. Some rice can also be enriched with iron and B vitamins. Therefore, it is crucial for you to read labels before you purchase it. Researchers, however, are continually working on how to improve growing methods and use biotechnology to add more nutrition to rice.
Is jasmine rice good for you?
Brown jasmine rice contains a considerable amount of insoluble fiber, which is beneficial for digestion. This happens by flushing food quickly through the digestive tract and also helps in softening stools. In most cases, jasmine rice is consumed alongside other types of healthy food. It can serve as an excellent source of carbohydrate when it complements a diet that is high in the following:
Legumes;
Fruits;
Lean meats;
Beans;
Vegetables, etc.
Athletes usually find it challenging to meet their daily carbohydrate requirements, especially when they engage in endurance or high-intensity exercise. Jasmine rice can be an excellent refueling food for you as it will readily pump glycogen back into your muscles.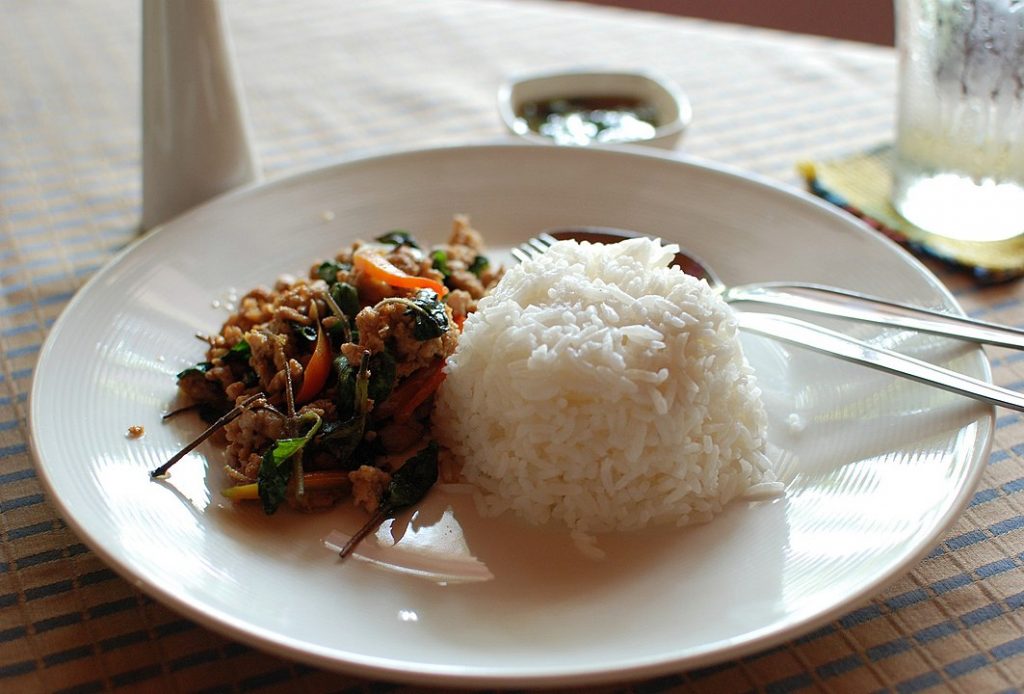 image source: Wikipedia
Low in protein
Thai Home Mali rice has modest protein content, so you can't depend on it as a protein source. So, adding a protein source to our diet is important since your body cannot produce amino acids by itself. For your body to function optimally, eat food rich in protein for metabolism, high maintenance of health, and food that helps your muscles function.
Health considerations
Brown jasmine rice has higher fiber content and more nutritious than its white water-milled counterpart. According to researches, adding fiber to your diet can reduce the risk of obesity, heart disease, and type 2 diabetes. Jasmine rice has a high glycemic index (GI) – which is anywhere between 96-116 – on the GI scale. GI scores indicate how quickly a particular food can raise your blood sugar to dangerous levels. Some high GI food has scores of 70 and above. This means that people with diabetes should go for brown jasmine rice over the white version.