Banana chips are a delicious way to eat bananas, especially the over-ripe ones. If you have a lot of overripe bananas and you don't know what to do with them, you can use them to make chips. You can also make a batch of Banana Chocolate Chip Granola Bars or Oatmeal Banana Muffins with overripe bananas. These chips are all-natural snacks you can get from bananas.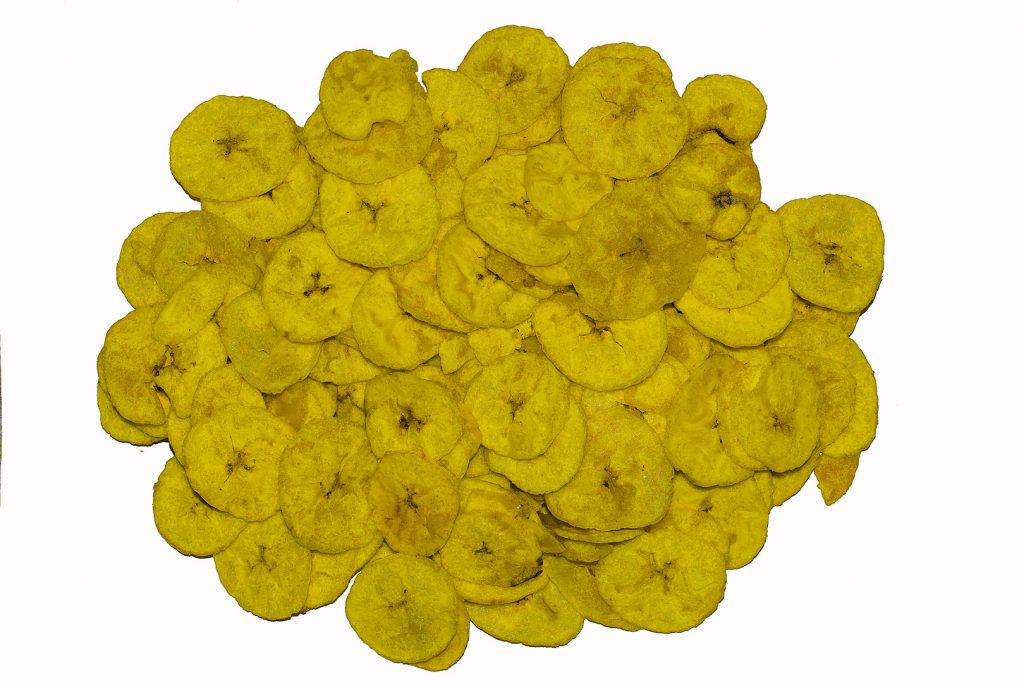 image source: Wikipedia
These chips are dried (or fried or roasted) slices of bananas. To improve the taste, you can cover them with honey or sugar. You can also fry them in oil and spices for an improved salty or spicy taste. You can consume this tasty, sweet-salty snack in place of regular chips. It is much healthier than so many other chips since they undergo a baking process. They are also great as after school snack or lunchbox add-on.
Fried Banana Chips
The production of these fried chips is from under-ripe banana slices that are deep-fried in coconut oil or sunflower oil. Just like potato chips, these chips are dry and contain about 4% water. For a better taste, you can add salt, sugar, and other spices. You can also add banana flavor to them. If you use ripe bananas for the chips, they will come out oily. People are using ripe bananas for deserts and not for dry chips.
Dried Banana Chips
These types of chips are usually produced with the use of the food dehydration process. They are not dark yellow and crunchy. Instead, they are leathery, chewy, and brown. They are very sweet, and they have a strong banana flavor. You can also use ripe bananas for making these chips. You can also make another type of dried chips from a banana by baking them in an oven, but the result came out without a strong banana flavor.
Fried banana chips contain 58% carbohydrates, 4% water, 34% fat, and 2% protein. They supply up to 520 calories in a 100-gram reference amount. They are rich in vitamin B6 (20% DV) and magnesium (21% DV). They also have moderate amounts of copper, iron, and potassium (10% to 11% DV). Also, many micronutrients are in negligible amounts.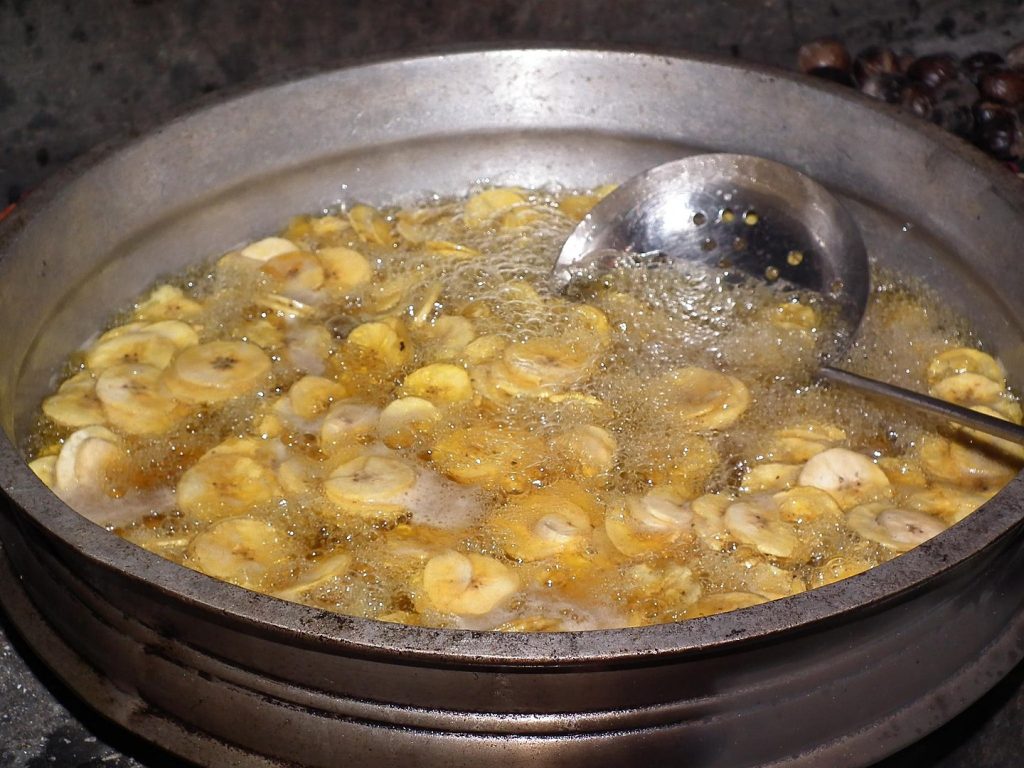 image source: Wikipedia
Preparation
Prep Time: 5 minutes and Cook Time: 2 hours To get started, you need to get green bananas or plantains. Other ingredients include lemon juice, water, and kosher salt.
Mix water and lemon juice mixture (ratio 4:1) in a bowl
Slice bananas very thin and soak in the mixture for 2 hours. Sprinkle with kosher salt. (You can even sprinkle cinnamon over the chips to get sweeter chips)
Bake at 250F for about 1.5 or 2 hours or until you see that they are crispy. Don't forget to flip them over about after an hour or halfway.
Take them out of the oven and cool them (the longer you cook them, the crispier they become).
If you are using overripe bananas, you can sprinkle with cinnamon before following the above instructions.
You can store banana chips in a zip bag or an airtight container for up to a week.
Happy snacking!