The Love for steak at every dining, especially at weekends, always brings an exciting, amazing and aromatic experience to every foodie. Weekend vibes are incomplete with friends gathering and delicious food. Hence, the crusty country fried steak is the finest recipe for your weekend with an amazing assortment of herbs and white sauce. The creamy white sauce and crunchy fried steak have a great combination of a delicious meal for your dining. So, let's have the best party this weekend with some great delectable food like country fried steak with white sauce. The cube steak is taken from primal part of beef and seasoned with some fresh spices but the creamy sauce is just an outstanding addition that makes your steak zest unforgettable. So, let's start the recipe.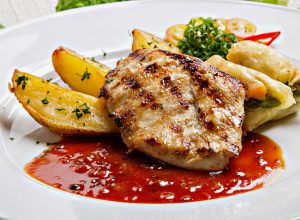 image source: https://pixabay.com
Ingredients
For Fried Steak
125g cube Beef Stea
Kosher Salt to taste
Ground Black Pepper
1 cup whole milk
2 whole eggs
1 and a half cups flour
1 tsp. garlic powder
1 tsp. onion powder
1 tsp. paprika
Canola oil for frying
For White Sauce
2 tbsp. Flour
3 tbsp. Unsalted Butter
1 3/4 cups of whole milk
1/2 cup of heavy cream
Ground Black pepper to taste
Kosher salt to taste
Preparation Direction
Cooking Steak
First, take cube steak from the primal part of beef and make it thin wide cube-shaped by pounding with a wooden mallet.
Season both sides of the steak with Kosher Salt and ground black pepper.
Take a bowl now and add two whole eggs with 1 cup of milk and whisk well.
In another bowl take flour and add black pepper, Kosher salt, paprika, garlic powder, onion powder and mix well.
Now coat cube steak with the flour mixture first and then dip it into the egg batter.
Once again coat with flour and shallow fry it in canola oil at 190 centigrade.
After getting a golden brown color, remove it from the flame and place in a tray with a paper towel.
Season again with kosher salt.
Cooking White Sauce
Now take another pan, heat unsalted butter, add 3 tbsp. flour and cook till it gets golden brown color.
Add whole milk and heavy cream now and cook till it becomes thick.
Add Kosher Salt and black pepper to taste and mix well.
Now switch off the flame.
Take a serving plate, set fried steak with mashed potatoes, herbs and then pour a generous amount of white sauce on steak.
Your crusty, crumbly country fried steak is ready to eat, Enjoy!