Many who hear about baby corn for the first time always assume that they are cultivated from mini corn plants. But that is far from the truth as baby corn is not all that different from regular corn. Baby corns are regular corns that are picked before reaching maturity.

image source: Pixabay.com
More about Baby Corn
Baby corn, as mentioned in the introductory section, is an ear of corn that is picked before it grows large. It is usually harvested in early summer or late spring before the stalk is fully developed. It is incredibly tender and easy to cook. The majority of these corn found in the U.S. these days are imported from Asian countries and are usually canned. The carb content of corn makes it a starchy vegetable. But the nutritional values of baby corn bear a resemblance to non-starchy vegetables. Moreover, the corn is an excellent source of essential nutrients that enhance health and wellbeing. Baby corn is usually harvested by hand once the corn silk begins to peek out. This immature corn also has a different texture to it, apparently because it is still unripe. The #1 producer of baby corn is Thailand, followed by Kenya, India, Indonesia, and Taiwan. Canned baby corn, however, is cooked a little, thereby sacrificing that vegetal, earthy, and slightly sweet taste. This makes the canned variety to taste more like a liquid, mushy and crunchy almost to the same degree. They don't have the crunch that fresh baby corn has. You can cook the corn or even eat it raw, cob and all. It is one of the prettiest vegetables and very versatile as well.
Calories in Baby Corn
Baby corn has low calorie – about 25 calories per ½-cup serving – as stated by the United States Department of Agriculture. Regular corn, a starchy vegetable, has over 60 calories per ½-cup serving
Fat-free with a little Protein
A one-half cup serving of this corn contains no fat at all and 1 gram of protein. Since fats and protein are nutrients that are essential to the human body, you can get them adequately from other foods. It is highly recommended that you obtain 20-35% of your calories from fat and 10-35% of your calories from protein. Protein is essential for building new cells, while fat becomes a source of energy.
Minerals and Vitamins
This corn is rich in nutrients and can provide iron along with vitamins A and C in your diet. Iron helps in the transportation of oxygen from your lungs to every part of your body. Vitamins A and C help your body to combat infections, thus making them essential nutrients for your immune system.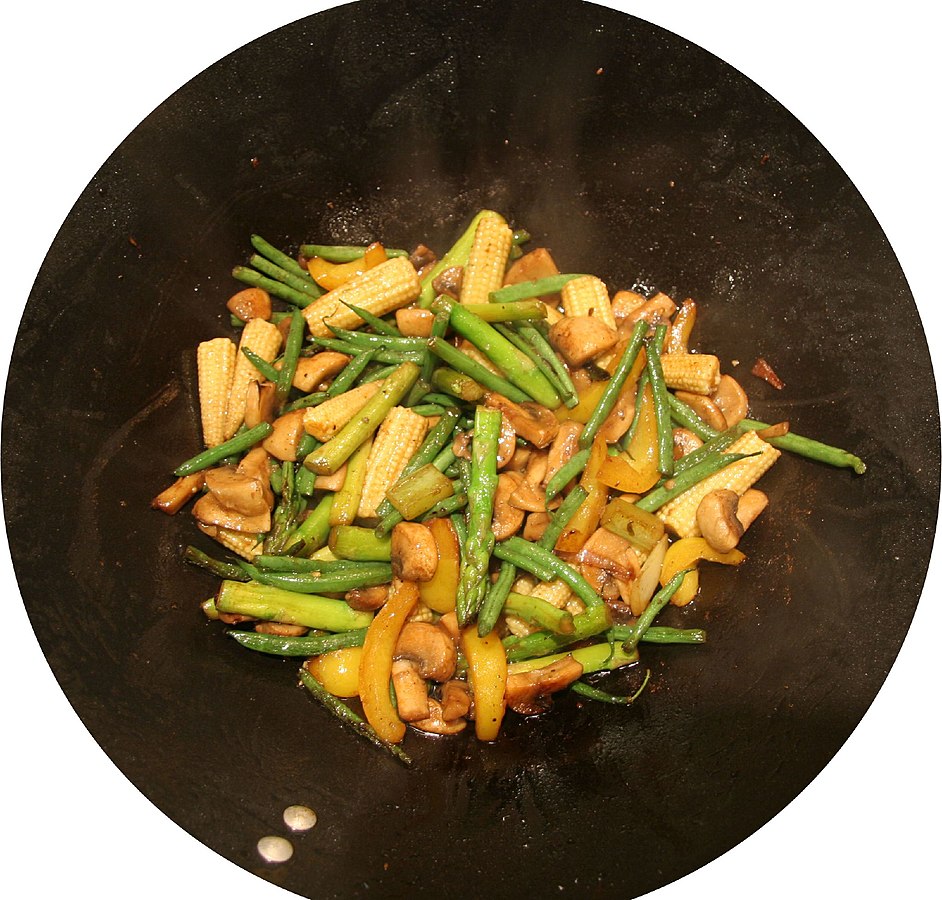 image source: Wikipedia
High Sodium Content
Canned baby corn is an excellent source of sodium when included in your diet. A half-cup serving of baby corn contains nothing less than 300 milligrams of sodium. This is just about the right amount that your body needs. However, you should be careful not to overshoot the amount of sodium that your body needs daily. When sodium becomes too much in your diet, it could bring about the retention of fluid and raise your blood pressure. You can significantly reduce the sodium content of canned baby corn by rinsing in water before consumption. The Food and Drug Administration (FDA) recommends that your daily intake of sodium should not exceed 2,300 milligrams per day. Are you still bothered about the sodium content in canned baby corn? Go for fresh ones at the local market.
Wrap Up
Now that you know nearly everything there is to know about baby corn, add it to your favorite stir fry. Enjoy its nutritional content for a sound and healthier you.