As you might expect, cocoa butter is made from cocoa beans and is one of the most important agricultural commodities. Learn more about cocoa beans in this article. If you are interested in importing this agricultural commodity, please contact (inquiry@foodporty.com) us or visit our landing page.
The production of Cocoa Butter
After the cocoa fruit has gone through the various processing steps and finally been ground, the liquid cocoa mass is further processed into cocoa powder. The remaining "waste product" is cocoa butter, which is used, among other things, in chocolate production.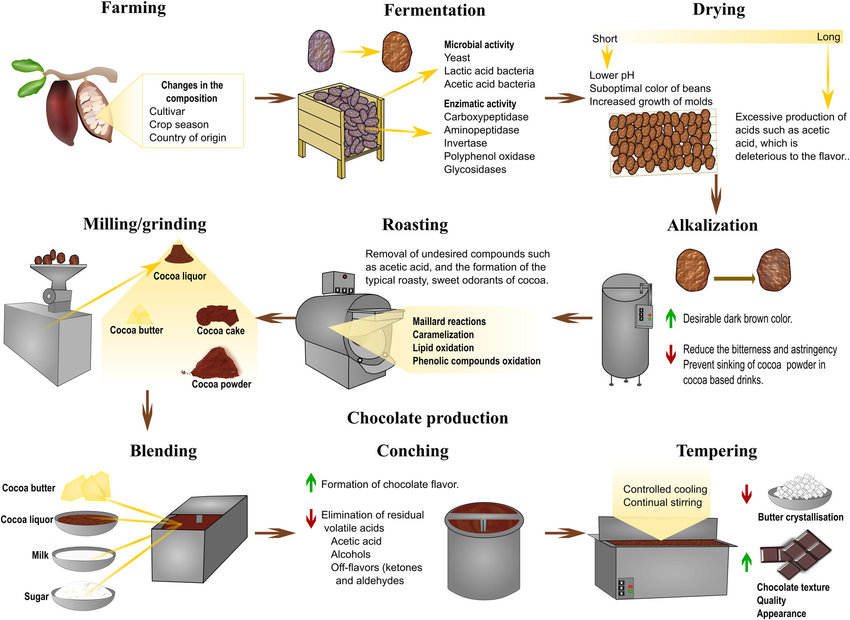 How cocoa butter is made - Source: researchgate.net
Alkalizing (Dutching)
(This step is not necessary.) Alkalizing, also called Dutching, can be done with the cocoa curd, cocoa liquor or essence. Dutching involves treating the powder with alkali salts (e.g., potash or sodium carbonate). This makes it easier to separate the fat from the cocoa mass. However, the possibility of influencing the taste and color of the cocoa powder through Dutching is essential. Alkalizing gives the cocoa powder a darker color and a milder taste. (For more information on the invention, see van Houten).
Objective of alkalizing:
To facilitate the pressing of the cocoa butter.
To influence the taste and color.
Pressing - The cocoa butter is pressed off
The cocoa mass, preheated to 80 °C to 90 °C, is compressed in large hydraulic presses. This generates a pressure of up to 900 bar (1 bar = 10 N/cm²). This forces out the fat, which flows off as golden-yellow, clear cocoa butter. In this way, the fat content is reduced from 52% to 10% to 22%, depending on the pressing time. What remains is the cocoa press cake.
A distinction is made between
Highly deoiled press cake (at least 10% fat) and
low-fat press cake (at least 20% fat). Press cake with more than 30% fat cannot be processed into cocoa powder, as it would form lumps.
Cocoa butter is mainly used in the production of chocolate, but also in pharmaceutical and cosmetic products. (For the invention of the press, see van Houten).
Objective of pressing:
Reduction of the fat content below 30% in order to be able to produce powder.
Extraction of cocoa butter for chocolate production
Instantization of cocoa powder
(This step is not necessary.)Cocoa powder that is to be used for the production of beverage powder (so-called instant powder) must also mix well with cold milk and cold water so that no lumps are formed and the powder does not settle to the bottom. Since the proportion of genuinely soluble parts in cocoa powder is only 6% to 8% (for comparison, coffee: 48%), the cocoa cake is superficially wetted in a vapor phase or an aqueous aerosol mist, which causes it to stick together. This results in improved solubility.
Pulverization of the cocoa press cake
After instantization, the cocoa press cake is ground into fine cocoa powder in spiked roller crushers.
Result - The finished cocoa powder
The resulting cocoa powder serves as a raw material for various chocolate products, for example: sauces, pastries (cakes, cookies), ice cream, chocolate mousse, chocolate pudding, chocolate drinks, and much more...
Cocoa powder also serves as a base for most confectionery glazes because "pure" chocolate, with its high content of cocoa butter, easily becomes too hard and brittle when used to coat confectionery.
Cocoa butter is mainly used as an ingredient in chocolate production, but also in the pharmaceutical and cosmetic industries, for example in lotions and creams.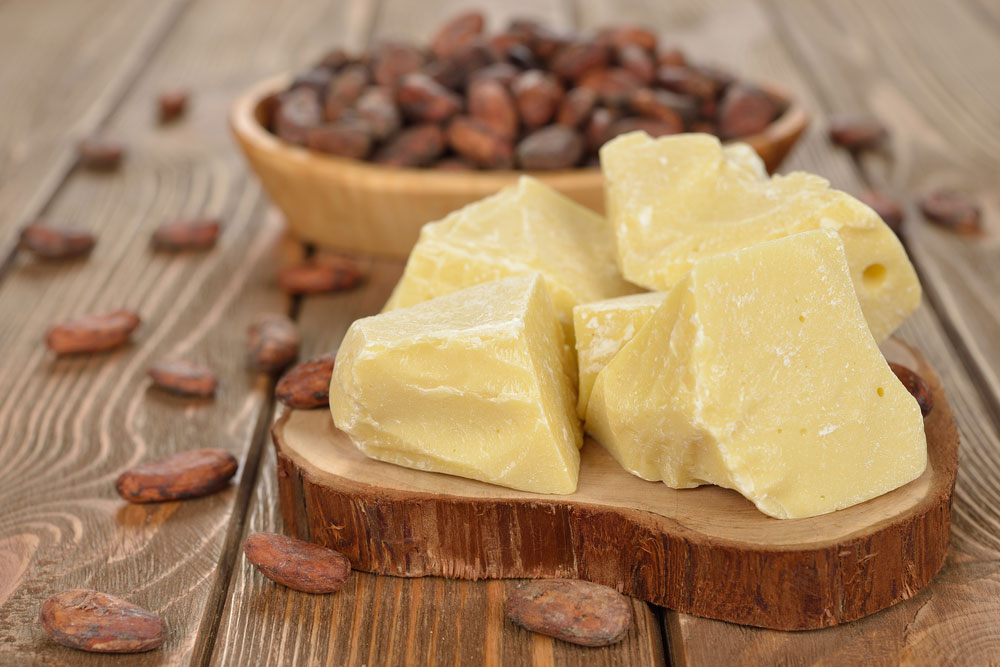 Cocoa Butter - Source: britannica.com/
Cocoa press cake - the precursor to cocoa powder
After the cocoa butter has been pressed off, the pressing chambers of the cocoa press release a solid, disc-shaped concentrate of the cocoa components: the cocoa press cake. It represents the penultimate step on the way to cocoa powder.
Press cakes are circular, about five centimeters thick and 45 centimeters in diameter. In so-called crushers, the hard cakes are first mechanically broken into hazelnut-sized pieces before being further processed into powder form in the pulverizing plant. Pin or hammer mills break up the cocoa particles caked together during pressing again. During this process, frictional heat is generated, which could cause the portion of cocoa butter remaining in the cocoa powder to melt, thus changing the consistency and texture of the cocoa powder. To prevent this, the heated cocoa powder is cooled slowly in a continuous flow of air in coils and kept at a constant low temperature. This prevents the cocoa powder from clumping and it retains its special color and unmistakable aroma.
A few facts about cocoa butter
While there is no such thing as a perfect ingredient, cocoa butter comes pretty close.
Cocoa butter, also called theobroma oil, is a light yellow edible fat extracted from the cocoa bean. It is used to make chocolate and has an amazing cocoa aroma.
It is used in cosmetics, soaps and personal care products because it is wonderfully moisturizing and an excellent natural ingredient for the skin. Cocoa is solid at room temperature, melts easily on the skin, and has a sweet creamy scent.
5 Benefits of cocoa butter you probably didn't know about this amazing oil of nature.
1. can help in the treatment of eczema and dermatitis.
The cocoa mass polyphenol (CMP) found in cocoa butter can inhibit the production of antibodies that aggravate certain diseases.
2. strengthens the immune system
The Swiss love to consume chocolate, and since CMPs can help the immune system fight certain diseases, this may help explain why the Swiss have one of the highest life expectancies in the world.
3. prevention of stretch marks during pregnancy.
Cocoa butter has an extraordinary moisturizing effect, which is very suitable for women during pregnancy and after childbirth. Although it does not completely remove stretch marks, if used regularly as the abdomen stretches and retracts, it can help prevent them. It does this by supporting the skin's elasticity during these more extreme extractions and contractions.
4. rejuvenates your skin
Cocoa butter is also rich in antioxidants that help fight free radicals (free radicals destroy healthy skin cells and age the skin). Cocoa butter also provides some protection against the sun's rays. (Important - it does not replace the use of sunscreen!).
5. Full of nutrients
It is rich in vitamins, antioxidants and trace elements, especially vitamins A, B1, B2, B3, C and E.
Did you know that many of PURU's most popular products, such as 100% natural sunscreen, body butters and lip balms, have all these properties thanks to cocoa butter?