The Palm Oil Problem: About Cultivation, Production & Environment
The palm oil problem has been known for many years. There is hardly a product in the supermarket that does not contain it. Yet the cultivation of oil palms is harmful - for the environment, people and animals. At the latest, the severe forest fires in 2019 have reminded us of this problem again.
In this article, we would like to discuss the cultivation of palm oil, what consequences it has for people and the environment, why no palm oil is also no solution, what the current situation in Indonesia looks like, and how the Corona crisis has affected - and will continue to affect - the palm oil industry.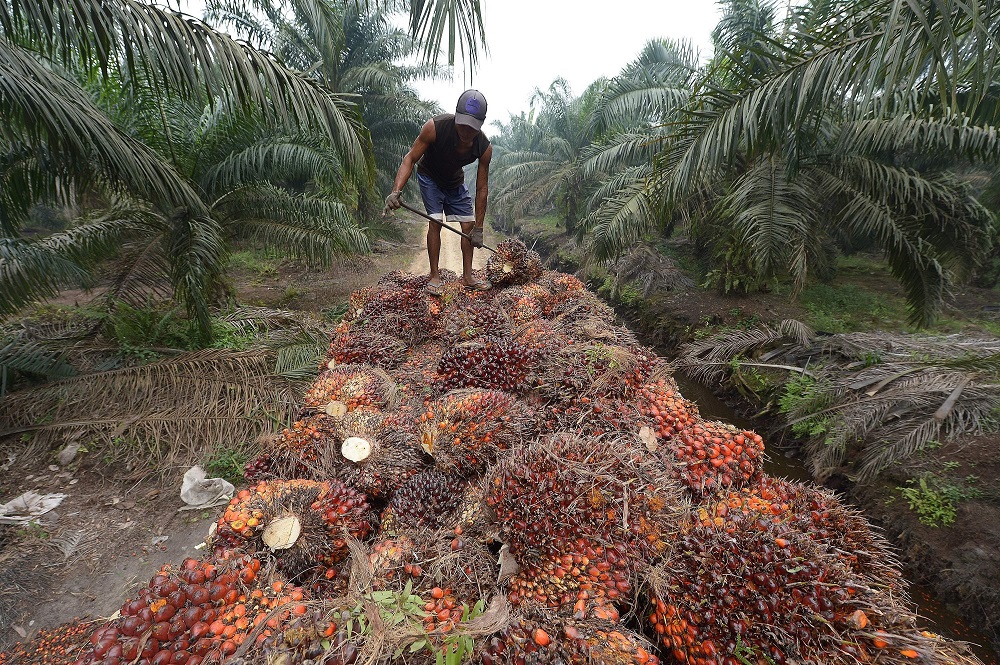 An employee handling palm oil seeds - Source: scmp.com
Palm oil - the most consumed vegetable oil in the world
Whether chocolate, ice cream or potato chips - almost every second product on the supermarket shelf has palm oil listed on its contents.
Thanks to its odorlessness and creamy consistency, it is used primarily in the manufacture of baked goods and confectionery. The natural preservative effect ensures a long shelf life for the products.
Due to its heat and oxidation stability, palm oil is particularly well suited for cooking and is used, especially in hot regions, as cooking oil, margarine or frying and deep-frying fat.
But food is not everything. Cosmetic products such as shampoo, creams, lipstick or make-up also contain palm oil.
Due to the lauric acid it contains, palm oil belongs to the lauric oils and is also used in the cleaning industry, oleochemistry, as a biofuel and as fuel in combined heat and power plants.
Oil palm - the most productive oil plant in the world
Palm oil is obtained from the fruits of the oil palm, which, like the coconut, belongs to the palm family. There are two species of the genus, but only one of them is of economic importance.
The oil palm originally comes from the rainforests of West Africa and probably reached South America via slave transports. It found its way to Asia as an ornamental plant in botanical gardens at the beginning of the 19th century.
It was only with the industrial processing of the oil that it was cultivated on large plantations from 1900 onwards. Today it is planted worldwide in the tropics.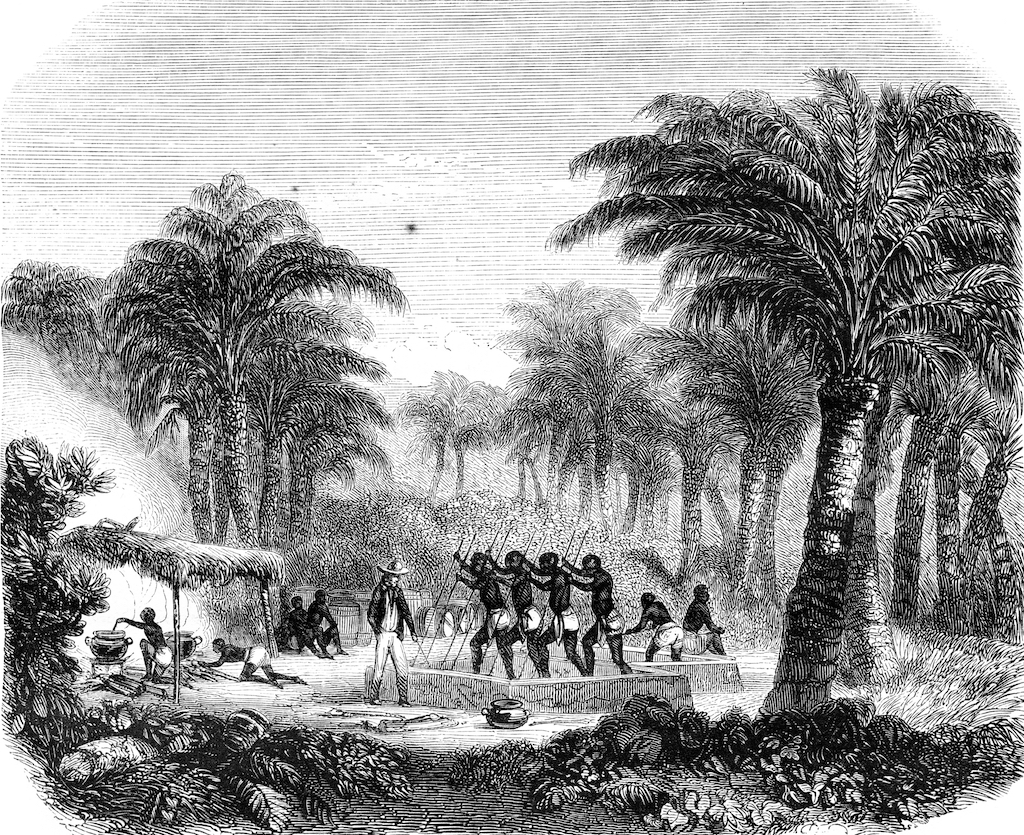 Production of palm oil in 1846 in Papua
What does the oil palm look like?
The oil palm can grow up to 30 meters high and up to 200 years old, although the palms were bred smaller for cultivation on plantations.
Oil palms form large inflorescences as early as the third year of life, each 5 to 10 cm long with about 200 lateral axes called spikes. There are 700 to 2,000 flowers on an ear, which are either male or female. This makes about 150,000 to 400,000 flowers per inflorescence.
The first fruits are ripe as early as six to nine months after pollination. The drupes are three to six centimeters long and two to four centimeters wide. A fruit cluster can grow 800 to 4,000 fruits, which together can weigh up to 50 kilograms.
The flesh, which is orange-colored due to the high carotene content, is fibrous and contains up to 50 percent oil, which, however, only forms in the last month of ripening and causes the hard fruits to soften.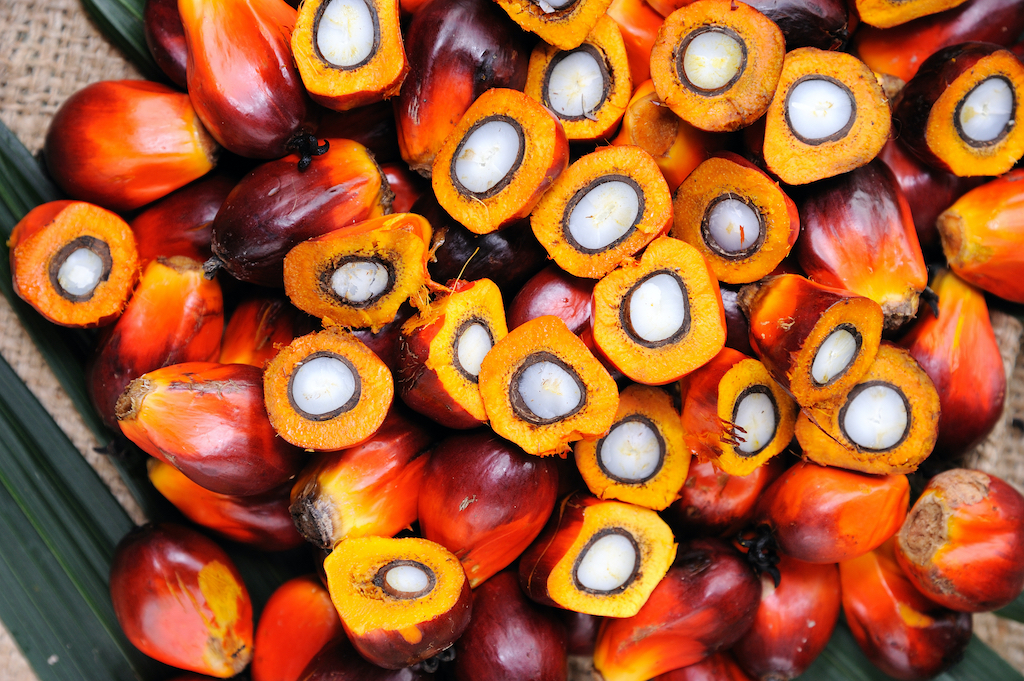 The white seed is processed into palm kernel oil
How is the oil extracted?
Harvesting takes place when the oil content is at its highest and the first fruits break away from the fruit bandage.
Since the fruits spoil quickly, they must be processed immediately after harvesting. They are usually treated with steam and then crushed to separate them from their seeds. The seed, which is in the kernel, contains up to 52 percent oil and is processed into palm kernel oil.
Oil palms are easy to care for and require little fertilizer. Their yield is high: around five tons of palm oil can be produced from one hectare per year.
Palm oil is far less expensive to grow and requires only half the land for production than other vegetable oils such as sunflower oil, rapeseed oil or soybean oil.
Palm oil cultivation - damage to the environment, humans and animals
As profitable and easy as the cultivation of oil palms is, it entails far-reaching and fatal consequences.
1) Ecosystem
In order to grow oil palms profitably, large areas of land are required. This land is obtained by clearing and burning rainforests and draining peat forests.
In the process, entire ecosystems are razed to the ground. Every tree, plant and living thing that has a place and function in this system is destroyed. What follows is the sole cultivation of oil palms.
Monocultures are biologically dead deserts, as no other species can (survive) except a few. The entire biodiversity is eliminated.
The unstoppable destruction of forests robs many animal species, which are threatened with extinction, of their habitat. These include elephants, rhinos, tigers and orangutans.
Orangutans spend most of their lives in trees and depend on their forests. On Kalimantan, half of the orangutan population has been wiped out within the last 16 years. All three orangutan species are now threatened with extinction.
2) Air pollution
Helena Varkkey, in her book The Haze Problem in Southeast Asia: Palm Oil and Patronage, explains why slash-and-burn agriculture is a popular means of land reclamation in the palm oil industry: at $5 per hectare, it is the cheapest method compared to mechanical clearing (averaging about $200 per hectare) or bulldozing (about $380). Palm oil plantations and their subcontractors are responsible for nearly 80 percent of forest fires in the region.
One consequence of fires is severe air pollution. Since forest fires are usually not easy to extinguish, they incessantly emit smoke into the air. So much so that entire cities, regions and even neighboring countries disappear in the smoke.
This smoke is harmful to the health of both humans and animals. It can lead to exceptionally early deaths, respiratory illnesses and heart disease.
Severe forest fires are not uncommon in Indonesia - Source: fairventures.org

3) Land erosion
Many part of palm oil plantations are established near mountains or on steep slopes. The deforestation of trees with their stable root system contributes to an increase in land erosion. Flooding and silt deposits in rivers and harbors are just some of the consequences.
4) Soil and water pollution
Pesticides, fertilizers and wastewater contaminate groundwater and soil. For every ton of oil produced, there are about 2.5 tons of liquid waste.
5) Climate
Our planet needs forests because they absorb CO2 and release oxygen for us to breathe. Together with the oceans of our earth, they ensure that our climate remains in balance.
If huge forests are destroyed in the course of palm oil cultivation, we will miss these "CO2 swallowers". Moreover, slash-and-burn agriculture releases an additional amount of CO2 that can rise unhindered into the atmosphere.
But that's not all. In her book, Helena Varkkey describes that up to 90 percent of the fires for palm oil plantations take place on former peat forests. Indonesia is home to the largest peat forests in the world. About 45 percent of Indonesia's 26.5 million hectares of peat forests were already deforested or drained at the time.
Peat forests or peat bogs play a special role in our ecosystem. They are stagnant tropical moist forests on which a thick layer of acidic peat has formed. This can sometimes be over two meters thick. The special feature: Peat forests can store up to 50 times more carbon than an area of rainforest of the same size on a different soil type. Thus, as "carbon reservoirs," they make a decisive contribution to our global climate.
As soon as peat forests are drained, they release enormous amounts of CO2 and can no longer serve as a carbon store.
Up to 90 percent of the fires for palm oil plantations take place on peat forests. Around 45 percent of Indonesia's peat forests have already been deforested or drained.
6) Local population
Rainforest destruction most often affects indigenous tribes and peoples who have lived in and depended on their rainforests for centuries.
The establishment of palm oil plantations is often accompanied by land disputes, human rights violations, violence against farmers and communities, displacement, food insecurity and poverty.
In many cases, questionable methods are used to "scam" signatures from indigenous tribal leaders, as this documentary from West Papua shows.
A 2019 study by Öko-Institut e.V. found that palm oil cultivation rarely brings benefits to indigenous tribes and local communities.
Certified palm oil - all that glitters is gold?
Industries that produce socially and environmentally harmful products and want to sell them successfully to consumers rely on one thing above all: certificates.
Awards and labels are supposed to give consumers a good conscience and let them grab them properly the next time they go shopping. This is called greenwashing, the "greenwashing" of dirty core businesses and their companies.
Palm oil production is a classic example of this. According to Kathrin Hartmann, an expert on greenwashing methods, palm oil cultivation can never be sustainable. Nevertheless, there are sustainability certificates for palm oil as well.
The best known is the RSPO (= Round Table on Sustainable Palm Oil). It was established in 2004 by WWF and Unilever, one of the largest manufacturers of consumer goods. The RSPO offers voluntary membership to companies in the palm oil industry. Its goal: to guarantee compliance with applicable laws. Banal really, because laws should be complied with as far as possible anyway.
Until the end of 2018, members were still allowed to clear 20,000 hectares of rainforest if they protected 500 hectares in return. In the meantime, clearing has been banned and the use of pesticides is only permitted in exceptional cases. Whether and who adheres to this is another matter. In addition, about only 19 percent of the palm oil produced worldwide meets the RSPO's woolly criteria.
Wilmar International, a supplier to Unilever, is the world's largest palm oil trader, with a 40 percent share. The company is repeatedly involved in scandals involving the destruction of tens of thousands of hectares of rainforest. The Makin Group (PT Matahari Kahuripan Indonesia), which in turn supplies Wilmar and Unilever, also advertises 100% sustainability. Although it is also involved in the illegal destruction of several thousand hectares (see documentary "The Green Lie").
A study shows that around 75% of the palm oil plantations in Indonesia and Malaysian Borneo certified as sustainable by the RSPO have only been deforested in the last 30 years. Previously, tropical rainforests were important habitats for large mammals. The RSPO certified the areas in the late 2000s, rendering its own label meaningless. Read more.
Unfortunately, WWF is not exactly known for its love of environmental protection either, but rather for its closeness to industry, donations and greenwashing.
Of course, a small step in the right direction is better than none. But even better than meaningless greenwashing certificates are labels like organic, fair or deforestation-free.
Palm oil industry in Indonesia - an essential part of the economy
The palm oil industry is and remains an essential part of the Indonesian economy. Not least thanks to the oil's excellent product properties and steadily rising demand.
Indonesia is by far the world's largest producer and consumer of palm oil. With a market share of over 50 percent, nearly 50 million gigantic tons were produced in 2020.
In the previous year, only around 8 million tons of the total production were certified as sustainable - a drop in the bucket.
Source: statista.com
Indonesia is also the world's leading exporter. In 2016 alone, almost 73 percent of total production was exported. China, India and the EU are the most important importers.
Next to coal, palm oil is the country's second most important export.
In 2019, palm oil plantations occupied a total area of nearly 15 million hectares, with an increasing trend. Palm oil plantations are divided into large state-owned plantations, private plantations, and smallholder plantations. The largest palm oil producers in Indonesia include PT Astra Agro Lestari Terbuka, Wilmar, Cargill and Musim Mas Group.
Palm oil lobbyists particularly highlight the importance of the palm oil sector to the Indonesian economy. About 50 million people depend directly or indirectly on palm oil and its derivatives. According to the Indonesian Palm Oil Association (GAPKI), the industry creates about 16 million jobs. For small farmers in particular, oil palms are a desirable plantation, it says.
However, according to Greenpeace, it is mostly large plantation companies and especially the rich who can reap economic benefits from the industry. Initiatives for small farmers, such as the Indonesian government's export levy, are misguided and only play into the hands of the industry's "big players."
It is not uncommon for politicians to be put under pressure or to be involved themselves. Despite well-intentioned policies and laws, there is a lack of enforcement, support and monitoring of stakeholders.
According to the Indonesian Palm Oil Association (GAPKI), the palm oil industry creates about 16 million jobs.
Papua - in the crosshairs of the palm industry
After many regions on Sumatra and Kalimantan have already been deforested, a worrying trend is becoming noticeable in Indonesia. Slowly but surely, the wave of deforestation is sweeping eastward, where there are still many areas of untouched rainforest.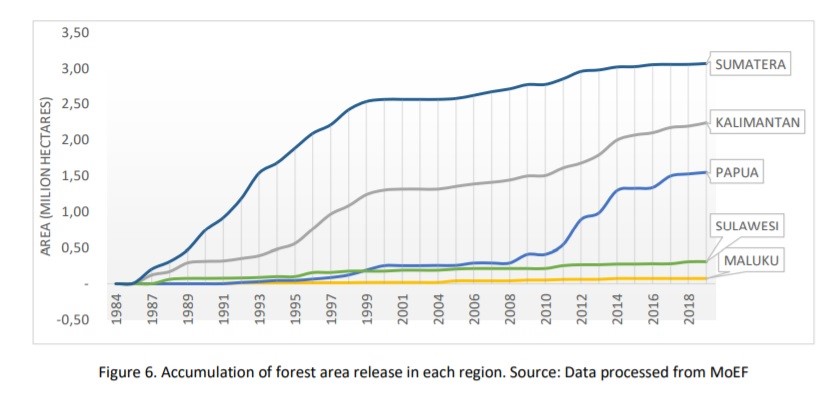 Source: FWI
Papua is one of the last regions with original rainforests, which are among the most species-rich on earth. They are home to at least 20,000 plant species, over 600 bird species, more than 100 different mammals, and over 200 reptile species.
The provinces of West Papua and Papua, hereafter summarized as Papua, are together home to more than one-third of Indonesia's intact rainforests. They are already under severe threat from industrial agriculture, mining, and logging.
The large corporations of the palm oil industry are targeting the region in the east. Since 2000, the government has opened up almost one million hectares of forest for a total of 37 plantations - 30 of them for palm oil.
The opening of Papua's forests is the stark opposite of the "official" nationwide decline in deforestation rates in the country.
According to a report by Greenpeace, this area was released primarily through systematic violations of permit regulations - in short, through corruption.
Source: FWI
Deforestation of Indonesian forests - is palm oil everything?
Palm oil plantations are not the only thing threatening Indonesian forests. The pulp and paper sector, the timber industry, and mining (including nickel, coal, gold, and tin) are other significant contributors.
Certifications such as the FSC (Forest Stewardship Council), which stands for environmentally conscious and responsible management of forests, also lack significance in some cases.
Forest Watch Indonesia reports that Indonesia has lost more than 23 million hectares of forest in 75 years of independence - an area more than 75 times the size of Yogyakarta province.
Also, in its report, the organization speaks of different definitions of "forest" and "deforestation" used by government institutions and NGOs. These provide different deforestation rates, which in turn are used as a political tool by political parties and mask the actual loss.
Current developments
The fight against the destruction of Indonesia's rainforests continues. The government's forest protection policy is inadequate and continues to allow numerous palm oil companies to keep their licenses.
The annual fire season in Indonesia has already begun, with fires indicating a 2019-like scale. Even though the Corona year has slowed the growth of the palm oil industry, there have been alarming developments in the country.
1) Biodiesel program
Since 2015, the government has been subsidizing palm oil-based biodiesel. The plan is to completely stop the production and consumption of conventional diesel. It is estimated that an additional 15 million hectares of palm oil plantations will be needed for "green diesel."
2) Omnibus Law
In October 2020, the controversial Omnibus Law was passed to create jobs and deregulate human and natural resource management. The passage of the law followed much criticism, including from environmental activists. Plantation operators who operate illegally will in future be given three years to obtain their permits. They will also receive administrative fines instead of criminal prosecution. During this time, they will be allowed to continue their operations. This will allow companies to white wash illegal activities.
3) Tanah Merah Project
The Tanah Merah Project is the world's largest plantation project. It involves approximately 280,000 hectares of primary forest. The project has already faced a number of allegations: the displacement of indigenous peoples, falsified permits, and falsified identities of investors. Despite the controversies, the clearing of 8,300 hectares of rainforest has already begun.
4) Korindo Scandal
Korindo, a palm oil company associated with illegal slash and burn in Papua, among other things, has paid so-called "consulting fees" (= bribes) to a government official to acquire licenses. They are also alleged to be partly responsible for human rights violations and deaths among the Papuan population.
5) Food Estate Program
To address the potential food shortages caused by the Corona crisis, certain areas in Central Kalimantan (including protected peat forests) were released for rice cultivation and the cultivation of other staple crops.

Waste from the palm oil industry
So-called bleaching earth is used in the manufacturing process of palm oil. This removes odors and refines the clarity of the oil. After the refining process, a portion of residual oil remains in the spent bleaching earth, which must be carefully disposed of. Since 2014, this waste has been considered hazardous.
In February 2021, it was decided to classify waste products with a content of less than 3% as harmless. Inadequate controls and poor monitoring can lead to waste products with a higher proportion not being disposed of properly.
Tensions between EU and Indonesia
In 2017, the European Parliament passed a resolution that classifies palm oil-based fuel as a biofuel rather than a renewable fuel. It also aims to phase out palm oil-based biofuels within the EU by 2030. The decisions have been sharply criticized by Malaysia and Indonesia.
Although rising criticism has led many palm oil companies to commit to greater sustainability - in some cases by the end of 2020 - the largest palm oil companies have not made significant progress. This was the conclusion of the Zoological Society of London's (ZSL) annual assessment.
Worker exploitation, slash-and-burn agriculture and the destruction of valuable peat forests remain the order of the day.
Yet Indonesia, of all countries, could make a significant contribution to mitigating climate change by protecting peat forests and bringing their gigantic forest fires under control. It almost seems like a farce when Jokowi talks about Indonesia setting a good example on climate change.
Developments in Papua make it almost impossible for Indonesia to meet the targets set in the Paris Agreement.
Labor exploitation, slash-and-burn agriculture, and the destruction of peat forests continue to be the order of the day.
What role does the Corona crisis play in this?
According to Global Forest Review, over 12 million hectares of rainforest were destroyed worldwide in 2020, with a 12% increase from the previous year. The loss of forests is equivalent to the CO2 emissions of 570 million cars.
Although the data cannot be clearly linked to the Corona crisis, there have been numerous reports of increasing illegal harvesting in protected areas. Some of them were closed to the public and ranger activities were restricted.
How other Corona-related trends, such as returns to rural areas or supply chain disruptions, will affect forests is still unclear. Post-Corona economic development may also weaken conservation, depending on whether countries take the opportunity to protect their forests or clear them for economic reconstruction.
Building the economy after Corona may involve weakening environmental protections.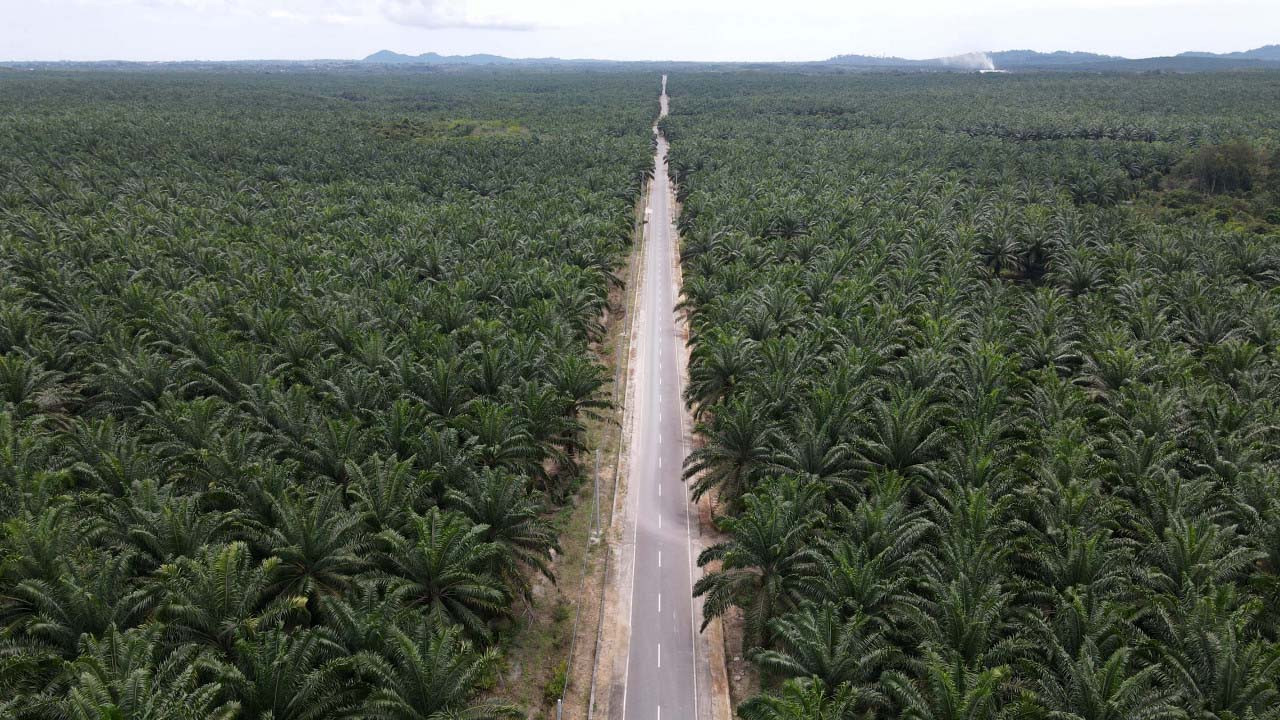 An oil palm plantation in Bulutumbang, Belitung - Source: thejakartapost.com
Conclusion: Like David against Goliath
Numerous organizations worth supporting (Greenpeace Indonesia, Forest Watch Indonesia, EcoNusa, The Gecko Project, Mongabay, Robin Wood and many more) are committed to our rainforests. Nevertheless, it sometimes seems like the fight of David against Goliath.
As long as money rules the world, it will certainly be a long road. But raising awareness of the problem is already a first step in the right direction.
The palm oil industry needs more than a boycott. It needs a complete rethink, a reform that involves all companies along the value chain.
Because what would the alternatives be? Other vegetable oils that require more land to grow and put more forests at risk?
There is no flawless solution to the palm oil problem (yet).
Nevertheless - instead of mindlessly reaching for the usual products in the supermarket, everyone should take a close look at the label. Are there alternative products without palm oil (you can find examples on Utopia)? Or products that are organic, fair and deforestation-free? To analyze your favorite products, you can use apps like Codecheck.
If so, support them and their companies. Because at the end of the day, we as consumers have the power to advocate for more sustainability and transparency every day with our purchasing decisions.
What do you think about the palm oil issue? Do you avoid products that contain palm oil? Feel free to share your thoughts in the comments.