Rose water is considered the ultimate moisturizer for every skin type. How it is gained, what effect it has on bad skin and pimples, how to use it, the correct product recommendations and where you can buy it, you will learn in this article.
What is rose water?
Rose petals are grown and picked mainly in Morocco, Turkey and Bulgaria for further processing. For the most part, rose oil is produced from them, which is very costly, since about four tons of flowers are needed to produce one liter of oil. In their distillation - the process in which the oil is obtained - is produced as an by-product of an ethereal water, the rose water. The separation process between oil and water by means of steam distillation is considered to be particularly gentle. If you choose an organic rose water, you can be sure that no harmful substances such as solvents are used. The plant water, which is produced by distillation, is referred to as hydrolate, so that rose water is also to be found under the name Rosenhydrolat. This scent of rose and contains the water-soluble substances of the flower, but is free of essential oils.
The rose water effect for beautiful and healthy skin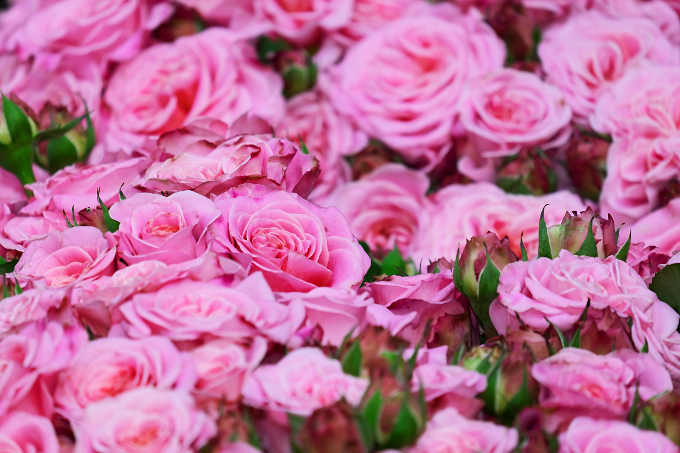 Pure rose water is considered the optimal moisturizer for the skin and ensures its balanced ph value. The special feature is that it is suitable for all skin types, as it has a variety of properties. Especially with dry skin there is the problem that conventional face lotion dries out even more. This is due to the often high content of alcohol or the aggressive surfactants. Rose water, on the other hand, is very mild and moisturizes the skin. Even sensitive or allergic skin can sing a song of it. In addition to alcohol, artificial fragrances or preservatives often irritate the skin. Rose blossom water relaxes the skin and balances it again. Oily skin also benefits from the effect: it has a slightly matting effect and the skin does not lose its fat after use. In addition, it doesn't only cleanse the skin pore-deep, but it is also gentle. Due to its antibacterial effect, you can also use it on pimpled prone skin. Most organic rose waters comes out with no or very little added alcohol, making them particularly mild. For example, the flowering water of Khadi is a very pure product. However, if you are not sure if you are going to use up your product within a year, opt for a low-alcohol product that will preserve it.
The application:
The water finds numerous applications in skin care. The 5 most common ones:
As a face water If you want to use rose water as a toner, some of the transparent liquid drips onto a cotton pad and goes over your face. Best of all, after washing this with a mild cleansing product in advance. The antibacterial effect of rose water is thus used and prepares your skin optimally for the subsequent care. Just like traditional tonic, rosewater does not have to be washed off.
Rose water - impure skin kept clean with minimal effort If your skin is irritated or unclean and you are plagued with pimples, rosehydrolate counteracts it in a natural way. For this you use this as the sole skin care after cleansing. Just put a few drops into your (clean!) Palms, spread it and gently press it into your face.
As a basis for oil Facial oil is much easier to apply when you have moistened your skin first. Either do this as described in point 2 or mix the oil with the water and put it together on your face. On the moistened skin, the oil is easily applied and rubbed in.
For fixing make-up You can use rose blossom water to fix your make-up. For this purpose, it is advisable to use a spray bottle and spray the water with one or two pump surges on your make-up face. The result is a radiant and long-lasting make-up.

As a refreshment in between Keeping the Hydrolat in the fridge makes it refreshing and slightly firming at the same time. You can use this effect especially in the summer to freshen up your skin - on the face as well as on the body. Give it a try!
Key facts at a glance
Genuine rose hydrolate or water is obtained from rose petals by means of steam distillation. The water has a subtle scent of rose and is mainly used in skin care. It is suitable for all skin types and is a popular face toner. If you want the best quality, opt for an organic product.
Is rose water suitable for the skin?
Yes. Due to its numerous positive properties, it is usable for every skin type. It moisturizes, soothes the skin, balances the pH and has a regenerating effect. It is mild and therefore also applicable to sensitive and impure skin. It is suitable not only for the face, but also for body care and can be mixed with a full bath, for example.
Can you drink rose water?
The intended for cosmetic purposes Hydrolat should not be used for drinking, cooking and baking. It may taste slightly bitter and is therefore not recommended for consumption. The pink, sweetish drinking water you may know from Arab countries is more like a syrup that is then diluted with water.
Where can you buy rose water?
Rose water can now be bought in well-assorted health food stores and natural cosmetics specialist shops. A much larger selection and often already existing reviews make the purchase on the Internet significantly more attractive.