This aromatic vegetable biryani is a delectable treat to be relished with friends and family. The tender long-grain basmati rice layered with appealing spiced veggies is a perfect dish to be cooked for lunch or dinner.
Ingredients for the Aromatic Vegetable Biryani
For the Rice, you'll need
2 cups of basmati rice (soaked for 25-30 minutes)
9 cups of water
1 tablespoon of olive oil
1 teaspoon of salt
For the Spiced Veggies, you'll need
2 tablespoons of olive oil
2 green chilies (split)
5 Spices (1 bay leaf, 3 cloves, 1-star anise, 5 cardamoms, 1 teaspoon cumin seeds, an inch of a cinnamon stick)
1 onion (finely chopped)
2 teaspoons of ginger & garlic paste
2½ cups of chopped veggies (1 potato, 1 carrot, ¼ cauliflower, some peas)
1 tablespoon spice powders (1 teaspoon turmeric powder, 1 teaspoon red chili powder, 2 teaspoons biryani powder)
Salt (as per taste)
1½ cup of yogurt
1 cup of water
For Layering the Vegetable Biryani
1 cup of coriander leaves & mint leaves (roughly chopped)
1 tablespoon of clarified butter
4 tablespoons of saffron milk (a pinch of saffron soaked in 4 tablespoons of milk)
½ cup of crispy fried onions (sliced onions fried in oil until golden brown & crisp)
Instructions to Cook the Aromatic Vegetable Biryani
Semi-Cook the Rice
Place a pot filled with water (9 cups) on the stove at high flame. Add the oil & salt.
Add the rice and stir it once. Cook the rice for 10 minutes. When the water comes to a boil, adjust the heat to medium.
As soon as the rice seems semi-cooked, remove the pot from the stove. Drain the water.
Rinse the semi-cooked rice with cold water once to stop the cooking process.
Cook the Spiced Veggies
Heat the oil in a pan on the stove. Add the split green chilies & 5 spices. Cook for 30 seconds.
Now, add the chopped onion and ginger-garlic paste. Sauté for 3-4 minutes.
Add in the chopped veggies and stir fry for 3 minutes.
Next, add the spice powders (turmeric, red chili, & biryani powder) and season with salt. Cook for 2 minutes by stirring frequently.
Lower the flame, add the curd and mix all the ingredients for a minute.
Finally, add the water and stir once. Cover the pan and simmer the veggies for 15 minutes until tender.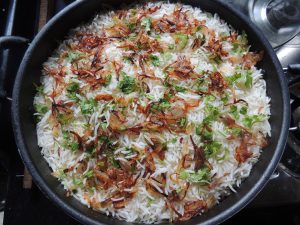 image source: www.pixabay.com
Layer the Vegetable Biryani
Take a heavy-bottomed pot with a lid.
Make a bed of the spiced veggies at the pot's bottom,
Top the veggies with 3/4 cup layering of the semi-cooked rice.
Next, drizzle a teaspoon of the clarified butter. Sprinkle some freshly chopped coriander, mint leaves, and crispy fried onions.
Repeat step 1, 2 & 3.
Cover the pot. Seal the lid with foil paper/flour dough to ensure the steam doesn't escape.
Place the pot on the stove at low flame. Cook for 15 minutes.
Your aromatic vegetable biryani is ready!