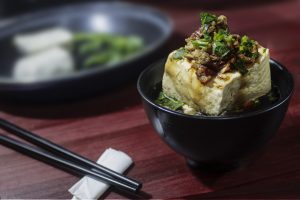 image source: www.pixabay.com
The "tofu parcels" is an easy recipe that tastes exquisite with black sticky rice and flavorsome dipping sauce. This main course meal platter can be had for lunches as well as dinners.
Ingredients
for Tofu Parcels
1 Can of Tofu (400 grams)
2 Fresh banana leaves (each leaf divided into 4 pieces)
For the Coriander Paste
Fresh ginger (2cm long)
2 teaspoons holy basil spice paste
2-3 lemongrass stalks
2 tablespoons fresh coriander
1 tablespoon light soy sauce
1 teaspoon chili with fried garlic paste
1/3 cup of vegetable stock
For the Dipping Sauce
2 lime wedges (juiced)
3½ tablespoons light soy sauce
2 tbsp sugar
½ red Thai chili
1 teaspoon chopped garlic
1½ teaspoons fresh coriander
For Serving
Instructions to prepare & cook Tofu Parcels
Prepare the Coriander Paste
Wash the ginger, peel it and put in the blender. Add the basil leaves, lemongrass, coriander sprigs, soy sauce, garlic with fried chili paste, & vegetable stock. Pulse for a few seconds to get a smooth paste.
Prepare the Tofu Parcels
Open the can/jar, drain the liquid and press it as per 'the Can' instructions.
Then, slice the tofu in 4-inches length and 0.5 cm thickness.
Wash the banana leaves, pat them dry, and cut each leaf in 4 equal parts.
Place a tofu slice on a piece of banana leaf. Spread a spoonful of the coriander paste on top of the tofu slice evenly. Put another tofu slice on top to make the sandwich. Wrap the banana leaf and seal the edges using toothpicks.
Prepare the Dipping Sauce
Squeeze 2 lime wedges in the blender. Add the soy sauce, sugar, Thai red chili, chopped garlic, and fresh coriander leaves. Blitz all the ingredients for a few seconds. Transfer to a sauce bowl.
Cook the Tofu parcels
Step 1: Set the oven for preheating at 425°F (220°C).
Step 2: Place the tofu parcels on a baking tray and put them in the middle rack of the oven to bake for 10-15 minutes. Once done, take the tray out of the oven and serve the sealed tofu parcels as it is along with a bowl of the freshly made dipping sauce. On the other hand, you may unwrap the tofu parcels, flip them on a serving dish, and serve with dipping sauce and sticky black rice.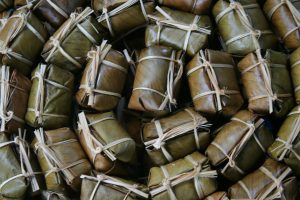 image source: www.pixabay.com
Tip
To grill the tofu parcels, place them on the grill grates and cook each side for 4 minutes.
To cook the black stick, bring 2½ cups of water to boil over high heat on the stove. Meanwhile, rinse the rice thoroughly under running cold water. Put the rice into the boiling water, cover, and cook for 45-50 minutes. Turn off the stove and let the rice sit covered for 10 more minutes, fluff with a fork before serving.
Enjoy the delight of cooking and unwrapping the mouth-watering tofu parcels served with dipping sauce & black sticky rice.