Many people know some ingredients – such as vanilla, cinnamon, etc. – which many cannot imagine living without. However, only a handful of these folks have heard about Worcestershire sauce and its uses. Maybe all you know about Worcestershire sauce is that it can be used for making a mean Bloody Mary. If that is the case, here is what you need to know about this savory sauce.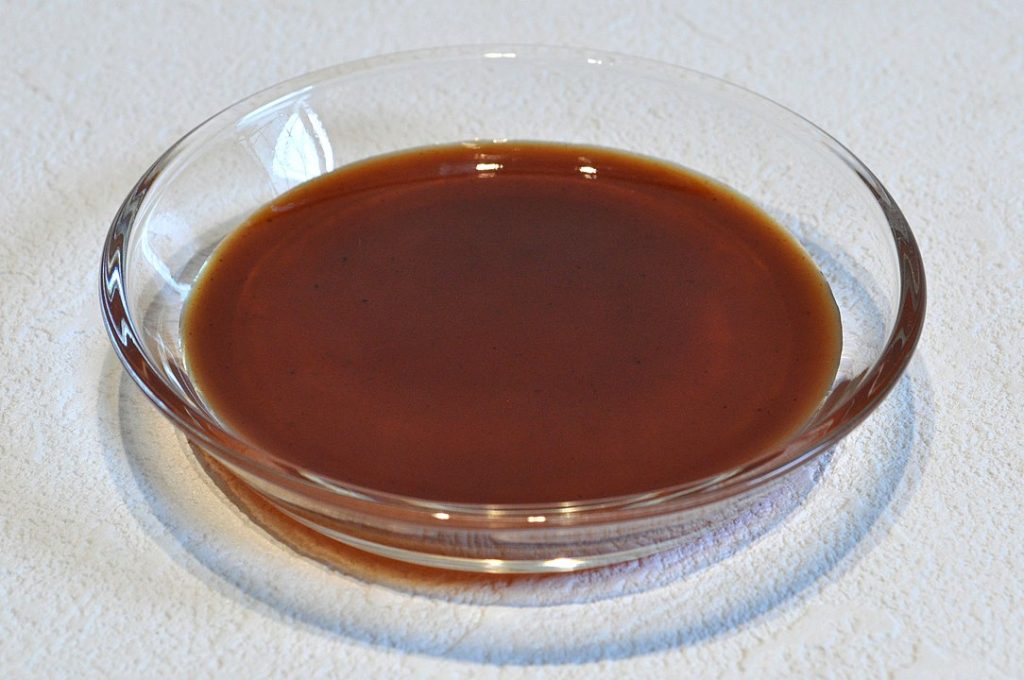 image source: Wikipedia
What is Worcestershire Sauce?
Worcestershire sauce is a pungent, somewhat mysterious-but-flavorful brown relish that is concocted using the following ingredients:
Anchovies
Distilled white vinegar
Onions
Molasses
Salt
That is not all. Other ingredients include:
Garlic
Sugar
Chili pepper extract
Tamarind extract
Water
Natural flavorings
Cloves
This fermented condiment is sweet but with a distinct tang, which is due to the presence of vinegar. The most common variety of Worcestershire sauce is not suitable for use by a vegetarian. It is also not appropriate enough to be included in a vegan diet. Additionally, it cannot be used in a kosher meal, which includes meat. It may or may not be gluten-free as this depends primarily on the brand.
Origin
It is said that the culinary roots of Worcestershire sauce can be traced to India. However, Worcestershire sauce – as we know it today – was initially created in 1835 at Worcester, England. It was developed by John Lea and William Perrins, two local chemists. They experimented with seasoning sauces and one, which was vinegar-based, was abandoned because it tasted awful. While sitting in the basement, the awful-tasting vinegar-based sauce began to ferment and soon developed complex flavors. The chemists found the bottled sauce later, tasted it and discovered that fermentation had transformed the awful-tasting sauce. The chemists became partners and bottled more of this remarkable sauce. Soon, a taste for Lea & Perrins Worcestershire Sauce spread like wildfire throughout Europe, America and the entire world. To produce the sauce with the right taste, the chemist had to allow it to sit for at least two years. They stirred the sauce periodically, sifted the mixture to remove solids and then bottled it.
The Varieties of Worcestershire Sauce
It comes in numerous varieties and the best way to pick out your favorite is to sample an assortment of variations and brands. You can also get creative by adding it to recipes any time you cook with other spicy sauces like fish, soy or oyster sauce.
Vegan or Vegetarian Worcestershire Sauce
The anchovies in the original formula or recipe for Worcestershire sauce are replaced with a vegetarian or vegan version. In most cases, this information will be displayed boldly on the label.
image source: www.FoodPorty.com
Gluten-free Worcestershire
This variety is made with distilled white vinegar instead of malt vinegar, which is not gluten-free. This version of Worcestershire sauce is prevalent in the United States. It is also very suitable for people with gluten sensitivity or celiac disease.
Low Sodium
Lea & Perrins – and other brands – produce this variety for people on low-sodium diets or who do not like salty things.
Cooking with Worcestershire Sauce
Worcestershire sauce can be used as a condiment or during cooking. It can be brushed onto fish, meat, or poultry as they are fried, baked or grilled. It can be used as part of the ingredients in marinades as well. This sauce can also be employed as a condiment on shellfish, sandwiches or seasoning for salads. It is used for adding savoriness and seasoning in stews and soups. Worcestershire sauce can also be used when grilling, steaming or stir-frying vegetables.
Wrap Up
Finally, the odor, flavor, and appearance of Worcestershire sauce may degrade eventually, especially if not stored properly. But if it is stored appropriately, an opened bottle of Worcestershire sauce has a shelf life of two years.