Carnival Cruise Line is one of the most fun adventure one can have at sea and life too. The carnival fun would be even more gratifying when you have chocolate melting cake for dinner, which is the most delicious dessert one can have in a carnival experience. However, you can enjoy the carnival chocolate melting cake at home as well while following this recipe at FoodPort. This is a pretty easy dessert to make and it is pretty enjoyable. It is also called chocolate lava cake. It can be easily prepared in no time and baked just before serving to make your dinner perfect anytime. So let's start our recipe and note its ingredients.
Ingredients
Dark Chocolate 170 gram
Butter 170 gram
4 Eggs
White Sugar 50 gram
Flour 30 gram
1 tbsp. vanilla extract
Pinch of salt
Preparation Instructions
Making chocolate batter First, take a big pan with water and put it on heat. Then add a small pan into it to melt butter and chocolate. While melting, stir continuously. Once butter and chocolate melt completely, remove it from the heat.
Making the cake mixture Now take a big bowl, add sugar and eggs in it and whisk thoroughly. Then mix the flour in this bowl with a pinch of salt and vanilla. Extract one by one and mix together. Then add the melted chocolate batter and mix well. Now pour the mixture into butter-greased molds of cake and freeze for 30 minutes to make batter firm. After freezing, set these small molds in the tray and add warm water to half of the tray. Now bake the cake directly for 13 to 15 minutes in an oven at 200 centigrade. After baking, sprinkle powder sugar on the top the cake for garnishing. Your chocolate melting cake is ready to serve with vanilla ice cream. Enjoy the carnival of sweetness.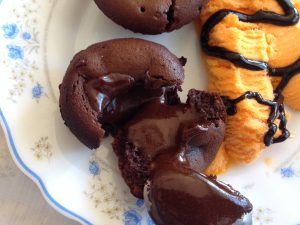 image source: https://pixabay.com
Tips & Tricks
Salt enhances the taste of sweetness in chocolate but if you don't want it, you can skip it.
Vanilla extract is also optional but it gives a nice flavor to the cake.
Always make this cake in small molds of cake according to the number of servings because it remains buttery and creamy after baking even, so big mold of cake would not be suitable.