Spicy mini eggplant curry is an aromatically gorgeous vegetarian cuisine. It uniquely combines bold flavours and balances them impressively with sweet and spicy ingredients.
image source: www.shutterstock.com
The dark purple eggplants sitting on a bed of fragrant orange gravy is a drooling sight. This healthy curry tastes delectable with steamed fluffy rice. However, it goes well with bread too. The spicy mini eggplant curry can brighten any lunch or dinner platter. Guests will definitely crave for second helpings of the luscious soft eggplants. Therefore, be prepared to make more!
How to Cook
This spicy mini eggplant curry is a pan-fried delight blending in the rich flavours of ginger, garlic, and shallots. The spicy paprika and red tomato sauce pop the curry with an intense sunny hue. The fragrant coconut oil and brown sugar offer a pleasantly soothing sweetness to the otherwise savoury dish. The tender eggplants absorb all the distinct flavours to transform into an exquisitely yummy curry. This recipe requires about 45 minutes of cooking time to serve a party of 8.
Ingredients
8 mini eggplants
Turmeric powder (4 teaspoons)
Paprika powder (2 teaspoons)
Red Shallots (1 cup, chopped)
Ginger paste (1 teaspoon)
Garlic paste (1 teaspoon)
Tomato sauce (3 tablespoons)
Coconut oil (6 tablespoons)
Brown sugar (1 teaspoon)
Salt to taste
Water (2 cups)
Instructions
To prepare the eggplant
Make two cuts (like a + sign) halfway through the smooth side of each unpeeled mini eggplant.
Place them in a bowl. Add 2 teaspoons of turmeric powder and a pinch of salt.
Rub the turmeric powder and salt nicely to coat the eggplants inside out. After that, let them sit for 5 minutes.
In a pan, heat 5 tablespoons of oil. Deep fry the eggplants for 5 minutes in high flame. Remove the fried eggplants and keep them aside.
To make the curry
In a fresh non-stick pan, take 1 tablespoon of oil. Add the chopped red shallots and fry for 2-3 minutes.
Once the shallot changes colour, add the ginger and garlic paste. Fry for 1 minute over medium heat.
Add 2 teaspoons of turmeric powder and tomato sauce. Then, sauté for 2 minutes!
Add the brown sugar, some salt, and water. Keep stirring until the curry starts to simmer.
To make the Spicy Mini Eggplant Curry
Place the fried mini eggplants in the curry side by side. In other words, don't overlap. Stir delicately so that the eggplants are completely coated with the spicy gravy.
Turn the flame to high, and sauté for 3-5minutes until the curry thickens. Once the curry releases oils, and it's visible on the edges of the pan, turn off flame.
Your spicy mini eggplant curry is ready.
Important Notes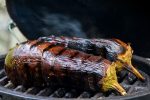 image source: www.pixabay.com
For a smoky effect, you can oil brush the marinated mini eggplants and roast them on a charcoal grill instead of deep frying them in the pan.
Since tomato sauce contains salt, it's best to taste the curry before adding salt.
This recipe also tastes delicious when cooked with extra virgin olive oil.