You have been eating many Mexican dishes with a large array of recipes that surely win your heart but have you tried anything different lately? I guess not, but today you can include the delicious Mexican enchiladas into your menu in a very healthy way, especially for veggie lovers. Often, Mexican enchiladas are served with rolled tortilla that is filled with cheese, beef, chicken or vegetable stuffing and covered by some chili pepper sauce, However, today we are going to make our favorite enchiladas with kidney beans stuffing and lots of ranchero sauce, that is a little tangy, spicy and sweet too. For all the Mexican and healthy food lovers, this recipe would serve the best and fill your guts with an entirely different but delicious taste of enchiladas. So, without any delay, let's start our recipe.
Ingredients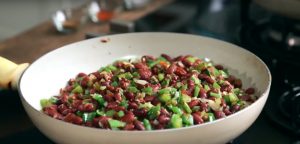 Stirring beans stuffing
Beans Filling
1 tbsp. olive oil
1 tbsp. chopped garlic
3 white spring onions chopped
1 large green capsicum chopped
1-cup kidney beans (soaked overnight & boiled in salted water till fork tender)
Salt to taste
1 tsp. sweet paprika
1 tsp. cumin powder
Ranchero sauce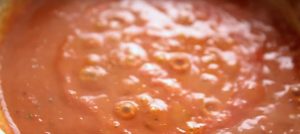 Ranchero Sauce cooking
1 tbsp. olive oil
2 large red capsicums roughly cut
5 large tomatoes roughly cut
1 tbsp. garlic chopped
2 white spring onions
1 tbsp. refined flour
4 tbsp. malt vinegar
2 tbsp. sugar
Salt to taste
1 tsp. cayenne pepper
1 tbsp. parsley
Few leaves of basil
1 cup Water
1 tbsp. habanero sauce
Assembling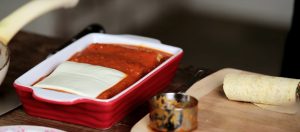 Assembling Process
6 x tortilla
Half cup green onions
Mozzarella cheese slices as required
Garnishing
Few Parsley sprigs
A dash of Olive oil
Preparation Directions
Making the Beans Filling
First, in a pan, add some olive oil and heat it.
Add finely chopped garlic and pieces of spring onion and give them a light stir.
Next, add chopped capsicum and again give it a light stir.
Once the onions start sweating, add boiled beans and stir again.
Make sure that your beans are fork tender and soft for a better taste to vegetarian enchiladas.
Now add some salt but make sure it's quantity is in check as we already have salt in the beans.
Next, add paprika and cumin seed powder and stir well with beans.
With the back of any spoon, smash half of the beans. For nice mashing, you may use a potato masher to get adjustable consistency.
Half of the beans have been mashed and half of them are kept just the way they are.
The bean stuffing is ready for filling.
Making the Ranchero Sauce
To begin with, the ranchero sauce, which is actually a tomato-based Mexican gravy with, little spicy and sweet taste, smoke some olive oil in a pan and char the red bell peppers.
Once the capsicum is nicely charred, add chopped garlic and white soft onions and give a light stir.
Next, add roughly cut tomatoes along with flour, malt vinegar, sugar, salt, cayenne powder, and fresh basil.
Give them all a nice stir and add water to make a nice tomato stew that will be used later to make a puree for ranchero sauce.
Cover the lid and let the tomatoes simmer for 10 minutes on low heat.
Once the tomatoes become soft, switch off the heat and blend tomatoes in a kind of chunky mixture.
Try to use a hand blender to make the chunky sauce. Otherwise, blend it into a normal blender.
After that, when we've got our required sauce, switch on the flame, and cook the sauce again for 2 minutes.
Add the magic spice now: the habanero sauce that is imperative to make the best ranchero sauce.
Let the mixture cook for 1 minute more and then switch off the heat.
Our stuffing and sauce are ready to make vegetarian Enchiladas.
Assembling Procedure
First, take a baking pan and add some ranchero sauce right at the bottom and move the pan to spread the sauce at the bottom evenly.
For enchiladas, take one tortilla disc and fill it with a bean mixture from the center of the tortilla.
Sprinkle some green onion and shredded mozzarella cheese on beans mixture and roll the tortilla like a roll.
Repeat the filling and rolling procedure with other tortillas too.
If your baking tray is not wide enough, cut the filled tortillas into half to adjust them for baking.
Place all the tortillas into a baking tray carefully and make sure the sealing side must be down to the bottom.
Set the rolls in the baking tray and top them up with a generous amount of ranchero sauce.
Place mozzarella slices on the top of the ranchero sauce and bake Enchiladas in a preheated oven for 10 minutes on 180 degrees.
Vegetarian Enchiladas are ready as the sauce is bubbling and the cheese is melting.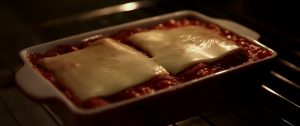 Baking of Enchiladas
For Serving
Take a slotted spatula and scoop 2 to 3 tortillas from the baking tray with sauce and place them on to the serving plate.
Garnish the enchiladas with some fresh parsley sprigs and dash of olive oil.
Your healthy, delicious, cheesy vegetarian Enchiladas with ranchero sauce are ready to serve, Enjoy!