Viewed 8 times...
Hickory smoked deli slices | Grocery Stores Near Me
Sponsored Products
Short Description
Tofurky Deli Slices Hickory SmokedWater, Vital Wheat Gluten, Organic Tofu (Water, Organic Soybeans,
Magnesium
Chloride, Calcium Chloride), Shoyu Soy Sauce (Water, Non-GMO Soybeans, Wheat, Salt, Culture), Non-GMO Expeller Pressed Canola Oil, Natural Vegan Flavors, Non-GMO Corn Starch, White Bean Flour, Garbanzo Bean Flour, Lemon Juice from Concentrate, Onion, Celery, Calcium Lactate From Beets, Sea Salt.Tofurky Deli Slices Hickory Smoked. Still Family owned & independent Since 1980. All Vegan. Excellent source of protein. Good source of fiber. No saturated fat. Cholesterol free. Rich & tender smokehouse cured plant-based. Non-GMO ingredients. Directions Keep refrigerated.These slices are ready to eat out of the pack cold or heated.Use within 3-5 days of opening. Warnings Contains: Wheat, soy.
Long Description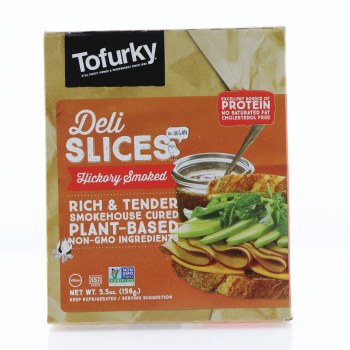 | Nutrition Facts | | | |
| --- | --- | --- | --- |
| Serving Size: | | | |
| Ammount per Serving: | | | |
| Calories: | | | kcal |
| | | Details in % | Daily Value |
| Total Fat | | % | g |
| Satured Fat | | % | g |
| Trans Fat | | % | g |
| Polyunsatured Fat | | % | g |
| Monounsatured Fat | | % | g |
| Cholesterol | | % | mg |
| Sodium | | % | mg |
| Potassium | | % | mg |
| Total Carbohydrate | | % | g |
| Dietary Fiber | | % | g |
| Sugars | | % | g |
| Other carbohydrate | | % | g |
| Protein | | % | g |